This page showcases the latest version of the SfL Map as well as useful resources to help you plan accessible journeys. These resources include information about station closures and the current state of lifts.
Map
This map is regularly updated to reflect changes to the accessibility of the network. Click on the image to enlarge.
Latest Update: 17 June 2018: Changed Farringdon's degree of accessibility to reflect the installation of platform humps.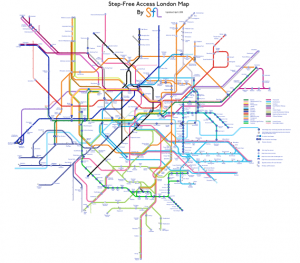 May 2018: Expanded Thameslink and TfL Rail services, added Buckhurst Hill, updated Hackney Wick, and corrected notation on Heathrow stations.
April 2018: Added National Rail services
Additional Resources
TfL Station Closures – Use this resource to see planned closures and temporary changes in accessibility at TfL step-free stations.
Up Down London – Use this resource to see real-time updates of broken-down lifts in the TfL network.