STEP-FREE MAP AND FUTURE ACCESS
This page showcases the latest version of the SfL Map as well as future step-free access. These are both regularly updated to reflect changes to the accessibility of the network. 
This map shows the current state of London's rail accessibility. Unlike existing resources, this map includes both TfL and non-TfL services, making it a single resource for all rail-based transport in Greater London. The boundaries of the map correspond to the extent of the Pay-As-You-Go (PAYG) Oyster Zone. Please note that this includes zones with separate fare structures and Freedom Pass restrictions. 
Also note that this map is now interactive! By clicking on a station blob, you will see additional station-specific information (UNDER CONSTRUCTION). Also, the map includes a toggle button to display future step-free stations.
Latest Update: 06 June 2019: Meridian Water is now open, Limehouse and Northumberland Park have been updated, and minor station blob alterations (NOTE: Waterloo & City line still NOT accessible due to last minute delays! I apologize for the confusion)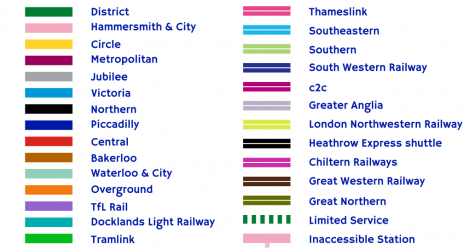 | Station | Line(s) | Expected Date |
| --- | --- | --- |
| | Existing Elizabeth Line Stations | |
| Harold Wood | TfL Rail/Elizabeth | Spring 2019 |
| Gidea Park | TfL Rail/Elizabeth | Spring 2019 |
| Goodmayes | TfL Rail/Elizabeth | Spring 2019 |
| Ilford | TfL Rail/Elizabeth | ??? |
| Abbey Wood | Elizabeth | Mid 2020? |
| Acton Main Line | TfL Rail/Elizabeth | December 2019 |
| Ealing Broadway | TfL Rail/Elizabeth, Central, District, Great Western | December 2019 |
| West Ealing | TfL Rail/Elizabeth, Great Western | December 2019 |
| Hanwell | TfL Rail/Elizabeth | December 2019 |
| Southall | TfL Rail/Elizabeth | December 2019 |
| Hayes & Harlington | TfL Rail/Elizabeth, Great Western | December 2019 |
| West Drayton | TfL Rail/Elizabeth, Great Western | December 2019 |
| Iver | TfL Rail/Elizabeth, Great Western | December 2019 |
| Langley | TfL Rail/Elizabeth | December 2019 |
| Taplow | TfL Rail/Elizabeth | December 2019 |
| | New Elizabeth Line Stations | |
| Paddington | Elizabeth, Bakerloo | Mid 2020? |
| Bond Street | Elizabeth | Mid 2020? |
| Tottenham Court Road | Elizabeth | Mid 2020? |
| Farringdon | Elizabeth | Mid 2020? |
| Liverpool Street/ Moorgate | Elizabeth, Northern, Met, Circle, H&C | Mid 2020? |
| Whitechapel | Elizabeth, Overground, District, H&C | Mid 2020? |
| Canary Wharf | Elizabeth | Mid 2020? |
| Custom House | Elizabeth | Mid 2020? |
| Woolwich | Elizabeth | Mid 2020? |
| | Other New Stations | |
| Nine Elms | Northern | 2021 |
| Battersea Power Station | Northern | 2021 |
| Barking Riverside | Overground | December 2021 |
| Brent Cross West | Thameslink | 2022 |
| | TfL Suburban Station Plan | |
| Harrow-on-the-Hill | Met, Chiltern | Early 2020 |
| Amersham | Met, Chiltern | Spring 2020 |
| Rickmansworth | Met, Chiltern | 2023-2024 |
| Ickenham | Met, Piccadilly | Spring 2020 |
| Ruislip | Met, Piccadilly | 2023-2024 |
| Cockfosters | Piccadilly | Spring 2020 |
| Osterley | Piccadilly | Spring 2020 |
| Sudbury Hill | Piccadilly | Spring 2020 |
| Park Royal | Piccadilly | 2023-2024 |
| North Ealing | Piccadilly | 2023-2024 |
| Boston Manor | Piccadilly | 2023-2024 |
| Burnt Oak | Northern | Spring 2020 |
| Mill Hill East | Northern | 2019 |
| Wimbledon Park | District | Spring 2020 |
| Debden | Central | Spring 2020 |
| Snaresbrook | Central | 2023-2024 |
| Hanger Lane | Central | Spring 2020 |
| Northolt | Central | Spring 2020 |
| | Central London Redevelopments | |
| South Kensington | District, Circle | 2022 |
| Finsbury Park | Thameslink, Great Northern | 2021 |
| Bank | Northern | 2021 |
| Knightsbridge | Piccadilly | 2020 |
| | DfT Access for All Control Period 5 Stations | |
| Alexandra Palace | Great Northern | 2020 |
| Palmers Green | Great Northern | 2020 |
| Bexley | Southeastern | 2020 |
| Plumstead | Southeastern | 2020 |
| Shortlands | Southeastern | 2020 |
| Brondesbury | Overground | 2020 |
| Carshalton | Thameslink, Southern | 2020 |
| Coulsdon South | Thameslink, Southern | 2020 |
| Selhurst | Southern | 2020 |
| Tottenham Hale | Greater Anglia | Mid 2019 |
| West Hampstead | Overground | 2019 |
| Teddington | South Western | 2020 |
| Ewell West | South Western | 2020 |
| | DfT Access for All Control Period 6 Stations | |
| Grays | c2c | Before 2024 |
| Barnes | South Western | Before 2024 |
| Stoneleigh | South Western | Before 2024 |
| Wandsworth Town | South Western | Before 2024 |
| Isleworth | South Western | Before 2024 |
| Hither Green | Southeastern | Before 2024 |
| Petts Wood | Southeastern | Before 2024 |
| St Mary Cray | Southeastern | Before 2024 |
| Peckham Rye | Overground, Southern, Thameslink, Southeastern | Before 2024 |
| Cricklewood | Thameslink | Before 2024 |
| Mill Hill Broadway | Thameslink | Before 2024 |
| Catford | Thameslink | Before 2024 |
| Streatham | Thameslink, Southern | Before 2024 |
| Battersea Park | Southern | Before 2024 |
| Hertford North | Great Northern | Before 2024 |
| Queen's Park | Overground, Bakerloo | Before 2024 |
| Seven Sisters | Overground | Before 2024 |
| Hackney Downs | Overground | Before 2024 |
| | Additional Schemes | |
| White Hart Lane | Overground | Spring 2019 |
| St Margarets | South Western | Summer 2019 |
| Twickenham | South Western | 2020 |
| Colindale | Northern | 2022 |
| Brent Cross | Northern | 2022 |
| Elephant & Castle | Northern | 2021 |
| Northwood | Met | 2022 |
| Greenford | Great Western | December 2019 |
| Walthamstow Central | Victoria | 2022? (speculation) |
| Notting Hill Gate | Central, District, Circle | 2022? (speculation) |