I realise it has been a very long time since my previous post, and I've blown past all the deadlines I had planned for this next post. However, the truth is the past few months have been an almost complete disaster for the future prospects of step-free access in London, and overwhelmingly negative for public transport in general across the country. From unambitious proposals to improve railway transport in the North, which led to the cancellation of a major branch of HS2, to the ever-increasingly dire financial situation that TfL is constantly under, the only certainly in these times is the threat of managed decline for most modes of public transport in the country. The only bright spot for London in the very near-term, as I've mentioned before, is that this year will see the completion of almost all of TfL's under-construction step-free schemes. Essentially, this is the last major push in accessibility before we enter an indefinite stagnation of progress.
TfL Funding Cliff
TfL's funding was in peril before the pandemic, with an increasingly higher reliance on fares amid a drop in government funding. Since 2020, the dramatic drop in passenger numbers in response to the pandemic has meant that TfL, as well as other transport bodies across the country, have needed to rely on emergency funding from the DfT to stay afloat. However, TfL and the DfT have been unable to secure a long-term funding agreement into 2022, with only short-term extensions to the funding deal initially planned for May-December 2021. This deal came attached with wide-ranging cost-cutting measures for TfL, including the requirement to cut up to 30% of its budget and find £1bn in additional income by 2023.
Managed Decline
This focus on wholesale austerity already spelled trouble for step-free projects, with shovel-ready projects at Hanger Lane, Burnt Oak, and Northolt (originally due to be ready by Summer 2020) still hanging in the balance and ambitious redevelopments at Camden Town and Holborn being pushed back into oblivion. However, the chaotic, irresponsible, and politics-driven way in which these fundings negotiations have played out has created an additional dangerous situation where TfL runs the very real risk of running out of money. In mid November, a month before the lapse of its funding agreement, TfL released an alarming document spelling out the degree of austerity measures that TfL is accounting for given the lack of clarity on sustainable funding from the Government amid the continuing low passenger numbers. You can read a good summary of what TfL's "managed decline" operation would look like in the thread below.
Some of the depressing points relating to accessibility include:
"No Step Free Access schemes other than those which are currently in construction"
"Bakerloo and Central line fleet replacement would be pushed back to the late 2030s /early 2040s"
"All new Growth Fund projects…not progressed. This includes Colindale Station Upgrade, Walthamstow Central Station Upgrade, Leyton Station Upgrade, Renwick Road Junction, Elephant and Castle station Bakerloo Line Extension safeguarding"
"The new station box at Elephant & Castle would be constructed by the developer but we would not be able to fit it out to turn it into an operational station"
"Crossrail 2 and Bakerloo Line Extension remain suspended with no long term likelihood of restating these projects"
Under this nightmare scenario, which is incredibly NOT the worst-case scenario, this is effectively the end of step-free access development in TfL's network. No more accessible stations, no prospect of getting level boarding trains on the Central line for two more decades, and the killing off of future accessible lines.
Since then, the Government has agreed on two short-term funding extensions, with the latest having now run out. With negotiations now without resolution or a new deadline, who knows if anything meaningful will come out, or if we are still headed towards managed decline. Indeed, TfL Commissioner Andy Byford confirmed only last week that TfL currently does not have £15m to fit out a new Elephant & Castle entrance and ticket hall, which is already being constructed by a third-party developer. This is no way to support the country's most extensive and busiest transport network, and the continuing damage that is being done to accessibility is discriminatory and unacceptable, or "an affront to civil rights," as Mr Byford stated.
South Kensington
Even wholly third-party schemes have seen incredible failure as of late. The long-awaited and controversial redevelopment around South Kensington, tied to the step-free access works at this station, is a prime example of why developers are not best suited to deliver vital accessibility schemes. For what feels like the hundredth time, developers submitted new proposals for the redevelopment, hoping to address the concerns and complaints received the last time the plans were rejected. Unsurprisingly, the plans have once again been blocked, due to their "visual impact."
Although step-free access was widely acknowledged to be very important by the Borough Council and by attendees to the planning meeting, this was not enough to offset the opposition to the rest of the redevelopment. So there we have it: vital infrastructure that gives access to a major part of London is blocked indefinitely due to the failures of an adjacent redevelopment and because TfL could not afford (even prior to the pandemic) to carry out this work by itself. In the end, even the Borough Council of Kensington & Chelsea was considering providing TfL with extra funding, recognising the importance of bringing step-free access and of keeping it separate from contentious schemes.
Walthamstow Central
Even when the councils do step in, there is no guarantee that this will result in a successfully funded scheme. After seeing Walthamstow Central's new entrance and step-free access project becoming the latest victim in TfL's funding collapse, Waltham Forest attempted to apply for some of the Government's Levelling Up fund to help cover the costs of the work at the dangerously crowded station. Unfortunately, the council was unable to receive any of this funding, so this crucial scheme remains unfunded.
TfL Consultation
Amid this complete breakdown in funding and the feasibility of any TfL improvements, TfL actually launched a consultation in November, seeking the public's views on the future of the London Underground's step-free access network. Other than asking for travel habits and views on step-free access, the main substance of the consultation revolved around prioritising where step-free access should be pursued. For example:
Should stations be made fully step-free or is partial access acceptable?
It is better to spend more money on making one major station accessible or should that money be used to make several small stations step-free?
Should new step-free access be spread out to provide an even coverage or should areas with good accessibility be strengthened?
These are all valid questions in theory. However, given the state of accessibility on the Underground, and the abysmal current state of TfL, it seems more like a cruel joke and an utterly pointless exercise. With only 33% of the network offering step-free access to platforms, the size of the inaccessible network is twice as large as the accessible one. Eight major London terminals (Paddington, Marylebone, Euston, Waterloo, Liverpool Street, Moorgate, Charing Cross, and Cannon Street) are lacking step-free access to all Underground platforms, while many major tourist destinations remain completely inaccessible on the Tube, including Leicester Square, Covent Garden, Notting Hill Gate, and Piccadilly Circus.
Looking at the network as a whole, there is a 12-station inaccessibility gap on the Northern line and a 11-station one on the Central line, to name the most extreme cases of poor accessibility in outer London. Every facet of the network is in absolute dire need of step-free access upgrades. Asking the public to choose between having access where they live or having it where they want to go is ludicrous.
Levelling Down the Country
In any case, this entire concept is currently unachievable. As stated earlier, the current crisis has decimated the planning of all step-free access works that were not under construction at the start of the pandemic. This includes both major stations (Holborn, Camden Town) and smaller suburban ones (Park Royal, North Ealing). After Sudbury Hill's completion,TfL's own reference document to the consultation only shows 5 funded step-free access schemes remaining (Harrow-on-the-Hill, Knightsbridge, Paddington (Bakerloo), Bank (Northern), Moorgate (Northern)), with the rest either uncosted or removed completely. If TfL is unable to deliver on schemes that had already been planned, what is a new list of undeliverable projects going to solve?
I can't say I am expecting a significant breakthrough with regards to TfL funding. It was only last week that it was announced that a 16 km West Midland Metro extension, from East Birmingham to Solihull, had been delayed into the "long term," and before that, the Government effectively scrapped the full HS2 route from Birmingham to Leeds and disingenuously tried to pass off the disjointed remaining segments as three new high speed lines. If the North and the Midlands are getting publicly snubbed despite this government's "Levelling Up" aspirations, why should anyone expect London to receive a warmer reception? Clearly, I am far from the only one with grave concerns on the future of accessibility in London, and bankruptcy remains a real possibility for TfL.
---
I realise that this post has an overwhelmingly negative tone, given the subject matter, but I also want to highlight some more positive news from the past few months.
Assisted Boarding Points
After completely botching the level boarding expectations for the Isle of Wight's new rolling stock, it seems South Western Railway is now actually doing something positive for accessibility on its wider network. With the arrival of Assisted Boarding Points at all SWR-operated stations, customers requiring assistance will be able to use these points at platform level to contact a customer service team that would get directly in touch with the guard on the train. The best part is that assistance can be booked 10 minutes before train departure. By comparison, on GWR services, even after booking hours in advance, passengers are asked to "please arrive at your departure station 30 minutes before your train leaves and contact a member of staff." This new feature could offer an improved experience for passengers requiring assistance, allowing for more confidence in independent travel for disabled people. Of course, this approach does not take away the need for level boarding, as miscommunication could still lead to assistance fails, but it is a step in the right direction.
Jubilee Line Humps
This update was actually started more than a year ago, and with absolutely zero announcement from TfL. For years, disabled passengers requiring step-free access have argued that many of the below-ground Jubilee Line Extension stations (Westminster to North Greenwich) were not as "fully accessible" as they claimed to be. These 8 stations (Westminster, Waterloo, Southwark, London Bridge, Bermondsey, Canada Water, Canary Wharf, North Greenwich) all have platform edge doors for increased safety. However, unlike the above-ground stations beyond North Greenwich and the stations that have had platform humps fitted on the older portion of the Jubilee line, these 8 stations for the most part failed to provide comfortable level boarding for wheelchair users.
For some reason, it was initially decided to have a small vertical step between the train and the platform so that level boarding would be optimised when the train was substantially full. However, this meant that outside of busy peak times, there was an unacceptable step that proved uncomfortable for disabled customers, including my husband Jon. Now, platform humps have been progressively added to these stations, finally righting a wrong that has been known since 1999. I want to give a massive thank you to my friend Jeff for getting his friend to take these wonderful pictures. For reference, all these pictures are of the eastbound platforms.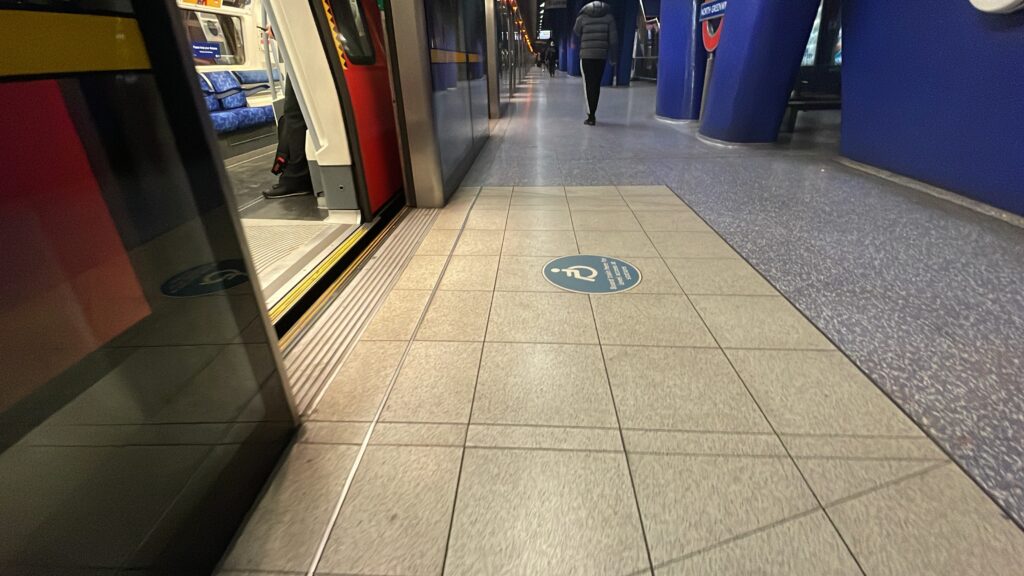 As can be seen, the platform humps, present in 5 of the 8 stations in question, are quite small but provide that extra height to enable much better level boarding conditions. I first wondered if Waterloo and Westminster had been skipped due to higher passenger numbers at these stations, but the works were still carried out at notoriously busy Canary Wharf. Instead, it is perhaps likely that the works are still ongoing. After all, Alan Benson reported on the new platform hump on Waterloo's westbound platform back in November.
My hope is that the remaining platforms will indeed continue to be adapted (and that the funding didn't already dry up), and that we get a proper announcement about this important improvement. As always, if anyone has any updates on these unfinished platforms, please let me know.
Waterloo & City Line
The never-ending saga with the smallest Tube line continues. Even though TfL has an unhealthy obsession with pretending that the Waterloo & City is not accessible to platforms at both of its stations, we actually have good news for once! Again, Alan is my trustworthy source, this time revealing that the new lifts down to the Waterloo & City line would be operational from first to last train, not just during peak hours.
This was before Plan B was imposed in December, but I would expect this to have been reinstated with the easing of restrictions.
In more Waterloo & City line news, it appears that its rolling stock has now been fitted with accessible bays. Hopefully, all of this means that TfL can stop pretending this line is inaccessible and actually make it a welcoming service for disabled passengers to use.
Finsbury Park Step-Free Access
In an extremely rare announcement for Network Rail's Access for All schemes in London, we have some news regarding the Finsbury Park station works to bring step-free access to platforms 3, 4, 7, and 8. I will brush aside the fact these works were not done when platforms 5&6 and the Underground lines were made accessible three years ago and celebrate the fact that the step-free access is actually going ahead. This gives me hope that it is still possible for the Great Northern platforms at Moorgate, currently not slated for step-free access, will be done in the near future. It is important to note that the Access for All schemes in London are funded by the DfT, not TfL, so they are not dependent on TfL's finances.
Crossrail Update
The last shining beacon for accessibility in London's rail network, the Elizabeth Line, is slowly coming together. The latest updates indicate that the line remains on schedule to open during the first half of 2022, with May seen as the internal goal. With Canary Wharf now handed over to TfL, Bond Street is the only core station still in the fit-out stage, and the Elizabeth Line trial operations are in advanced stages. Planned station evacuations with members of the public have been taking place at Woolwich station, and have included disabled passengers as well.
The opening of the central core of the Elizabeth Line will bring a huge accessibility boost for journeys within Central London, with level boarding at all stations between Paddington and Abbey Wood. For the rest of the line, other than the Heathrow Airport stations, there will only be step-free access to the platforms, requiring ramp assistance for access to the train. Unfortunately, the Elizabeth Line's launch does not mean all the accessibility works will be complete by then. Bond Street's delay means that it will not open in time with the rest of the line, and the remaining works at Ilford and Romford are not expected to be completed until after the line opens. Given the state of the rest of accessibility schemes in London, this actually feels relatively minor, and I look forward to the megaproject opening in full.
---
By my next post, I'd expect to have more concrete information regarding the Elizabeth Line's launch, as well as clarity regarding TfL's future. Whether we are headed for managed decline or an acceptable funding deal is agreed, it is crucial for all of us who care about accessible transport to stand our ground and keep up the pressure on elected officials.