I must again apologise for my long absence. With Stadler trains still waiting for passenger service and outer Crossrail stations still not finishing their step-free access works, this summer has been remarkably quiet so far. However, one thing I do want to highlight are the interactive features of my SfL map, which I have been working on behind the scenes.
Map Interactivity
Since I started hosting the SfL map directly on my website, which you can access here, I have been working to make it interactive. For example, the top left corner of the map window lets you toggle between the SfL map and the Future Stations map, making it easy to compare the changes that we will see in the coming years. If you want to download either map, there are buttons below the map window where you can download their PDF.
Also, as of right now, every TfL, Great Northern, c2c, and Greater Anglia step-free station, as well as all Zone 1 stations, have their own dedicated information sheet when you click on a station's blob. This sheet is meant to describe the accessibility of a station, major amenities, and any additional information. Below you can see the information sheet for Blackfriars: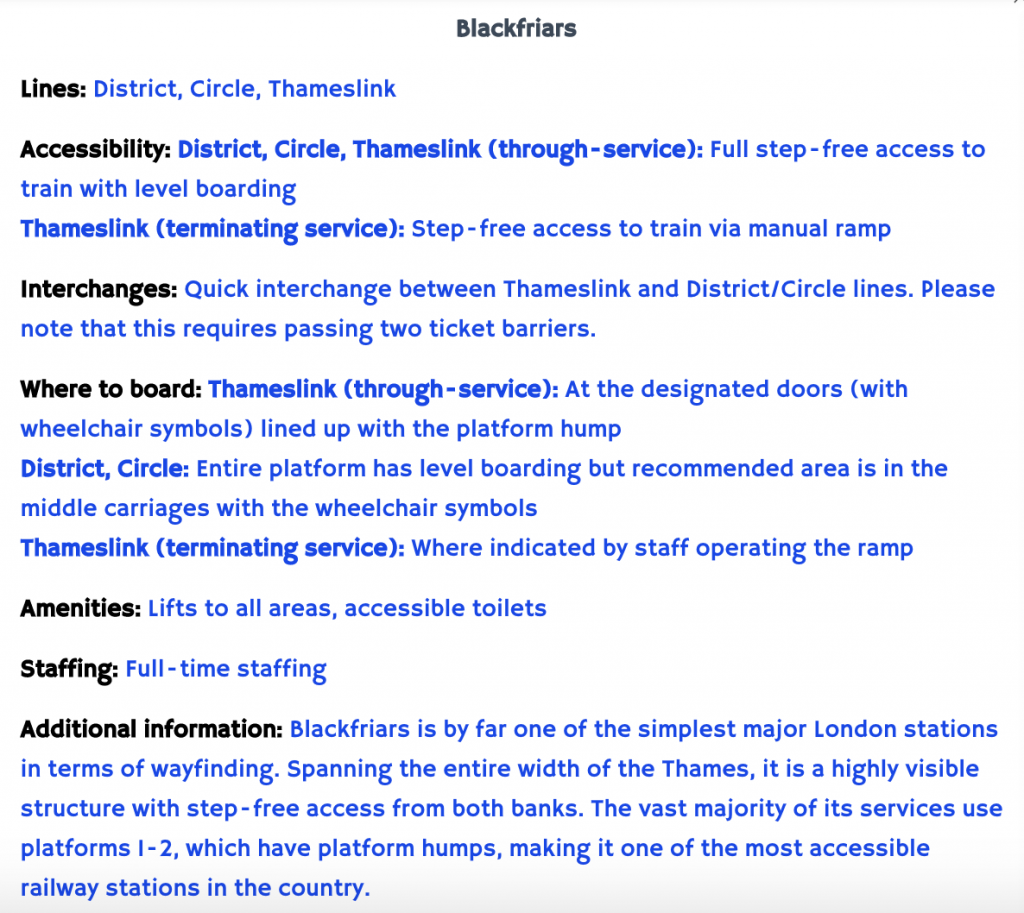 Given the wide variety of stations within London, the detail of each information sheet can vary quite a bit. For example, for a simple Tramlink station with no amenities and full level boarding, there is not really that much to say, especially compared to a station with multiple lines and different accessibility arrangements.
Can You Help Me?
The hardest part about doing this, apart from maintaining consistency, is knowing whether I have put all of the important information and whether the information is accurate for all passengers requiring step-free access. For example, the Jubilee line stations with platform-edge doors have a slight step (especially during the off-peak) that may be unsuitable for some wheelchair users, even if the step is just within the limit of level boarding classification (85 mm gap and 50 mm step).
So I am asking all of you to please go into the map and check some of your local or frequently-used stations and let me know what you think. The map is meant to be a comprehensive resource, so if there's missing or incorrect information, I would really like to know.
Once all the stations are finished within the next month, I will release a spreadsheet of all the station information to make it more accessible for quick viewing and downloading.