I was not planning on making a post about this, but after hearing it mentioned three separate times I thought it was necessary to address it. Earlier this week it was reported that plans for a new station in North London were being strongly criticised for having insufficient step-free access. Although the station will have lifts and step-free access to all platforms, like virtually all new stations on existing lines, it will not have step-free access to the train. The most interesting part in all of this is that it is being openly debated at all. Over the past few years, new stations such as Cambridge North, Lea Bridge, and Maghull North have all opened without level boarding without much fanfare. Could we be seeing a shift in the debate? 
Brent Cross West is an upcoming Thameslink station, opening in 2022, located between Cricklewood and Hendon, which I had previously mentioned in my Future Step-Free Stations blog series. I was surprised to hear about the backlash regarding step-free access mostly because the rail industry has always been so successfully dismissive when it comes to level boarding, citing freight, passing trains, and different types of trains as reasons why the country's railways cannot be adapted to modern accessibility standards. However, it seems that a perfect storm of scandals and local involvement has allowed level boarding to become a central point in the future of this new station.
First of all, Thameslink has been recently battered with terrible publicity, ranging from a devastating internal guide discriminating against persons of reduced mobility to a disastrous new timetable that has disrupted commuting for almost two months. In addition to this, Thameslink services do not have any guards on the train, putting yet another barrier for wheelchair users hoping to travel on the network, especially at understaffed stations. Finally, the fact that the five central Thameslink stations (London Bridge, Blackfriars, City Thameslink, Farringdon, and St Pancras International) now have platform humps probably only highlights the sheer gap in accessibility between these stations and the rest of the network, where ramps are the only means of boarding a train. Putting all of these together, passengers understandably have absolutely no confidence in Thameslink to deliver an acceptable service for those requiring ramp services, which may explain the push to demand that Brent Cross West have independent step-free access.
I have written at length about challenges to level boarding on the mainline network, but this station in particular may be different than most. Looking at the area where it will be built, there seems to be a lot of space on the railway.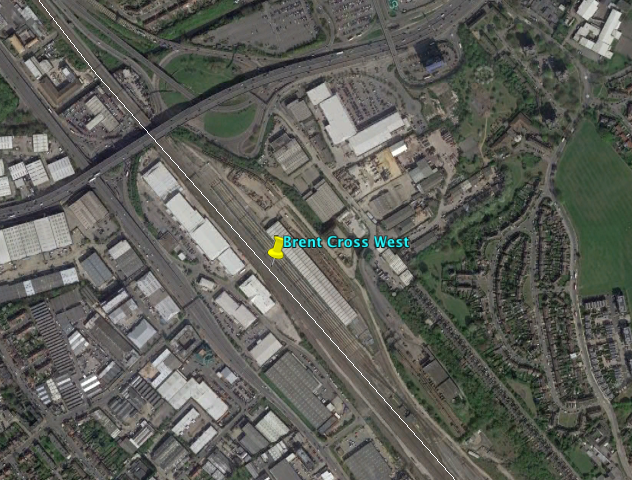 Future location of Brent Cross West
In total, there are six lines currently going through this section of the Midland Mainline, meaning that it would be quite possible to segregate services such that East Midland Trains services and freight trains pass through dedicated tracks and Thameslink services can have their own platforms modified to allow level boarding via platform humps.
One interesting feature that has given this issue more steam is the support of local Labour Party councillors and  London Assembly members. With the local council now proposing to consider "looking beyond the current provision of step-free access from pavement to platform, to include step-free access from platform to train for passengers with disabilities and reduced mobility," there is greater pressure on the rail industry to respond and a chance that things will finally change.
Of course, one thing that is certain is that the pressure will only grow. Not only will low-floor Stadler Flirt trains upend the status quo of accessible travel when they start arriving next year, but the Elizabeth Line will also have an impact. Like Thameslink, the Elizabeth Line will have full step-free access at its Central London stations and step-free access only to platform at the remaining substantially redeveloped (in some cases rebuilt) stations. The main difference, however, is that level access at the new central stations will be throughout the entire 200-meter long train, which may result in significant issues for people needing ramp assistance in Outer London or people who are not aware that 28 of the Elizabeth Line stations are not fully step-free. Eventually something will have to change, and hopefully that time is now.