This week we have been very lucky to see two important railway developments. The first is London-specific and involves the expansion of the Oyster Pay-As-You-Go (PAYG) Zone to Hertford North. The second, affecting the whole country, Is the announcement of the 73 railway station that will be made step-free during the new Control Period of Network Rail funding. Because of these announcements, I have now updated the SFL Map and Future Station List.
Hertford North
The latest Oyster Zone expansion brings an end to the absurd situation where Hertford East was in the zone but neighbouring Hertford North wasn't. The extension covers the Great Northern route from Crews Hill to Hertford North, including intermediate stations Cuffley and Bayford.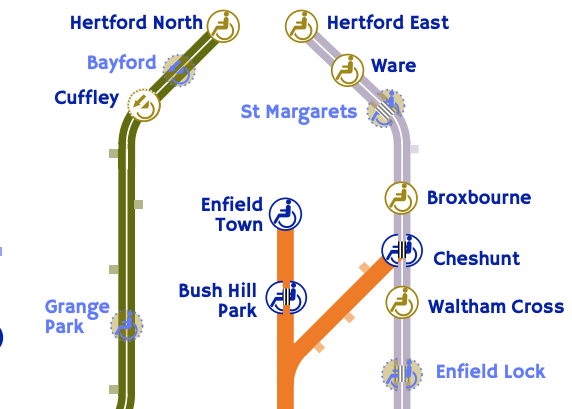 As I usually say, an Oyster Zone expansion isn't just about simplifying payment methods, but also about improving the connection between London and its suburbs. With Hertford North having adequate step-free access (all northbound trains are step-free, and half of the southbound trains are), one branch of the Great Northern local routes now becomes accessible, with an important interchange at Finsbury Park for further travel on Thameslink or the Underground. Additionally, Bayford, Cuffley, and Grange Park do have some degree of step-free access, although they are limited by either poor staffing or one-directional access.
Similar to how Hertford East's early Oyster Zone acceptance created an unbalanced situation with Hertford North, the latest expansion does the same with the second Great Northern route to Welwyn Garden City, as well as with the local Thameslink route to Luton Airport Parkway. Fortunately, these expansions are still programmed to take place later this year.
Access for All
Yesterday, the Department for Transport announced 73 stations for the current 5-year Network Rail funding period, known as Control Period 6. These stations truly cover the all parts of the country, from Cornwall to suburban Glasgow, including rural stations as well as busy commuter hotspots. London (and the Oyster Zone) itself receives a significant portion of the stations, with a total of 18 stations. These are:
Hither Green (previously deferred)
Barnes (previously deferred)
St Mary Cray (previously deferred)
Grays (previously deferred)
Battersea Park (previously deferred)
Streatham (previously deferred)
Peckham Rye (previously deferred)
Petts Wood (previously deferred)
Seven Sisters (previously deferred)
Queen's Park (previously deferred)
Hackney Downs
Stoneleigh
Mill Hill Broadway
Cricklewood
Catford
Isleworth
Wandsworth Town
Hertford North
These stations cover a wide large area of suburban London, including both TfL and National Rail stations. Works at Streatham, Queen's Park and Hackney Downs will allow for easy interchanges between services and increase the number of journeys available for disabled passengers. It is also interesting to see Hertford North in both announcements this week. Passengers there will surely have a vastly improved experience with both Oyster acceptance and lifts to all platforms.
Forgotten CP5
Of course, any investment in step-free access should be a cause for celebration. However, it is difficult to avoid seeing the fact that more than half of the London stations chosen now were originally meant to be completed in the last Control Period before they were deferred due to lack of funding. In fact, nationally, 37% of the announced stations were Control Period 5 (CP5) deferments. So it is important to realise that the government is playing catch-up with accessibility, and that we as passengers need to hold Network Rail accountable for the completion of all 73 stations by March 2024.
This is made even more clear when considering how some of the stations from CP5 have fared. From my count, there are 13 London stations that have not been completed yet. Keep in mind that the original deadline was at the end of March 2019, and that the program had already shed 27 stations as part of the deferments. These delayed stations are:
West Hampstead
Tottenham Hale
Selhurst
Shortlands
Carshalton
Teddington
Brondesbury
Alexandra Palace
Palmers Green
Coulsdon South
Bexley
Plumstead
Ewell West
As I have mentioned before these stations are all at widely different stages of execution (or lack thereof), but the point is, how can we trust Access for All to deliver new stations on time when it has already fallen behind again? There needs to be more transparency and oversight for all unfinished Access for All stations.
Finally, I hope this programme will continue to grow in investment and in scope. No longer should it be okay for a station to claim to be step-free when it requires boarding ramps and is only staffed for a few hours. Any advancement in station infrastructure should be followed by advancement in train design. Level boarding at 915 mm is the only credible (if incredibly expensive) way to achieve true step-free access in a wide-scale, and I hope that the rail industry acknowledges this sooner rather than later.