In addition to April Fool's Day and Transport Secretary Chris Grayling's birthday (coincidence?), today also marks the start of Network Rail's latest 5-year funding period, Control Period 6 (CP6). Investment during these periods typically include various types of projects, such as new stations, electrification schemes, step-free access works, and maintenance/renewal works.
Access for All
Obviously, one of the most interesting aspects of the new funding period, access-wise, is the Access for All stations that will become accessible in the next 5 years. £300m have been set aside for this scheme, of which approximately £50m will be for the stations that were deferred from Control Period 5. In London, there are 9 such stations, including Peckham Rye, Barnes, Streatham, and Seven Sisters, among others. The remaining stations for the scheme have not been announced yet, but London is likely to get a significant boost in accessibility.
Of course, we should also be aware of the CP5 stations that have NOT been deferred but that are not completed. Listed in the Future Station List on the bottom of the Map page, there are 13 stations at various stages of progress. Stations like Tottenham Hale and West Hampstead are nearing completion, while Alexandra Palace and Palmers Green haven't been mentioned in years. Given this variation, it is always good to see unexpected progress, such as brand new lift shafts at Ewell West.
It is important to remember that these stations are technically ALREADY funded and we must not allow the government to dilute the upcoming funding by pretending otherwise.
Jon's Journey!
In other news, my husband Jon has put together an amazing "first-person" video of our journey from our home in Reading to ExCeL London. It is very informative and allows viewers to see the small accessibility barriers that he has to endure on a daily basis, as well as the important role of assistance and level boarding.
Given the four separate rail journeys we took to reach our destination, it was certainly not lost on me the fact that had the Elizabeth Line opened on time, we would've had a DIRECT service from Reading to Custom House and saved a huge amount of time. Nevertheless, we are eagerly looking forward to the line's eventual opening, and we are sure it will transform our travel experience and bring Reading a bit closer to its gigantic neighbour.
Level Access Reading?
Speaking of Reading, we have gotten in touch with our MP, Alok Sharma, about the prospect of installing temporary platform humps at Reading station for the Elizabeth Line. He has forwarded our message to Network Rail and GWR, and will inform us of their response. This is just the beginning of what may be a long and stressful process, but I am keen to see what kind of support we see from the rail industry and our MP. I will keep you all posted!
TfL's Takeover
Finally, TfL has released a brand new report on the "metroisation" of the London suburban services currently run by South Western, Southern, Thameslink, and Southeastern. The goal of their proposal is to take over these routes and increase capacity to give them metro-like frequencies. Here is a comparison of the current service pattern versus the proposed changes: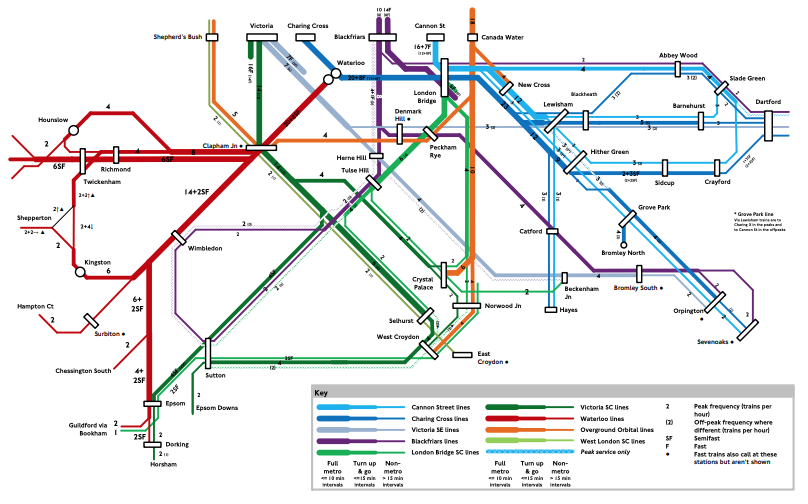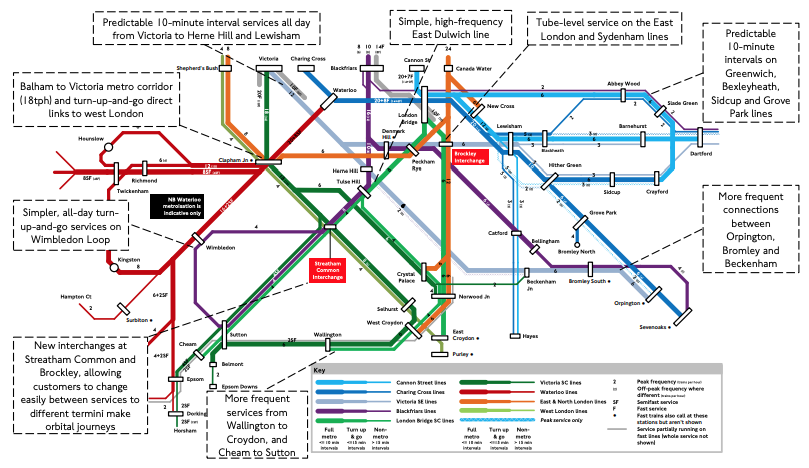 One of the main way TfL proposes to increase capacity is by simplifying and streamlining services to create high-frequency corridors. While this does mean that some journeys, particularly on Southeastern services, would require additional interchanges, the end result would hopefully be a reliable suburban network that would be comparable to existing Overground services and even parts of the Underground.
Although I am not totally in favour of rail nationalisation (I believe increased funding from the government and tighter control over the franchise process could bring many of the proposed benefits), I am very supportive of rail devolution. Getting all local services in London under TfL would allow for increased cooperation, fairer pricing schemes, and most importantly, full-time staffing. These suburban corridors, as seen on the SFL Map, have abysmal staffing at most of their stations. TfL's commitment to staffing would greatly boost overall accessibility at dozens of stations overnight. I encourage anyone interested in this to read the report.