I apologise for my infrequent posts this month, as I have been mostly focusing on updating the station descriptions on the SfL map. So far, all of Zone 1 is complete, as well as the Jubilee, Victoria, and Piccadilly lines. It is a very slow process but I hope to have it done by summer. In addition to this, I've had a week filled with accessible transport!
Access All Areas
Earlier this week, Jon and I attended TfL's Access All Areas event at ExCeL London. The event was meant to allow disabled passengers the opportunity to meet with representatives from various transport and accessibility groups and learn about the latest developments in accessible travel.
While we were not able to attend any of the talks due to them being fully booked, we did get to talk to representatives from most of the exhibitions, ranging from various TfL services to innovative apps and fully accessible taxis. Unfortunately, since these events are designed to inform users rather than provide super specific technical detail, I wasn't quite able to get all my questions fully answered, such as the future provision of level boarding and the validity of the Freedom Pass at Reading once the Elizabeth Line arrives in December.
Nevertheless, we did manage to see and learn a lot. For example, we discovered that new electric London taxis are large enough to accommodate Jon's wheelchair, new bus designs will create a much larger wheelchair spaces, and the long-delayed Passenger Assist app may finally become available later this year. We also had the opportunity to meet many prominent accessibility advocates in person!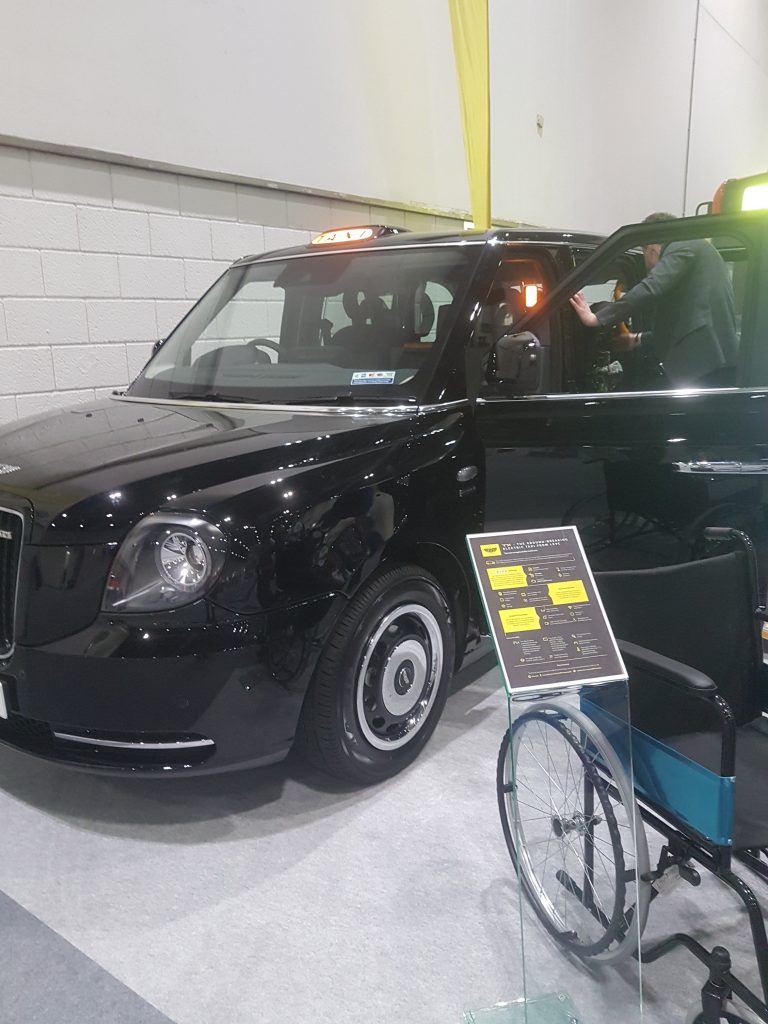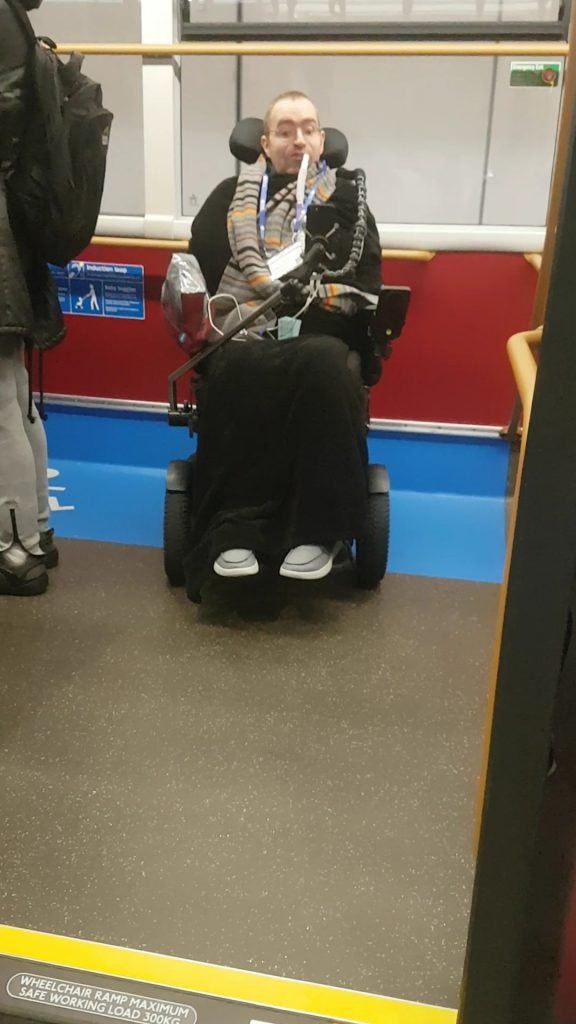 Level Boarding
As I mentioned earlier, one thing we asked about with regards to trains was level boarding. Speaking to a London Overground exhibitor, we were keen to ask why so many stations with dedicated Overground platforms (and no passing freight) aren't fitted with platform humps, such as Stratford, Clapham Junction, Highbury & Islington, and New Cross. Instead of finding an excuse, the representative actually agreed with us and said it was definitely possible. It is great to see that people are starting to realise the impact of level boarding and it highlights how important it is to keep pushing the issue.
As you all know, my preferred level boarding strategy is a low-floor train that corresponds to the standard platform height. However, in the short/medium-term, platform humps are still an option. With so many high-floor trains entering service right now, it may take years before they are replaced, and so I believe that platform humps should be seen as a temporary corrective measure where possible and not as an ultimate solution.
Reading Station
One place where this could be feasible that I hadn't really considered is at my local station, Reading. Reading is a huge interchange station with 15 platforms (6 terminating and 9 through platforms), exactly like London Bridge. When the Elizabeth Line (as TfL Rail) arrives in December, it will take over existing local GWR services to provide 2 trains per hour in the off-peak, and two additional ones during peak-time. Local services are currently spread out between 4 platforms (12-15) and have a remarkable degree of rolling stock uniformity.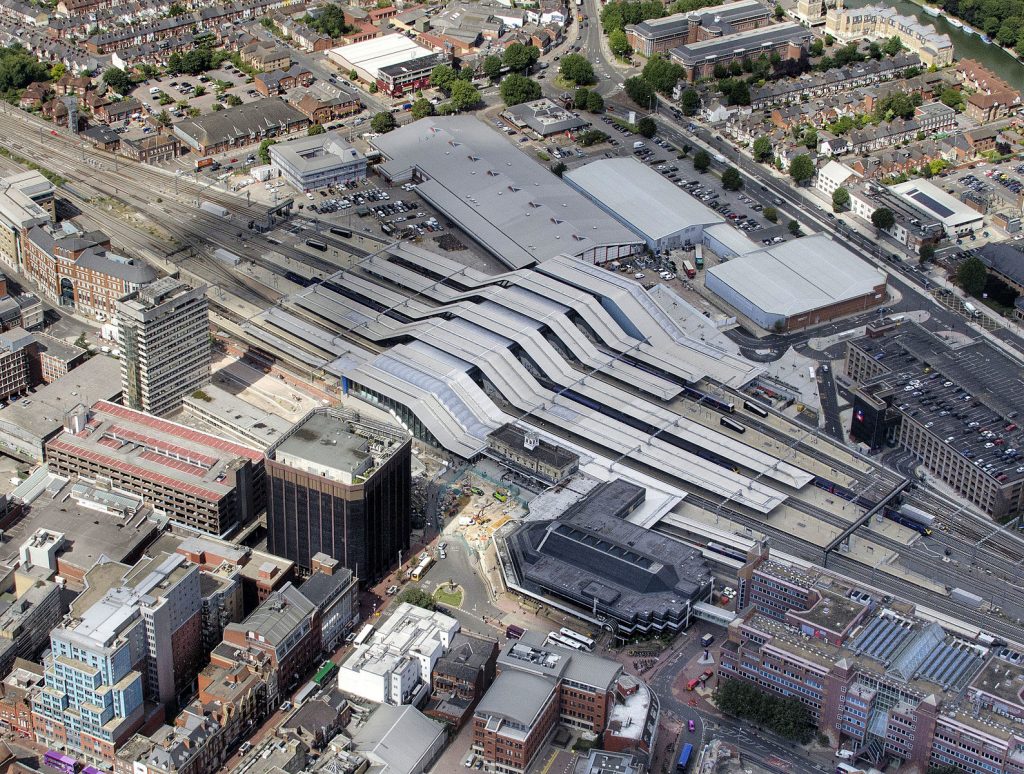 Judging from the current timetable, up to 79% of all passenger services at these 4 platforms will use either the Elizabeth Line class 345 trains or the structurally similar class 387 trains, both from Bombardier. This number would then rise to 86% once the expected Basingstoke and Oxford electrification projects are finished. This means that it should be entirely possible to assign 1 or 2 platforms for the Elizabeth Line trains and install platform humps without inconveniencing other services. Platform humps would definitely impact freight traffic, but there would still be 2-3 available platforms, not to mention the remaining 5 platforms if needed.
It is important to note that there is precedence for all of this. For example, the Overground at Euston has 3 trains per hour and has exclusive use of platform 9. Similarly, the Heathrow Express (4 trains per hour) takes up 2 platforms at Paddington AND has raised platforms for level boarding. Surely one exclusive platform at the UK's 7th largest station outside of London shouldn't be impossible.
I really think this is something that could be achieved and I will be taking this up with my local MP and try to gather up the support to see this through!
South Woodford
I almost forgot to mention that South Woodford is now accessible at both platforms. The SfL map has now been updated to reflect this.