Following my earlier post on TfL Rail, I have now created a list documenting the current and upcoming step-free access projects on all lines and services in London up until 2022. These stations range from small branch-line stations such as Mill Hill East to major interchange centres such as Whitechapel. All in all, I found about 90 stations across London that are slated to see improvements in step-free access. It is inevitable that this number will change over time, as new stations are announced and projects become delayed or cancelled, and so this list, just like the main SFL map, will be continuously updated.
In order to discuss the main features of these stations, I divided them into 8 groups based on over-arching projects, scope, and sources of funding. These are:
The full list can be found below in PDF form.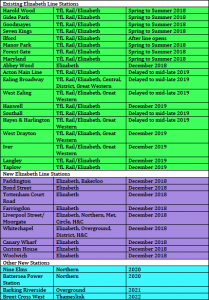 Future Stations List (click to enlarge)
Each of the stations is also shown in the map below, along with a coloured blob marking which group it belongs to. There is no distinction made between different degrees of accessibility (level boarding vs. ramp) partly to simplify the layout of the map, and also because it is not yet clear where level boarding will be available, particularly with the Underground line stations.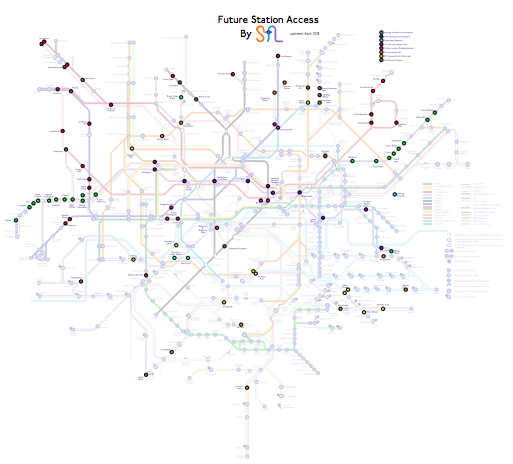 Future Stations Map (click to enlarge)

The post is the first part of a 9-part series on this topic, with subsequent posts dealing with the characteristics of each of the groups. Each post will introduce the group and the list of stations, give a short overview about the stations as a group, show some examples, and mention the extent of level boarding. The lists will show the station names, the line(s) that will receive step-free access work, as well as the expected completion dates.
For ease of access, the full list and map will be available in their own page found in the header menu under Future Stations. Check out the next post covering the suburban Elizabeth line stations!