This weekend I had an all-day outing in London, hoping to catch a glimpse at some of the several step-free access projects across the capital. In a forthcoming post, I will be listing in detail all of the projects expected to be completed by 2022, while this one will focus on the future Crossrail/Elizabeth line.
For those who are not familiar, the Elizabeth line will be a TfL-run services composed of a new underground line stretching under Central London from Paddington, Liverpool Street, and out to Abbey Wood, while also incorporating existing suburban networks currently operating out of Liverpool Street (to Shenfield) and Paddington (to Heathrow and Reading).

Map of the final phase of the Elizabeth line (Click to enlarge)
This line will increase the rail capacity within Central London when its first stage opens in December 2018, while also allowing for new direct journeys from outer suburbs. Particularly, the line will heavily impact the Central Line, with which it shares no less than five stations, as the Elizabeth line will have fewer stops. For example, from Ealing Broadway to Stratford, there are 21 Central Line stations compared to 8 on the Elizabeth line. Featuring new and longer trains and stations, the new part of the line will feature full step-step free along the entire train.
However, one part that is often neglected is how the remainder of the line, most of which was constructed in Victorian times, will be adapted to the new service. Officially, thanks to intense lobbying from accessibility advocates such as Transport for All, all of the 41 Elizabeth line stations will have step-free access to platform, although only 13 of them (the new stations plus the Heathrow branch) having step-free access to the train. The issue of level boarding and its challenges will be dealt with in a later post. However, due to widespread delays, the redevelopment for each of these suburban stations will open sporadically, and possibly even after the entire line opens in December 2019.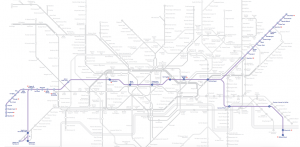 Map of step-free access on the completed Elizabeth line (Click to enlarge)
TfL Rail is the placeholder brand used to describe the existing TfL-run services that will become part of the Elizabeth line. Currently, this label refers to the service from Liverpool Street to Shenfield and from May, it will also include services from Paddington to Hayes & Harlington and Heathrow Terminal 4. Taken over in 2015, the current TfL Rail service shows the most progress with regards to redevelopment and step-free access.
Disregarding stations that already had step-free access by the time of the takeover, like Shenfield and Romford, all remaining stations except for Ilford are under various stages of construction. Forest Gate appears to be the most advanced, showing completed lifts.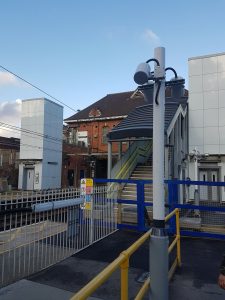 New lifts at Forest Gate
Also, Seven Kings and Manor Park have recently had their footbridges added, and most of the structural components are in place.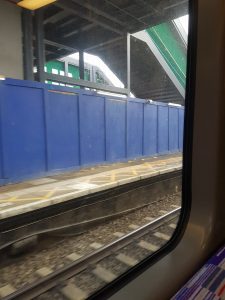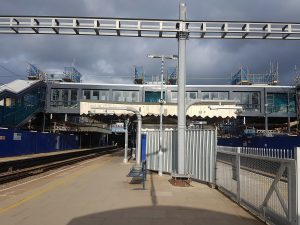 Footbridge "skeleton" at Manor Park (top) and Seven Kings (bottom)
Finally, stations like Maryland and Goodmayes show a much smaller construction footprint, which may indicate that the redevelopment will be integrated with the existing infrastructure or that construction is simply not as advanced yet.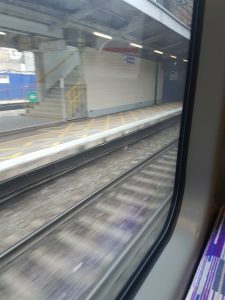 Some hoardings at Maryland, but no footbridge structure
I believe that all of these stations will be finished by the end of this year, with individual stations gradually becoming accessible as their projects are completed. The exception here is Ilford, which will receive a completely new station at a later date.
On the western side of the upcoming TfL Rail service, the situation is more bleak, with several redevelopment contracts still not awarded, rolling stock issues, and unfinished platforms. As meaningful step-free access work is still a long way off, I will not go into detail about this section, but I do recommend today's article from London Reconnections, which explains all the issues surrounding the western section.