To start off, I would like to introduce my Step-Free London map, which features the state of step-free access across London's rail network. It includes both TfL-run services, such as the Underground, Overground, DLR, and Tramlink, as well as National Rail services within the Oyster Zone, such as Southern, Thameslink, and South Western Railway. This map was created in response to the number of inaccuracies I found in TfL's official accessible map as well as the fact that there is, to my knowledge, no single step-free access map that shows all the National Rail services.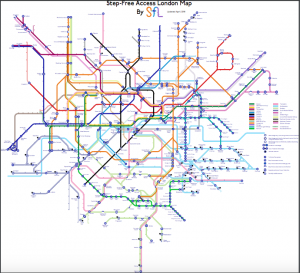 Click to enlarge
A map like this would have been very useful when my partner and I first started travelling to London. My partner often travels to Vauxhall for meetings and at the beginning, we took a Southern train to Victoria, where we would navigate the mess of roads and construction to the north ticket hall of the tube station and take the Victoria line to Vauxhall. This was very time-consuming due to the long interchange. In time, we found out that Clapham Junction is fully accessible and provides a vital interchange between South Western Railway and Southern, meaning that we could change trains there and go directly to Vauxhall, saving a lot of time. With this map, it is clear that changing at Clapham Junction would be the quicker option.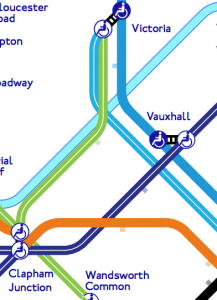 SfL Map between Clapham Junction and Vauxhall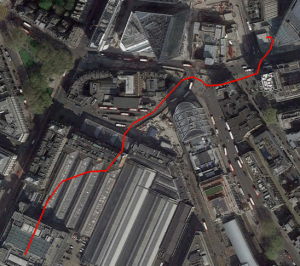 Interchange route between London Victoria and the (as of now) only accessible ticket hall of the tube station
In terms of style and notation, this map does take significant inspiration from the official TfL Map and National Rail's London Rail & Tube Map, using the same white and blue wheelchair blobs to show the extent of independent access. Some of the additions I made to provide more detail are: explicitly showing stations with one direction of access (by literally cutting the blob in half), creating a new type of blob to show stations that have level boarding but have a variable gap size due to curved platforms, showing the direction and type of interchanges, differentiating between in-station and out-of-station interchanges, and taking into account partial staffing at National Rail stations.
Like with all maps, it was necessary to make simplifications and omit certain information to make the map easy to follow. For example, the notion of out-of-state interchanges refers to the need to interact with the outside environment, such as crossing busy streets and navigating traffic, but does not take into account the distance needed to make the interchange. As such, there are out-of station interchanges, such as Vauxhall, that have very short interchange distances compared to some that have in-station interchanges, such as Green Park. Also, in-station interchanges may require tapping in and out of multiple ticket barriers, just as long as the entire station complex is self-contained, like in King's Cross St. Pancras.
Finally, staffing is extremely important to step-free access, as staff is needed to operate manual boarding ramps when there is no level boarding. Whereas TfL guarantees station staffing from first to last train, National Rail train-operating companies do not always offer this, especially at smaller stations. Because train staffing is also not always available, there is at least one fully step-free station, Lea Bridge, as well as several with partial access that are not shown on the map because they are completely unstaffed or are staffed fewer than 5 hours a day.
This map will be continuously updated as stations become step-free, the network is expanded, and staffing levels improve. Due to its potential use as a valuable resource, it will be easily found in a dedicated page on this site. As always, any feedback is greatly appreciated to make this map as successful as possible.