Reaching the half-way point of my Future Step-Free Stations series, we will now look at the largest group of step-free station works. Please refer to the intro of this series for overall information and links to other posts.
| Station | Line | Scheduled date |
| --- | --- | --- |
| Newbury Park | Central | 2018 |
| Harrow-on-the-Hill | Met, Chiltern | 2019 |
| Buckhurst Hill | Central | 2018 |
| South Woodford | Central | 2020 |
| Cockfosters | Piccadilly | 2020 |
| Mill Hill East | Northern | 2019 |
| Osterley | Piccadilly | 2020 |
| Amersham | Met, Chiltern | 2020 |
| Boston Manor | Piccadilly | 2022 |
| Burnt Oak | Northern | 2022 |
| Debden | Central | 2022 |
| Hanger Lane | Central | 2022 |
| Ickenham | Met, Piccadilly | 2022 |
| Northolt | Central | 2022 |
| North Ealing | Piccadilly | 2022 |
| Park Royal | Piccadilly | 2022 |
| Rickmansworth | Met, Chiltern | 2022 |
| Ruislip | Met, Piccadilly | 2022 |
| Snaresbrook | Central | 2022 |
| Sudbury Hill | Piccadilly | 2022 |
| Wimbledon Park | District | 2022 |
In 2016, the Mayor of London Sadiq Khan announced a £200m investment aimed at increasing the percentage of step-free stations from 26% to 40% on the London Underground, adding more than 30 accessible stations by 2022. Since then, two sets of Tube stations have been announced for the project, one set to be completed by 2020 and the other by 2022.
In order to bring step-free access to such a large number of stations at once while minimising costs and making the largest impact, stations chosen for this project need to have common characteristics that will make the implementation of step-free access easier. For example, all of these stations are above-ground and are located towards the outer edges of the Underground network. This avoids expensive tunneling works and also reduces the spatial constraints found at stations closer to Central London, allowing step-free access to be achieved using footbridges fitted with lifts for most cases.
Due to these criteria, the plan heavily favours the Central, Met, and Piccadilly lines, which have extensive above-ground stretches and have long suffered from poor overall step-free access.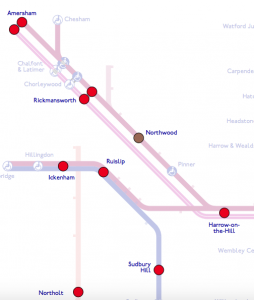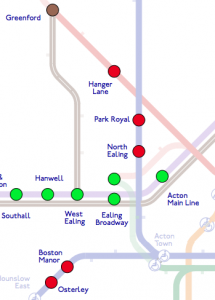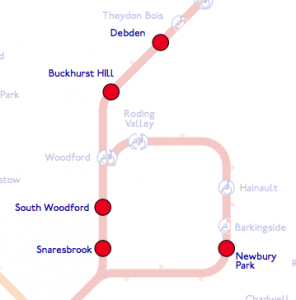 Large clusters of step-free access plans at the Piccadilly, Central, and Met lines in the west/northwest (top) and the northeast (bottom)
Indeed, 18 out of the 21 stations in this group come from the outer branches of these three lines. Coupled with the Elizabeth Line suburban station works, the London Borough of Ealing is the clear winner of current step-free access works, as it will gain 10 new step-free stations within its borders by 2022.
Unfortunately, this also means that long accessibility gaps such as the Northern line's entire Morden branch (where there are 11 consecutive inaccessible below-ground stations between Morden and Elephant & Castle) will not be "filled" during this project and will instead require extensive rebuilding that will probably only come with private investment or major urban regeneration.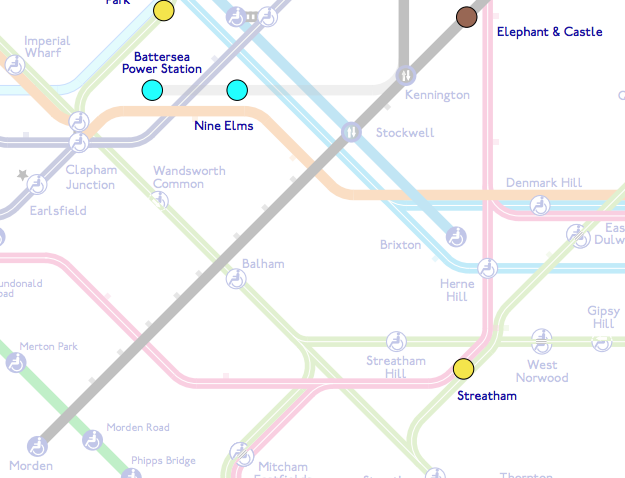 Massive lack of accessibility at the southern portion of the Northern line
Because these stations are meant to have roughly similar layouts, works will follow a modular construction approach, which is meant to lower the costs and the construction time. Although the project is still at relatively early stages and most of the work on the first set of stations will begin this summer, it has also made great progress at some early stations, with Newbury Park and Buckhurst Hill both planned to be completed this year.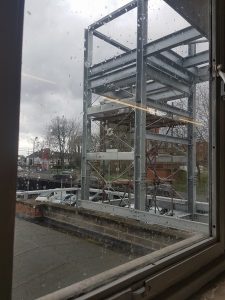 Advancing work at Newbury Park
It is my hope that the project maintains this momentum and that long-neglected communities all across the Underground network will have access to a more modern and inclusive railway system.
Level access is probably most difficult to gauge with these stations, as there are several issues that complicate its introduction, mainly dealing with the rolling stock (trains) that runs through the stations. For example, Central line trains (1992 stock) currently do not have accessibility provisions for wheelchair users, as they lack wheelchair spaces. Also, none of the line's step-free stations (except the southbound platform at Stratford) have level boarding, even newly-refurbished stations at Bond Street and Tottenham Court Road, so it is not clear if these new stations will be treated any differently. Thankfully, these trains are due for refurbishment starting this year until 2022, which will see an overall improvement in their accessibility design, and may justify the installation of platform humps at its existing step-free stations, similar to the Northern line.
More complicated still, trains of different sizes make it almost impossible to achieve level boarding for all services at a station. This will happen at stations such as Ruislip, Rickmansworth, and Ickenham, where there is sharing of tracks either between the Met and Piccadilly lines, or the Met line and Chiltern Railways services, all of which have trains with different floor heights. It is possible that one train type will be prioritised for level boarding or that some other creative solution will be found, but for the time being, there will most likely be manual boarding ramps for all lines. The remaining stations, however, are likely to offer level access when their works are completed.
Moving towards a different direction,  post #5 will keep its focus on the Underground but will feature step-free access projects at some of Central London's busiest and most complex stations.