Today, I decided to go into London to see the progress of several step-free access schemes across the city, which is something I have not done in many months. Ranging from small hoardings tucked away from view to massive construction zones linked to commercial development, it was great to see so many of these projects moving forward. With any luck, we should be seeing more than a few openings by the end of the year!
Starting at Paddington, I got a glimpse of the upcoming Elizabeth Line station. In addition to the Elizabeth Line, this new entrance will also give step-free access to the Bakerloo line.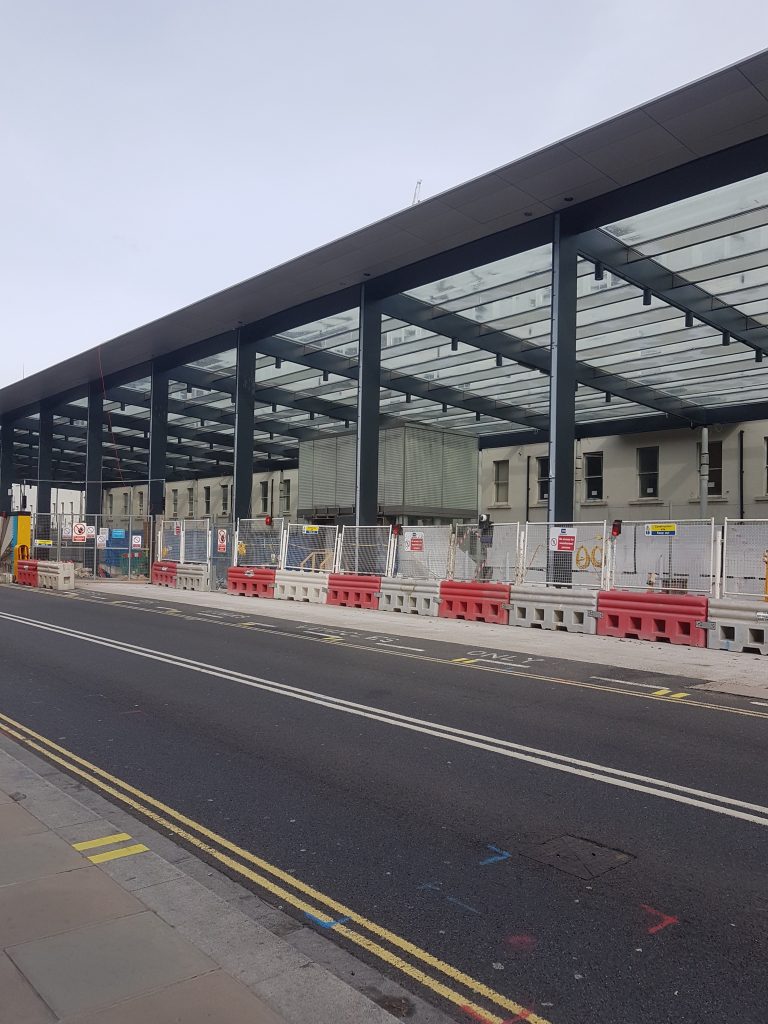 Going west to the only TfL Rail West station where step-free access works are now visible, Ealing Broadway has made a recent bold move after years of inactivity. The stairs leading from the ticket hall down to the National Rail platforms have been demolished to make way for the redeveloped stations. Because of this, exiting the station now requires walking the entire length of the station to a footbridge and then coming all the way back to the ticket hall. Hopefully the works will speed up now and be ready for the Elizabeth Line launch in late 2019. One last thing I noticed was how low the National Rail platforms are, especially compared to the extended platform sections. There is currently a very large step between the train and the platform and I am curious to see how well ramp assistance will work at this station.
Making my way towards Central London, I stopped by Knightsbridge and Victoria. As Knightsbridge's works are tied to a huge redevelopment project, the only visible updates of the new entrance are either hoardings or the massive construction hole of the project. In Victoria, there is no further update on the final lift, with hoardings still in place throughout the station.
Heading north, one of the most visible step-free access works is at West Hampstead on the Overground. With a mostly completed footbridge and a gigantic new ticket hall under construction, this station is set to become an important transport hub in North London. Similarly, the works at Tottenham Hale will create a major interchange point, with quick access to Stansted Airport, Liverpool Street, and Stratford. Unfortunately, it does not seem like work at Tottenham Hale is nearly as advanced, considering both stations were set to open by the end of this year.
New ticket hall at West Hampstead

The new step-free footbridge at West Hampstead is already in use

The new step-free footbridge at Tottenham Hale is NOT in use

Tottenham Hale looking a bit worse for wear at the moment
Unfortunately, not all major projects are readily visible to passengers, and this is most apparent at Finsbury Park and Moorgate. Despite the significant challenges of adding multiple sets of lifts and new underground corridors, at platform level, the only signs of this are small blue hoardings. With both projects scheduled to be finished by next year, it will not be long before we see what lies behind these doors.
Hoardings at Finsbury Park

Hoardings at Moorgate
Finally, my last journey of the day was on TfL Rail East. Other than Ilford, all seven inaccessible stations on this line were expected to be step-free by the end of the summer. As you can see, most of these are pretty much ready to open. However, I did not see any sort of work at Goodmayes (not pictured), which either suggests that work is heavily delayed and we will soon hear about this, or the work is being done within the station's existing structure and does not stand out.
Maryland

Forest Gate

Manor Park

Seven Kings

Gidea Park
In the end, I was not able to visit all the locations I had planned, including Newbury Park, Northumberland Park, and White Hart Lane. Nevertheless, it is clear that step-free access works are booming across the city, and we will soon enter a period of frequent openings, especially as the Elizabeth Line opens and the TfL step-free access scheme enters its full construction phase.