This is the second post dealing with the upcoming timetable change on 20th May, bringing widespread changes to London's rail transport. The first post dealt with the changes associated with the Thameslink Programme, while this post will focus on the remaining changes as well as give a brief preview of important service changes in future timetable changes. 
Elizabeth Line
The most noticeable change this May has to do with TfL Rail, the precursor to the Elizabeth Line. Currently, TfL Rail is limited to the stopping services between Liverpool Street and Shenfield, but starting next week, TfL will take control of some Great Western Railway local services (2 trains per hour) as well as the entire Heathrow Connect brand (2 tph).

Map of expanded TfL Rail (click to enlarge)
From an operational view, very little will change on the ground initially. The plan was originally to have all the services run with the new Elizabeth Line trains from Paddington to Heathrow Terminal 4, which would have doubled the Heathrow Connect's frequency.  Due to delays with testing the new trains in the Heathrow tunnels, the Heathrow services will keep their current rolling stock and frequency, with the remaining services staying in their current service pattern terminating at Hayes & Harlington. And so, apart from new trains replacing new-ish trains on the former Great Western Railway routes, the actual services will remain as they are now.
However, the major difference will be how these services are shown and publicised by TfL. Currently, the official TfL Tube map only shows services run by TfL, meaning that the Piccadilly line is the only service shown going to Heathrow Airport despite being the slowest route.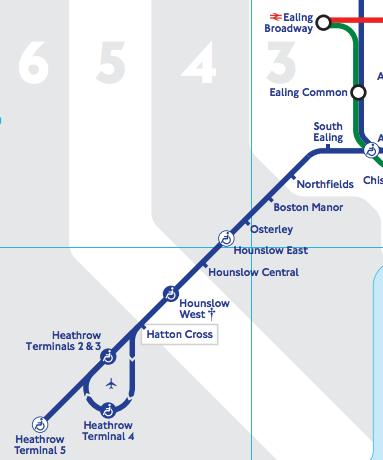 Rail connections to Heathrow according to the current official Tube map
Although there is a combined London Rail and Tube Map that shows all suburban services, it is not nearly as widely circulated as the iconic Tube map. Starting next week, the new TfL Rail services will be featured on every single TfL map, which is expected to significantly boost their passenger numbers. Indeed, some of these updated maps are already on display around major Underground stations, such as King's Cross, as Geoff Marshall tweeted.
So … there is a new tube map with this on, at the westbound sub-surface platform at Kings Cross. TFL rail goes to Heathrow as of Sunday May 20th. pic.twitter.com/h7GIGtQC7V

— Geoff Marshall (@geofftech) May 14, 2018
Another important update is that all three National Rail Heathrow stations will be added to the Oyster Zone, enabling the use of travelcards and PAYG (pay-as-you-go) for the first time and finally integrating these stations to the rest of the London network.
Access-wise, I seem to have made a mistake in how I categorised the Heathrow stations on the Heathrow Connect. It appears that despite there being two very tiny steps onto the train at Terminal 4 and Terminals 2,3, National Rail reports that both of these stations do have level boarding for the Heathrow Connect trains. Once the new Elizabeth Line trains start running to Heathrow, level boarding will be even smoother, with no internal steps.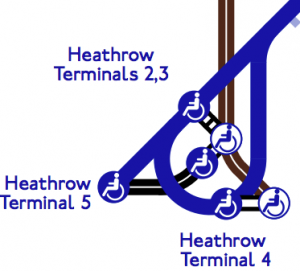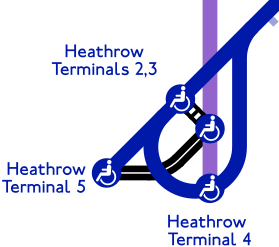 Level boarding at Heathrow, with incorrect (top) and updated notation (bottom)
Moving forward, future timetables will introduce the Elizabeth Line core into service. In December, the new section from Paddington to Abbey Wood will open as an independent service, leaving three distinct TfL Rail/Elizabeth Line services. May 2019 will extend the Shenfield branch into the core, while the full 24 tph service through the core is slated to begin in December 2019, matching the full launch of the Thameslink Programme.
Southern and Great Northern
Southern and Great Northern are National Rail services that belong to the same franchise as Thameslink, meaning that they are the most affected by the changes associated with the Thameslink Programme. Within London, Southern will redesign all of its services to simplify service patterns and increase reliability, which you can learn more about here. Despite this, there will be no major improvement in frequencies or accessibility, and so these changes are minor with regards to step-free access.
Great Northern, on the other hand, will experience extreme changes starting this May. As mentioned earlier, a lot of the expanded Thameslink routes will be taken from Great Northern, effectively leaving behind a skeletal service consisting of only long-distance services out of King's Cross and separate outer suburban services out of Moorgate. Despite this, the suburban services will actually see an initial increased frequency of 2 tph this May and are due to get brand new class 717 trains later this year, allowing further increases in capacity.
Unfortunately, Great Northern services inside London have currently absolutely terrible accessibility, making it virtually inaccessible to wheelchair users and not even worth adding to my SfL map until Alexandra Palace and Palmers Green become accessible. To show the extent of inaccessibility, despite getting completely accessible trains, here is a map of Great Northern routes from ProjectMapping: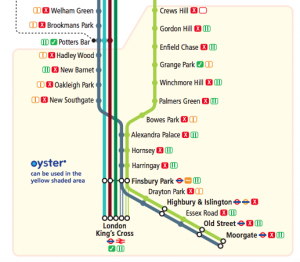 Map of Great Northern suburban routes. Cross means no step-free access (click to enlarge)
Its outlook is also quite murky, as it is still unclear, despite almost a decade of construction, if the reconstruction of Moorgate due to the Elizabeth Line will bring step-free access to these neglected services in December.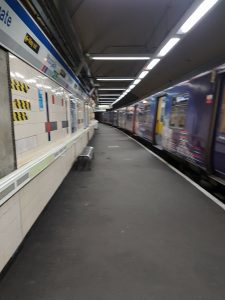 Neglected Great Northern platforms at Moorgate
To make matters worse, the step-free works at Finsbury Park are set to bypass the northbound platform of the Great Northern services, hinting that this line is simply not prioritised. In an unexpected twist, following yesterday's statement by the Secretary for Transport, it may be that Great Northern will cease to exist, with suburban services finally reverting to TfL, hopefully meaning that they will finally get the complete modernisation that they badly deserve.
London Overground
Finally, there is a small change at the Overground with regards to the timetable change, with an increased frequency between Stratford and Willesden Junction as trains from Clapham Junction via Willesden Junction will all continue to Stratford. This section, part of the North London Line, contains no fewer than 12 step-free stations  out of a total of 18 stations, representing one of the most accessible routes in London, albeit requiring manual boarding ramps.

Section of the North London Line
In addition, there were plans to start the introduction of new, more accessible trains (class 710) on various Overground routes, including the GOBLIN and the lines out of Liverpool Street and Euston. Unfortunately, due to delays with testing the new trains, it is very likely that the new trains will not arrive into after the timetable change.
In conclusion, TfL and the train operating companies are being very cautious about major service changes, which is why changes are being done in increments to reduce the risk of disruptions. However, considering all of the delays with new train deliveries and infrastructure, as well as an already overcrowded rail network, next week will probably feature quite a bit of "chaos" as staff and passengers try to adjust to different services and schedules.