Mark your calendars for 20th May!
In the UK's railway industry, rail services that make up National Rail (including TfL-run Overground and TfL Rail) undergo two timetable changes every year, once in December and once in May. During these times, train operating companies, such as South Western Railway and Greater Anglia, may adjust their services depending on changes in passenger levels or new infrastructure. Often, these changes are very minor and go unnoticed by the regular commuter.
However, starting this May until at least the end of 2019, each of these timetable changes is set to come with far-reaching changes that will have a strong impact on rail transport in London, including access. A lot of these changes are centred around the phased openings and expansions of the Thameslink Programme and the Elizabeth Line, although there are also important improvements on Overground, South Western Railway, Southern, Great Northern, and Greater Anglia services. This first post will deal with the Thameslink Programme, as it has not yet been properly introduced, while a second one will cover the main changes in other services. 
Thameslink Programme
I have briefly mentioned Thameslink in passing before, but now I think it would be a good time to properly describe the service and its continuing growth before discussing its upcoming timetable changes.
The Thameslink Programme is a megaproject in London that can be best described as a smaller-scale north-south Elizabeth Line. It is characterised by its core section that runs between Blackfriars and St. Pancras International, allowing services to go through London instead of terminating at one of London's terminal stations. By late 2019 after the December timetable change, all Thameslink services will cross Central London through its core route, where each station, including London Bridge just outside the core, will allow level boarding via platform humps. Thameslink routes originally opened in 1990 after the reopening of a disused railway line, allowing through-journeys from Brighton to Bedford without needing to use the Underground.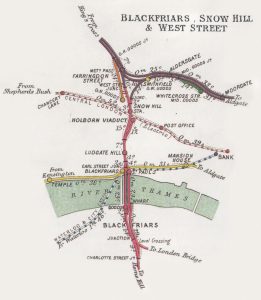 1914 map of what is now the Thameslink core (red) along with nearby Underground lines
Due to the widespread popularity of the services, there was a plan, then known as Thameslink 2000, to completely modernise and expand the line, introducing new and longer trains, rebuilding the unsuitable existing core stations, and filling up the core capacity by adding new routes.
Unfortunately, the original project was marred by delays and multiple revisions before finally being approved in 2007 as the Thameslink Programme. In the project's first stages, Thameslink stations were rebuilt at St. Pancras International (2007), Farringdon (2012), and Blackfriars (2012), with other stations receiving lengthened platforms to allow 12-coach trains through most of the network. Here you can see my partner Jon trying the newly-installed platform hump at Blackfriars.
Boarding a train at Blackfriars using the new raised platform. Can you imagine if all trains were this easy?

Publicerat av Jon Hastie den 27 januari 2018
What followed was the 5-year complete rebuild of London Bridge station and the physical segregation of Thameslink services, which resulted in massive disruptions to most services in South London. With the unofficial opening of London Bridge at the beginning of this year as well as the full introduction of the modern and spacious class 700 trains,  a select number of services have begun passing through the new Thameslink-only platforms in anticipation of the first real launch of the Thameslink Programme.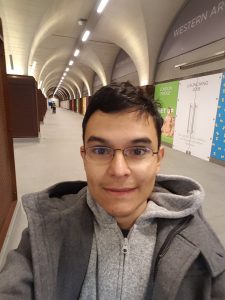 Me at the newly-opened Western Arcade at London Bridge station
Off-peak, Thameslink currently runs about 10 trains per hour (tph) in each direction through the core stations, with some services calling at London Bridge sporadically while the rest are diverted via Elephant & Castle. These services are:
Brighton ↔ Bedford (2 tph)
Three Bridges ↔ Bedford (2tph)
Sevenoaks ↔ West Hampstead (2tph)
Luton/St Albans ↔ Sutton Loop (2tph clockwise, 2tph anti-clockwise)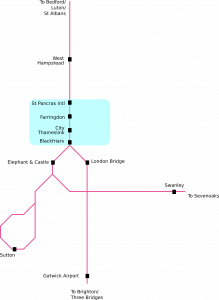 Current off-peak Thameslink services through the core (without diverted route) with major stations
An additional service between Brighton and London Bridge is run by Thameslink, but does not go into the core. These services represent a mixture of express and local service patterns, with some sections exhibiting significant track-sharing with other services, particularly Southeastern and Southern. During peak-time, the core frequency rises to 14 tph with additional destinations such as Beckenham Junction and Orpington. Also, so-called "preview" services (8 per day) started running in February from Horsham to Peterborough and from Brighton to Cambridge for the first time.
What is clear from the current timetable is that Thameslink is primarily focused on linking as many destinations to its core, rather than forming high-frequency routes like the more streamlined Elizabeth Line. The end goal of the Thameslink Programme is to provide a peak frequency of 24 tph through the core (same as the Elizabeth Line) and 18 tph off-peak.
Starting this May, the peak/off-peak frequency of the Thameslink core rises to 18/15 tph with all-day services to Peterborough, Orpington, and Cambridge, a new service to the Medway towns, and peak-time services to Littlehampton and East Grinstead. To do this, Thameslink will take over existing services run by Southern, Great Northern and Southeastern. This will allow important step-free stations such as Dartford and Greenwich to join the Thameslink network. Thameslink will also take over additional services out of King's Cross belonging to Great Northern, but these will not be incorporated into the core until later timetable changes.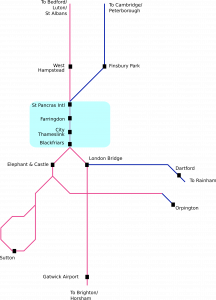 Off-peak Thameslink services through the core starting 20th May, with new sections in blue
From an access point of view within London, the main benefit of this programme is the fully-accessible core stations, especially Farringdon, where Thameslink will have an interchange with the Elizabeth line. With the increased number of trains through the core and the start of regular services at London Bridge during this timetable change, Thameslink services will become a very attractive alternative to the Northern line, which also runs from London Bridge to King's Cross St Pancras.
While the Northern line may feel cramped and hectic due to the warm tunnels and small trains, Thameslink trains are full-sized and spacious. Also, having more destinations around London that have access to the fully step-free core will make travelling to Central London less of a hassle for wheelchair-users, as there will be no fear that they will be forgotten on the train at a busy terminal station such as Victoria station, which has happened to Jon and me on multiple occasions. Unfortunately, the phased-opening approach of the programme does have an important negative consequence, as services from Sevenoaks will now terminate at Blackfriars's extra platforms, which do NOT have platform humps, for at least one year, so this means that level boarding will not be possible in this case.
The following video released by Thameslink gives a great overview of the entire phased-opening schedule:
As of now, Farringdon is the only core Thameslink station without platform humps. This is mainly because one of the station's lifts has been closed for months due to Elizabeth Line works, but probably also due to the platforms' S-shaped curvature. This work is due to be finished by the end of May, so hopefully the humps will be added shortly after.
Finally, future timetable changes will raise the core peak frequency to 20 tph (December 2018), 22 tph (May 2019), and ultimately 24 tph (December 2019), which I will cover in detail before each timetable change.