We have reached the end of my Future Step-Free Stations series, covering additional step-free access projects across London. To check out earlier posts as well as the intro, click here.
| Station | Line | Scheduled date |
| --- | --- | --- |
| White Hart Lane | Overground | Spring 2019 |
| Twickenham | South Western | 2020 |
| Hackney Wick | Overground | May 2018 |
| Colindale | Northern | 2022 |
| Brent Cross | Northern | 2022 |
| Northwood | Met | 2022 |
| Meridian Water | Greater Anglia | 2019 |
| Greenford | Great Western | December 2018 |
| Northumberland Park | Greater Anglia | Late 2018 |
| Elephant & Castle | Northern | 2021 |
This final list represents stations that do not fit neatly into the previous categories. While the projects themselves are supported by either TfL or Network Rail, they do not form part of their central accessibility strategies, which are outlined in the previous posts, and instead most of these projects are more tied to local or private funding. This distinction is somewhat arbitrary, but I thought it would be best to keep these stations separate from those that were actively promoted by the two government bodies. These station are spread out across London and their projects range from complete demolition and reconstruction (Meridian Water) to modular footbridges (Northwood).
In one way or another, virtually all of these schemes are tied to new housing or commercial redevelopments. For example, the Twickenham and Northwood step-free works were spurred by the decision to build more than 100 homes adjacent to each station, while White Hart Lane and Elephant & Castle's redevelopments are due to the new Tottenham Hotspurs stadium and a rebuilt shopping centre at Elephant & Castle, respectively.
One interesting part about some of these stations is how they fit in with other step-free access and overall transport schemes. Meridian Water (currently named Angel Road) is not only part of a major urban regeneration project that will build a new neighbourhood in Enfield, but it is also part of a project to build a third track from Lea Bridge to Meridian Water, which passes through Tottenham Hale (already under reconstruction) and Northumberland Park. Additionally, Northumberland Park will also be within walking distance from the new Hotspurs stadium, providing more accessible ways to reach the venue.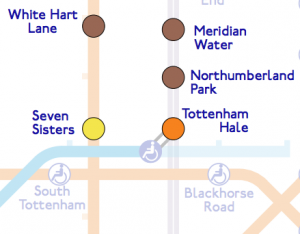 Cluster of step-free access projects in North London
The works at Colindale and Brent Cross, which will be done in 2022 through separate redevelopment projects, will fit perfectly with the planned step-free access at Burnt Oak as well as the new Thameslink station at Brent Cross West. Once these works are finished, there will be five consecutive stations on the Northern line's Edgware branch with full step-free access.
The Edgware branch of the Northern line in 2022
Finally, the only station here that is not actually part of any ongoing redevelopment is Greenford, which was actually made step-free to the Central line in 2015. However, there is a rather obscure Great Western Railway service that runs from Greenford to West Ealing on the so-called Greenford branch. Currently, no other station on the branch line has step-free access, but this will change once the Elizabeth line-related works at West Ealing bring step-free access to all platforms. Once that happens, the two ends of the line will be accessible, providing a very useful orbital service in Outer London.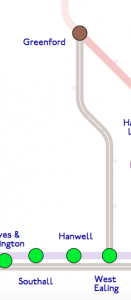 The Greenford branch
Following the general pattern we have been seeings, the stations on the Northern line have a high chance of providing level boarding (Colindale already has platform humps), while other stations will most likely require manual boarding ramps.
I hope you liked my first blog series! The next few posts will probably centre on the upcoming May timetable change, which will bring several important changes to the rail network that will enhance accessibility.