Welcome to parts 7 and 8 of my Future Step-Free Stations series. They will cover the full list of stations in the Access for All government scheme, even the stations whose works have been deferred.
DfT Access for All Stations
| Station | Line | Scheduled date |
| --- | --- | --- |
| Alexandra Palace | Great Northern | 2020 |
| Bexley | Southeastern | 2020 |
| Brondesbury | Overground | 2020 |
| Carshalton | Thameslink, Southern | 2020 |
| Coulsdon South | Thameslink, Southern | 2020 |
| Palmers Green | Great Northern | 2020 |
| Plumstead | Southeastern | 2020 |
| Selhurst | Southern | 2020 |
| Shortlands | Southeastern | 2020 |
| Tottenham Hale | Greater Anglia | Late 2018 |
| West Hampstead | Overground | Late 2018 |
| Ewell West | South Western | 2020 |
| Teddington | South Western | 2020 |
Access for All is a Network Rail scheme that started in 2006 that funds step-free access works at stations all across the country. These stations are picked by the Department for Transport and funding for the programme is provided according to a 5-year plan of works, known as a Control Period. Network Rail is the owner of most of the UK's railway infrastructure, which in London includes stations on the Overground and National Rail services. And so, this scheme can be seen as the Network Rail counterpart of the TfL Suburban Station Plan stations.
Since its 2006 launch, the scheme has been instrumental in delivering step-free access at major London stations, including New Cross, New Cross Gate and Vauxhall. The latest station to be completed is Blackhorse Road, part of the Overground's GOBLIN service, which was finished earlier this year.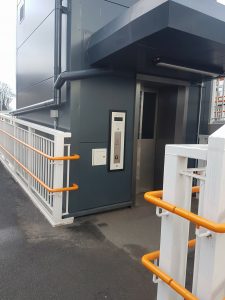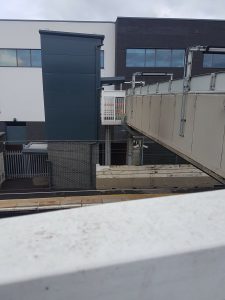 Completed lifts and footbridge at Blackhorse Road
The list shows the remaining stations chosen as part of Control Period 5, which lasts from 2014 to 2019. Spatially, these 13 stations are quite spread out across Greater London, impacting a large area in the expansive suburbs of the capital.  The most important stations getting step-free access are probably West Hampstead and Tottenham Hale, as they are growing interchange centres and there is already step-free access for some services (Thameslink at nearby West Hampstead Thameslink and the Victoria line at Tottenham Hale).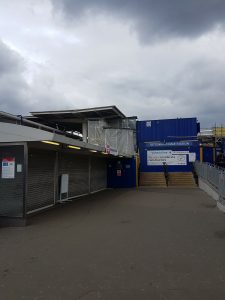 Heavy construction at Tottenham Hale
Except for these two stations, however, most of the works are yet to begin, with Network Rail announcing last autumn that it was about to submit planning applications at Bexley, Carshalton, Coulsdon South, Plumstead, Selhurst and Shortlands. Subsequently, information about Teddington and Ewell West, whose works are supposedly slated to begin soon, has recently resurfaced in local news. The only information about works at Alexandra Palace and Palmers Green is a letter from the DfT to the London Assembly in May 2016 confirming that both stations should be completed by 2020, although there has not been any public news since then. Finally, the only station left unaccounted for is Brondesbury, which despite appearing on TfL's list of future step-free stations, has no recent information. If the step-free access works are similar in style to those I listed on the TfL Suburban Station Plan group, it is possible that all these stations can still be ready by 2020, so I sincerely hope that this lack of information does not lead to even more delays and deferments.
Due to the mixing of services and trains, none of these stations are expected to initially have level boarding. The only exception is potentially Tottenham Hale once the Stansted Express service receives its low-floor trains made by Stadler (to be covered in detail in a later post), although suburban Greater Anglia services will still have high-floor trains.
DfT Access for All Deferred Stations
| Station | Line | Scheduled date |
| --- | --- | --- |
| Barnes | South Western | Before 2024 |
| Battersea Park | Southern | Before 2024 |
| Hither Green | Southeastern | Before 2024 |
| Petts Wood | Southeastern | Before 2024 |
| Queen's Park | Overground, Bakerloo | Before 2024 |
| Peckham Rye | Overground, Southern, Thameslink, Southeastern | Before 2024 |
| Seven Sisters | Overground | Before 2024 |
| St Mary Cray | Southeastern | Before 2024 |
| Streatham | Thameslink, Southern | Before 2024 |
Speaking about delays and deferments, the Access for All scheme is unfortunately very familiar with this practice. This list contains stations whose step-free access works were deferred from 2014-2019 to 2019-2024.  This was due to severe funding cuts to Control Period 5, which cut about £50m from the scheme. Basically, this means that there is not much information currently about when these works will be delivered, although they are likely to be of relatively high priority for Control Period 6. Accessible transport advocate Transport for All hosted wide-ranging protests last year, demanding that funding be restored and that the Government commit to delivering all of these projects. What is more problematic is that since so many stations are being deferred, there will undoubtedly be fewer new stations added for the 2019-2024 funding period unless significant funding is found for the scheme.
Many of the deferred stations, such as Peckham Rye, Streatham, and Hither Green, are very important local transport hubs and their step-free access deferment is detrimental to the development of an accessible railway network in suburban London.
As earlier, none of these stations are expected to offer level boarding.
Reaching the end of the series, the next post deals with the large number of additional step-free access schemes that do not fit in neatly in any of the previous groups.