Continuing with upgrading the official SfL map, I am happy to announce that the map now includes unstaffed stations as well as a three-tiered hierarchy describing the degrees of staffing. Coincidentally, today the Office of Rail and Road has released a consultation regarding assisted travel on the National Rail network. The consultation proposes changes to the assistance process in hopes of simplifying bookings and making information more easily accessible and accurate.
Updated Map
Improving upon the previous version of the SfL map, the current map is the first to list ALL stations inside Greater London that have any form of step-free access, even those that have little to no staffing. Originally, I had refused to add stations where there was not at least a reasonable level of staffing. However, I realise that it is important to list all of these stations because assistance can still be booked for them, and because I think it is best to show an accurate representation of step-free access in London. Also, maybe calling out some of the train companies' suboptimal staffing could raise awareness and eventually lead to higher standards.
With the addition of unstaffed stations, all stations are now divided into three categories:
Fully staffed (regular blob design)
Moderately staffed (golden symbols)
Poorly staffed/Unstaffed (faded symbols)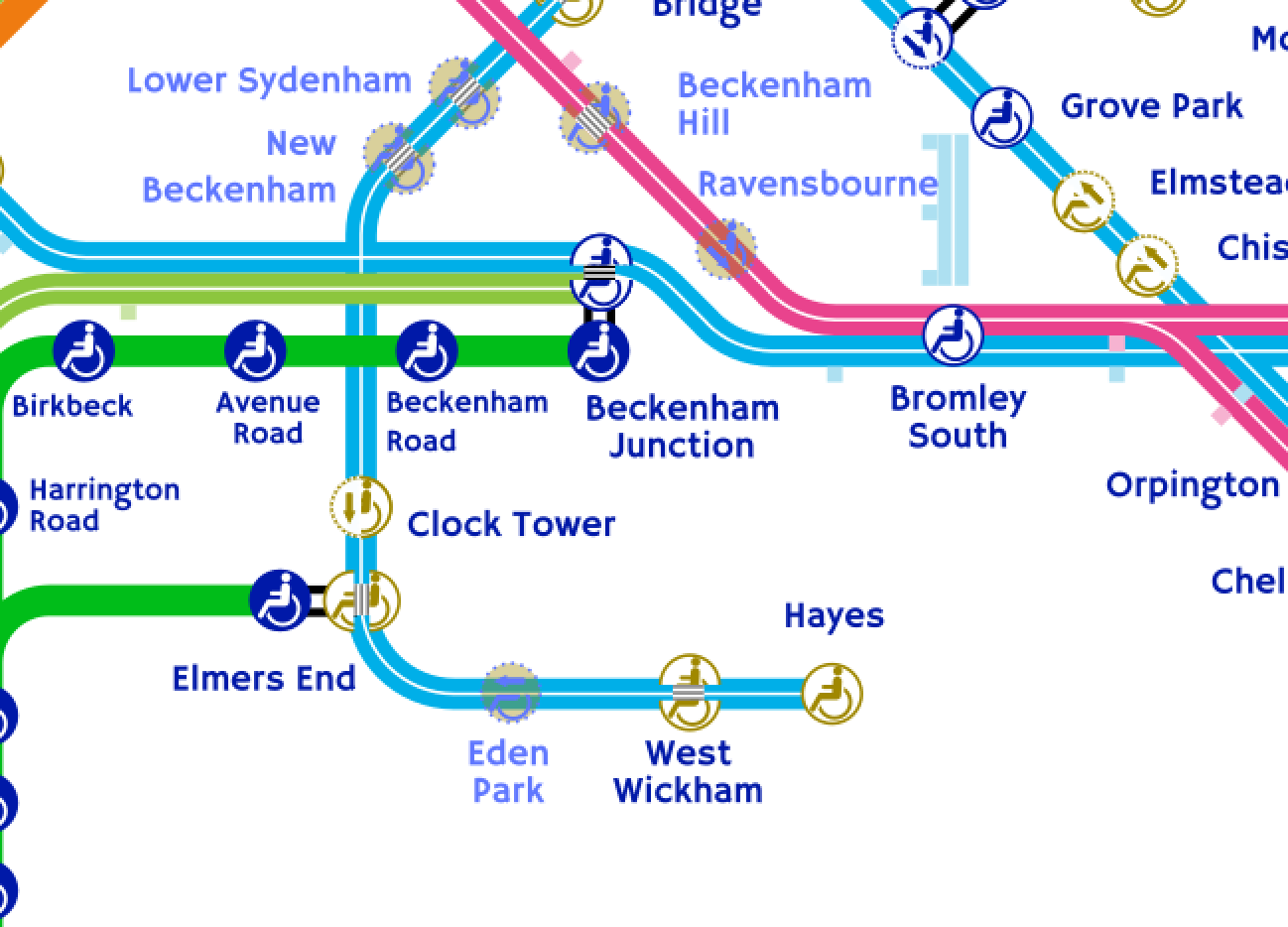 The first category includes all TfL and c2c services, as they guarantee staffing from first to last train, as well as stations where staffing is available from approximately 6:00-23:00 or longer.
Moderately staffed stations are those that are staffed on weekdays at least for the full morning and evening peak times, usually covering most of the day and ending at around 19:00-21:00.
The last tier includes everything from fully unstaffed stations to those that are unstaffed throughout a significant part of the weekday, such as becoming unstaffed at 10:00-13:00.
With regards to weekends, the stations in the final two categories may exhibit even lower staffing levels on these days, and this information will become available on the map once it becomes interactive. For the time being, I suggest consulting National Rail Enquiries for more specific information (more on this below).
Finally, I also add two stations (Hackney Downs and Ockendon) to the moderately staffed category because their particular service patterns and partial step-free access mean that not every service is accessible. For Ockendon, some peak-time London-bound services are inaccessible, while for Hackney Downs, only southbound services from Hertford East and Chingford are accessible.
Consultation
The ORR consultation (found here) is an important first step towards a modern and inclusive passenger assistance policy that standardises the information and services available to passengers across all the different operating companies.
When I was updating the map using National Rail Enquiries and the train operators' websites, I noticed that every single operator had different information available regarding accessibility and staffing at their stations. Some had maps, others had long lists of stations, but there was no standard that was followed by them. Similarly, "fully staffed" did not always seem to mean staffed from first to last train. Most worryingly, some information given out was just incorrect.
The consultation acknowledges all of this and proposes several options to standardise information such as station staff availability (including possibility of turn-up-and-go), degree of step-free access, and meeting and help points, among other topics. Other important proposals include reducing the notice period for booking assistance, giving passengers compensation if assistance is not received, and strengthening staff training to provide consistent assistance across the network. The consultation is rather lengthy, but I highly recommend reading through it and providing feedback if you are interested.
Overall, I am happy to see these issues coming to light and I do believe that standardised information will keep passengers better informed and that offering compensation will definitely be a good incentive for train operators to prioritise and optimise their level of assistance.