So far, most recent news regarding step-free access has been dominated by de-scoping, deferments, delays, and quiet cancellations. In the context of this grim situation, brought upon primarily by TfL's dire financial situation, it was surprising to hear that an additional Underground station would soon be made step-free AND appears to have stable funding. This station is Leyton on the Central line.
Leyton
The Leyton announcement is not completely out of the blue. As I reported back in May 2018, Leyton was a serious candidate for redevelopment, along with Walthamstow Central. While the latter ended up being awarded funding from TfL's Growth Fund, Leyton is now set to get up to £18m for step-free access redevelopment, with half the money coming from Waltham Forest Council and half from TfL. There is currently no timeline specified for this work, but a report from Waltham Forest Council suggests that the TfL funding is coming partially from the Mayor's Step Free Station fund:
"The Mayor of London has a £145m programme to introduce SFA at Underground stations in London to 2023/24. TfL has identified the potential for a total of £9m to be secured for works at Leyton Station, including from this fund. "
Because of this, it is likely that Leyton will be step-free by 2024. However, until more concrete information arises, I will refrain from adding it to the Future Station list.
As you can see from the map below, the area surrounding Stratford will have a significant cluster of step-free stations (even if manual boarding ramps are needed at most of them).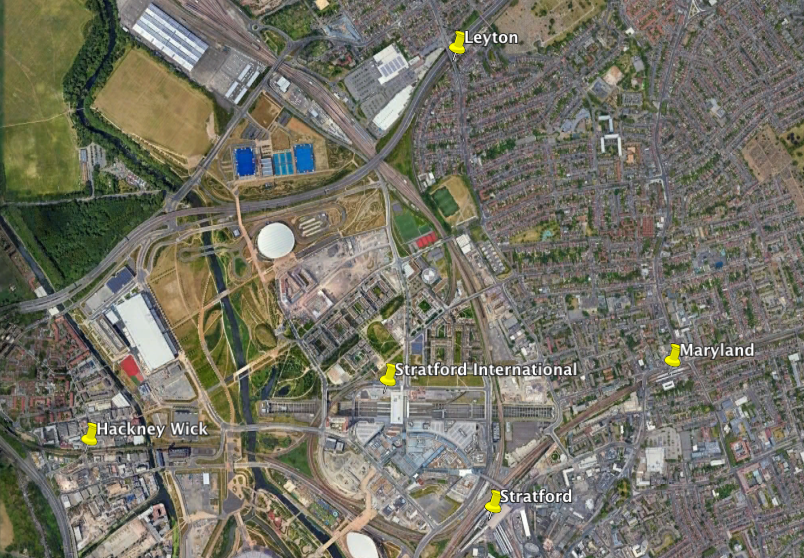 Level Boarding on Crossrail
On the topic of manual boarding ramps, and especially seeing future Elizabeth Line station Maryland on the previous map, I would like to bring up a recent Change.org petition. Liam Islam has started a petition to bring awareness to the fact that most of the Elizabeth Line (28 out of 41 stations) will require manual boarding ramps for boarding, despite Crossrail costing billions of pounds.
I've spoken about this subject at length before, and although I disagree with the proposal of raising platforms (due to freight and other rolling stock), I believe it is an important petition if only to show TfL and the DfT that they must address this and have a clear strategy to achieve full level boarding throughout the entire line. To be sure, none of the alternatives will be cheap, such as lowering the newly-built core platforms, acquiring new trains, or massively restricting freight traffic on both the Great Eastern and Great Western Main Lines.
Nevertheless, step-free access to platform only should not be tolerated for a project of this scale, and the DfT and TfL need to realise that cutting corners now will cost them in the long run. And so, I encourage everyone to sign this petition.
Finally, with any luck we will hear positive news from Waterloo in the coming days regarding full step-free access for the Waterloo & City line. Stay tuned!