Apologies for the long period since my last post. If you have been checking out the SfL Map recently, you may have noticed significant changes in its design. A small design change to better capture cross-platform interchanges and to fix the scaling of the c2c railway lines somehow snowballed into a massive redevelopment of every aspect of the existing map. Coupled with the completion of the station-specific information for all the accessible stations inside London's Pay-as-You-Go zone, the map has reached a new state of completion and is ready for any new station, line, or zone expansion.
New Step-Free Station
Debden on the Central line is now step-free from street to platform! Although it is seen as one of the least accessible of the London Underground lines, in the past 5 years, the Central line has received a notable boost in accessibility, with Greenford, South Woodford, Tottenham Court Road, Bond Street, Newbury Park, and Buckhurst Hill also becoming step-free to platform, bringing the total number of step-free stations to 11 (not counting partial access). This is still only 22% of all Central line stations, but with Ealing Broadway imminently due to become accessible, as well as the deferred plans at Hanger Lane, Northolt, and Snaresbrook, and the less-defined plans for Holborn and Leyton, the West End and the suburban portions of the line will have much improved access in the near future.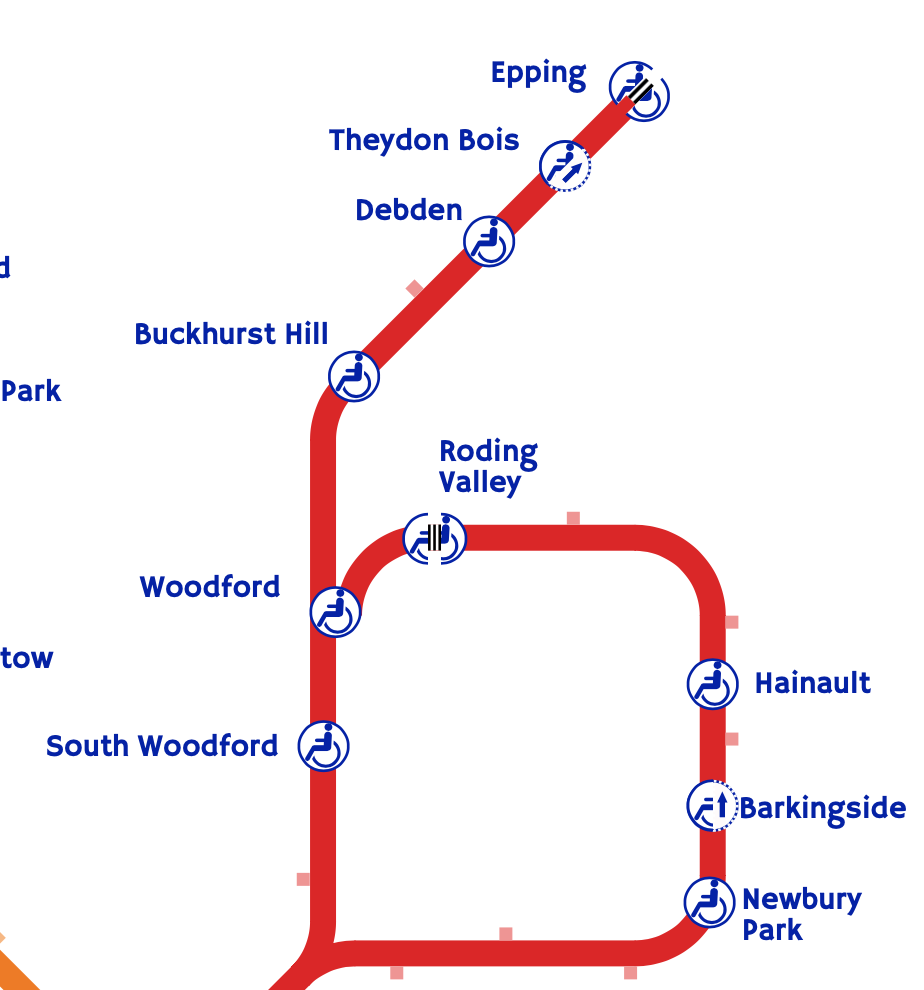 Unfortunately this still leaves unacceptable gaps within inner London, with a ten-station streak of inaccessibility between Bond Street and Ealing Broadway. Revived plans at Shepherd's Bush and an accessible Notting Hill Gate would go a long way in remedying this. Also, as I've previously discussed, the Central line's current rolling stock door design prevents the use of platform humps as a way to achieve level boarding, so this will unfortunately have to wait until a new rolling stock is built for the Central line.
As for the other ongoing step-free access works involving the Underground, we have some new updates from Osterley!
With the new lifts in place and the works appearing to be reaching their end, it seems like there will be a mad dash to the finish line among Osterley, Ealing Broadway, and Ickenham to be the next step-free station. Stay tuned!
Platform Humps for the Bakerloo Line
Speaking of platform humps earlier, in very welcome news, not publicised by TfL of course, the worst-performing Underground line in terms of accessibility, the Bakerloo line, has gained its first set of platform humps at Oxford Circus! The Bakerloo line currently only has 3 step-free stations (Harrow & Wealdstone, Wembley Central, and Willesden Junction), all of which are shared with the Overground service from Euston to Watford, meaning that currently there is not much incentive to actually use the Bakerloo line if one needs step-free access. However, the Bakerloo line also has two cross-platform interchanges in Central London (at Baker Street with the Jubilee line and at Oxford Circus with the Victoria line) that can provide easy access to more the accessible lines travelling along the same direction. Through these interchanges, journeys such as Wembley Central to Vauxhall via Oxford Circus, and Willesden Junction to Waterloo via Baker Street are possible, as is the journey from any step-free Bakerloo line station to Green Park via either interchange station.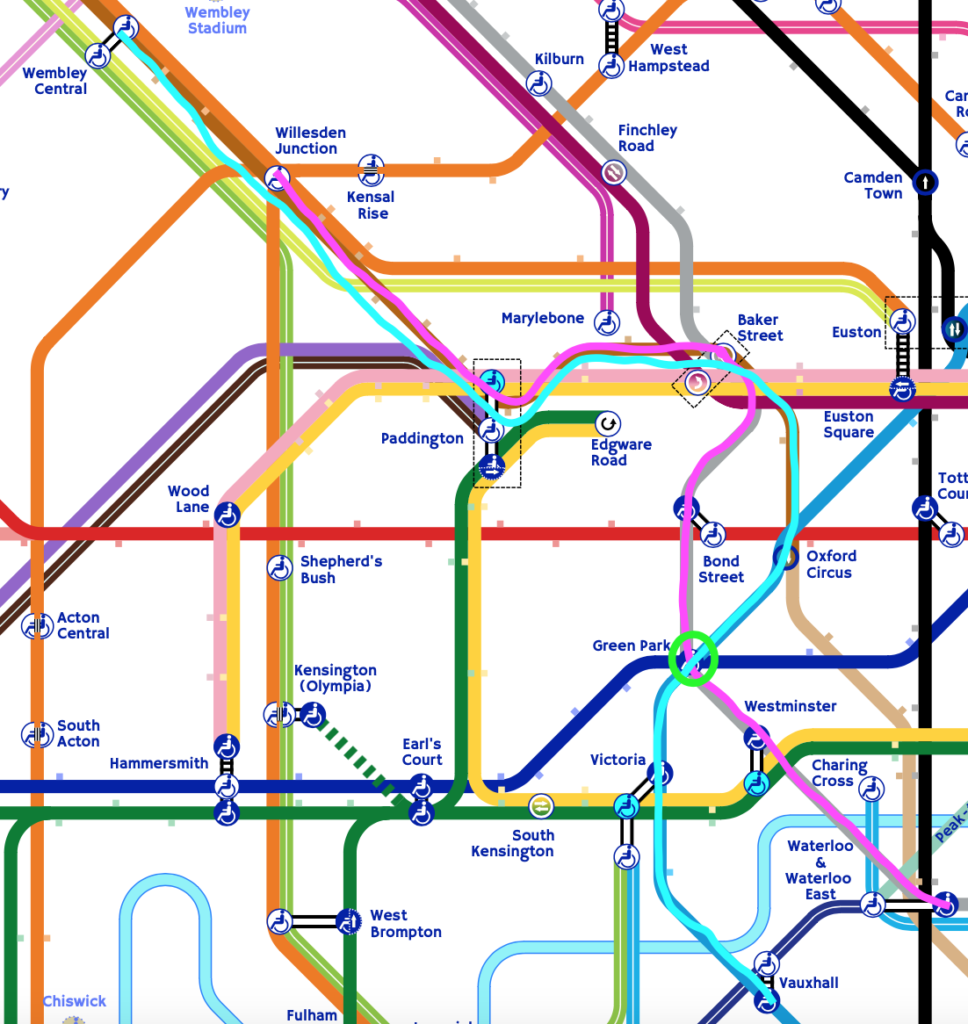 As shown in the picture above, with these interchanges, the Bakerloo line can essentially be thought of as an extension of the Jubilee and Victoria lines. However, up until recently, both interchange stations required manual boarding ramps for the Bakerloo line platforms (the other platforms already had level boarding through platform humps), making these journeys much less attractive given the busy nature of Central London stations. Now that Oxford Circus is a level boarding interchange, assistance is no longer an issue here, making the elusive Bakerloo line much easier to access from the Victoria Line. Similar to the cross-platform interchange at Stockwell between the Victoria and Northern lines, it is also possible to get around the "travelling in the same direction" restriction for the interchange by travelling one station south to Green Park and reversing direction by switching to a northbound Victoria line service (the southbound and northbound services have a cross-platform interchange here), enabling a trip such as Wembley Central to Kings Cross St Pancras.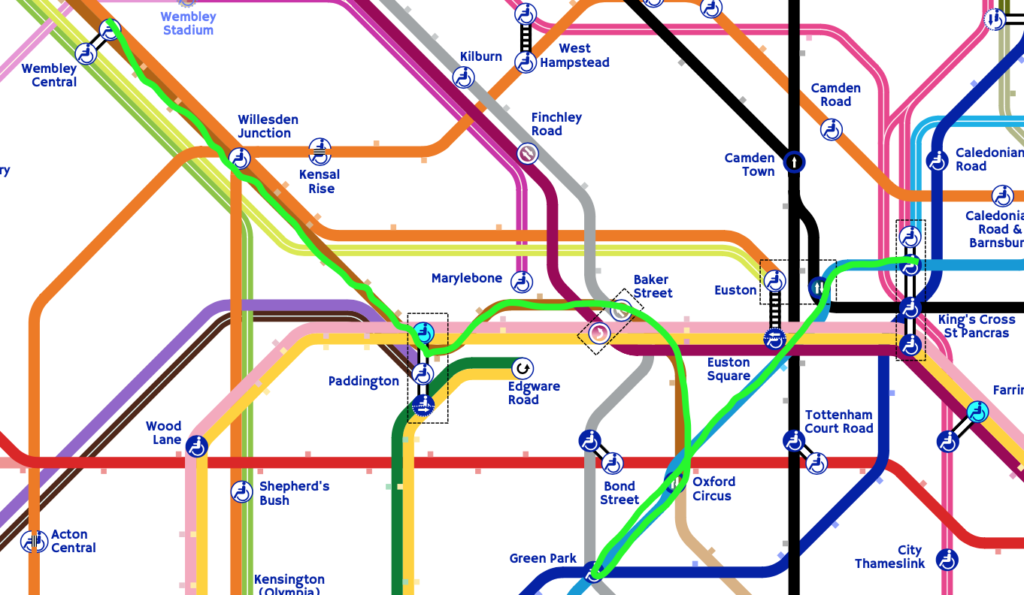 With the Bakerloo line platforms at Paddington set to become step-free once the Elizabeth line service begins at the end of this year, the usefulness of the Bakerloo line for accessibility will grow immensely, as it will be the only "direct" link between the Elizabeth and Victoria lines. It is unknown whether either of the Paddington platforms will get platform humps, or if Baker Street will, but this is an important step towards increased resilience for step-free journeys in London.
To give a personal example, in 2019 my husband and I were travelling from Paddington to St Pancras in the early morning to catch a Eurostar service. Due to re-signalling works closing the Hammersmith & City/ Circle lines and street works in front of Paddington diverting buses, we unsuccessfully tried to use an "accessible" taxi on Edgware Road, and ultimately had to wait 20 minutes for a bus and almost missed our train. With the Elizabeth Line and a step-free Bakerloo line platform at Paddington, there will be at least two alternatives to complete this journey by rail, via Oxford Street and Green Park, as well as via Farringdon. This type of resilience means that a single station closure or broken lift does not necessarily spell the end of a journey, and it is great to see that, with a bit of creativity, more and more journeys will have alternative routes.
If you look at my map, you will notice there are several cross-platform interchange-only stations throughout Central London, primarily involving the Victoria Line (also note that you can change direction at any Victoria line station that doesn't have a cross-platform interchange with another line except for Pimlico). If used effectively, cross-platform interchanges and reversing services are a good alternative to the hellish interchanges at Green Park and Kings Cross St Pancras, which include multiple long corridors and lifts, as well as much confusion.
Map Upgrade!
I will now address the elephant in the room: the new map. First of all, the drawn-out process of adding all the station-specific information for each station in the interactive map is now finished. You can now click or search for any accessible station in London and see up-to-date information about its accessibility features, amenities, staffing, and any quirks.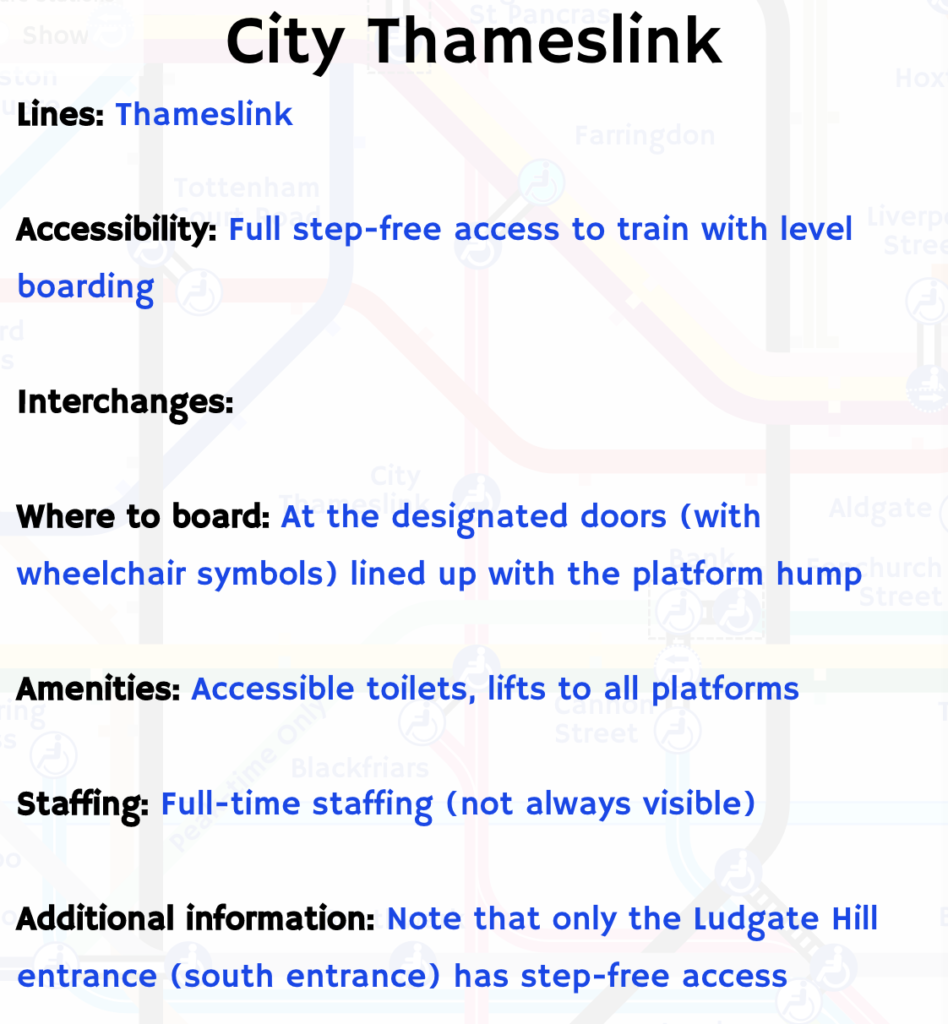 Moving onto the design of the map itself, it is probably best to display the old and new version side-by-side to show the scale of the changes. All in all, every single line and station, as well as the shape of the River Thames, has changed.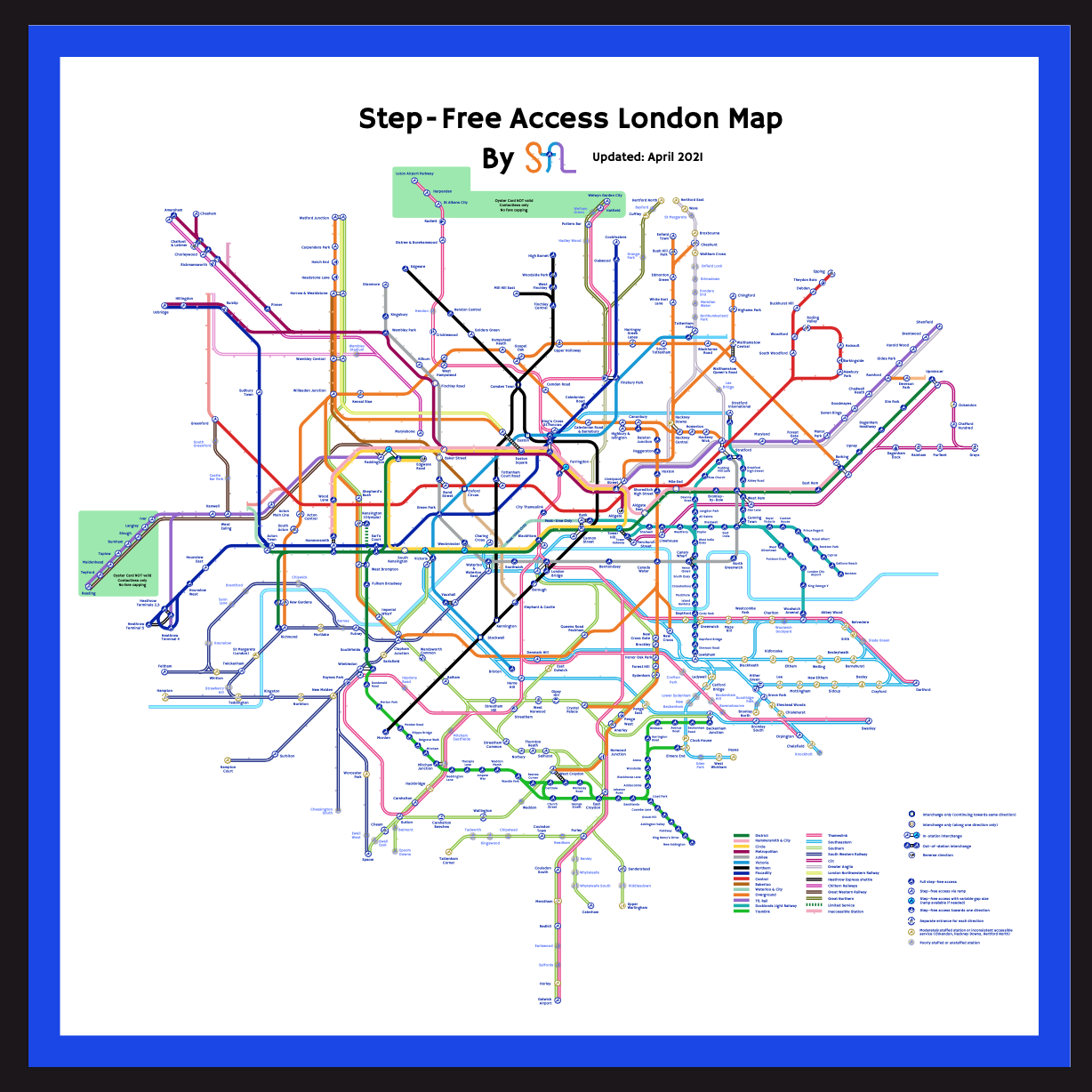 Apart from being slightly larger, the new version of the map redistributes the balance of the lines and better obeys the relative geographical layout of the railway network, creating more space within the map and allowing for the addition of future stations and lines. I'm very pleased that the map design has shed a lot more of the influence from the TfL and National Rail maps and is more tailored to its focus on step-free access. This is especially the case for the cross-platform interchanges, which are now shown with the interchanging lines positioned parallel to one another to better visualise the possible journeys.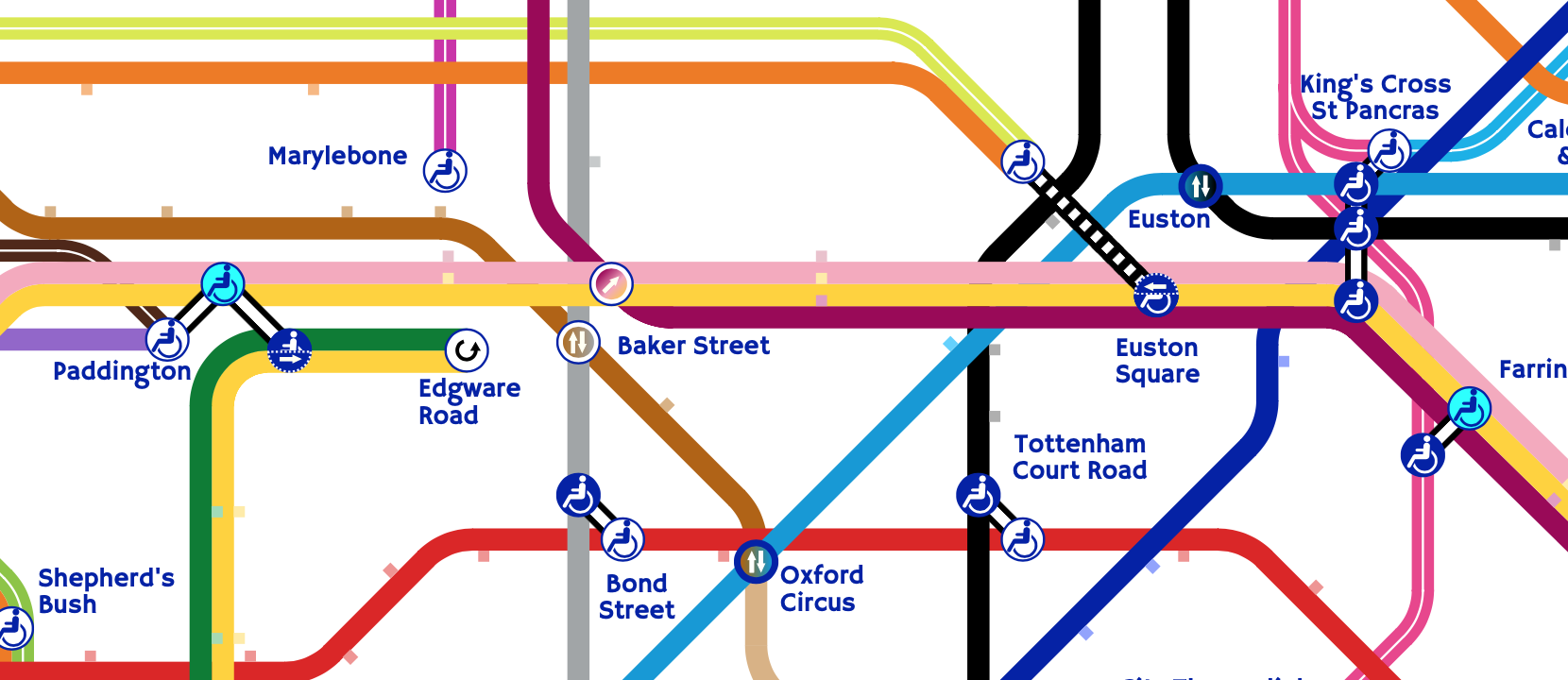 While the shape of some lines does suffer with this change, especially the Victoria line, I hope that the design choice will make the interchanges more noticeable and likely to be used.
Please let me know what you think of the changes and whether there any suggestions about further changes. And, as always, please share this far and wide to anyone who might benefit from this resource.
Early Crossrail Openings
One of the challenges of making the new version was ensuring that the Elizabeth Line would be able to fit seamlessly within the map upon its opening and not feel like a late addition. Similarly, as the new Elizabeth Line stations are handed over to TfL, TfL is starting to integrate part of these to existing stations in preparation for the service launch in December. The latest example is Farringdon, where a new entrance from the Thameslink ticket hall has opened. This new section is currently just an alternative route to the northbound Thameslink platform, but it will eventually lead straight to the Elizabeth Line.
From an access point of view, this soft open has very little impact, as all existing services at Farringdon already had step-free access, but this does hint that we may see further soft openings at other Elizabeth Line stations where we could get improved accessibility before December.
This is relevant at Moorgate (Met/H&C/Circle and Northern), Whitechapel (H&C/District and Overground), and Paddington (Bakerloo). At Whitechapel and Moorgate, the Elizabeth Line station entrance replaces the existing one and provides separate step-free access to all services, making it possible to open just the sections leading to the existing lines. Unfortunately, neither station has started the 12-week handover process as of right now. And with Paddington, the Bakerloo line step-free route is actually through the Elizabeth Line platform area, making it much less likely to open prematurely despite being due to be handed over to TfL by the end of May. There are simultaneously works happening right now to give the Bakerloo line a dedicated step-free route from the east side of Paddington station, but this will not be ready until mid 2022, so we will likely have to wait for the Elizabeth Line to open. The important thing, as always, is that the work is progressing and we will get these valuable links within the next few months.
Access For All Update
The ever-secretive Access for All scheme, which seldom makes scheme-wide updates and instead relies on station-specific reporting from local sources, continues to move forward. Stoneleigh station in northeast Surrey (South Western Railway) has an agreed design and financing for its step-free access works, which are due to begin in October 2022.
I really hope we see some significant progress with the remaining 30 stations inside London's metropolitan area before then, but it is frustrating to see such little information about most of the schemes. I will start writing to Network Rail for more frequent updates, as this is not acceptable for such an important project.
New Access at Waterloo
Finally, long-awaited plans to get rid of the hideous Elizabeth House office building next to Waterloo station and bring step-free access to the Northern line platforms have reached a new stage, with a deal signed to redevelop the area and build a new lift shaft to the Northern Line.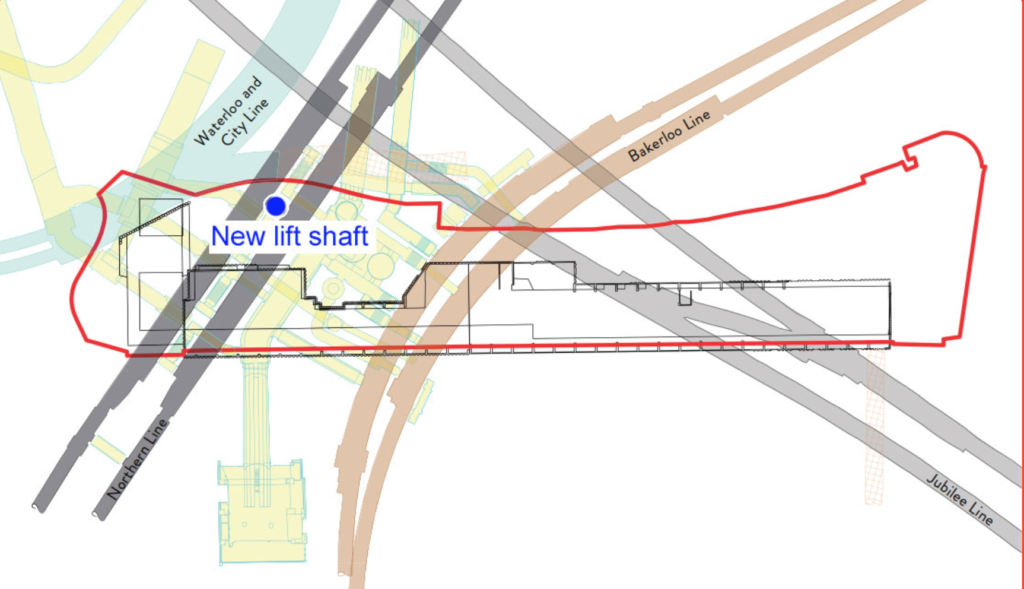 This is great news, as the Northern Line's Charing Cross section only has Tottenham Court Road as a step-free station currently. It is a bit worrying, however, that the article states that TfL and Lambeth Council still need to provide additional funding, but at this stage it would be unthinkable for this opportunity to be missed. I look forward to seeing the removal of this horrible building and seeing the progress as another major step-free scheme takes shape.
---
With the further easing of lockdown next week, things are slowly starting to feel less chaotic and more safe. If any of my readers are planning to go back to venturing London's messy rail network and trying out new routes, let me know! With any luck, my husband and I will make it back to London before the start of summer!