With the continuing effects of the pandemic on TfL's finances and the insufficient emergency government funding, we are about to reach a cliff edge with regards to future improvements schemes, including accessibility. As Crossrail wraps up and other schemes like the Bank Station Upgrade, Northern Line Extension, Barking Riverside station, and funded step-free schemes are completed within the next 12 months, there are no financially-secure schemes coming after it.
This means that, apart from Network Rail's Access for All scheme, which has mixed results on a good day, there will be no over-arching accessibility plan in London and the number of new step-free stations will plummet. After decades of failed promises on accessibility in London, this is only the latest example of accessibility being deprioritised. We must all fight back against this grim prognosis and demand that the Mayor and the Government address this gross display of discrimination.
Mega Projects Shelved
Enjoy them while you can, because apparently TfL mega projects are finished, as TfL continues to rely on emergency government funding for its day-to-day survival due to the pandemic. This means long-awaited schemes such as the Bakerloo line extension to Lewisham, Crossrail 2, rolling stock improvements for the Jubilee and Northern lines, and much-needed major station redevelopments in stations such as Holborn and Camden Town are unfunded and are shelved, with no committed funding for any major project for the next 2 years. As a further insult from the Government, TfL has been instructed to cut "capital spending by up to 30 per cent over the next four years," meaning that improvements to accessibility for the first half of the decade will not happen. 
Unless of course, the Government acknowledges the importance of accessibility and improvement schemes. After all, schemes like the Bakerloo Line extension and Crossrail 2 provide the opportunity to make existing stations accessible, much like Crossrail is making all stations step-free access to platforms and also bringing step-free access to interchanging lines. Without mega projects, there is even less momentum to tackle accessibility issues at larger stations in Central London, making such schemes even more difficult to get approved.
Crossrail News
Crossrail continues ticking on in the background, with Acton Main Line becoming the latest station to gain step-free access to all platforms (although unfortunately not to trains). At this point there is not too much variation in new developments, as basically the next few months will involve the completion of all nine Central London stations, the progressive start of trial running, and the completion of step-free access works at the 6 remaining inaccessible suburban stations (Ealing Broadway, West Ealing, Southall, Hayes & Harlington, West Drayton, and Ilford). 
Here is a video from Crossrail's chief executive Mark Wild detailing the current progress of the project and the new milestones.
Although it is technically possible for some of the Central London stations to open ahead of the Elizabeth Line launch for other newly-step free lines, such as Whitechapel and  Moorgate, realistically TfL will probably want to unveil all the new stations at once. And so, the next important accessibility milestone before that is at Ealing Broadway, where the step-free access works will bring step-free access to the Central line (to platforms) and to the District line (to trains). Even the completed works at West Ealing may finally persuade GWR to add manual boarding ramps at Greenford and West Ealing, adding a new step-free route and a link to the elusive Central line.  
Bank Upgrade and Northern Line extension
The Northern line is undergoing two important upgrades: the upgraded platforms at Bank station and the two-station extension to Battersea Power Station. Geoff Marshall has made a very informative video about the scope of the project and its impact on transport in Central London.
Unfortunately, the scheme will only bring step-free access to the Northern line, as well as a more convenient step-free route for the DLR, leaving the Central line and the adjoining District/Circle line platforms at Monument with no step-free access. Despite this, the step-free upgrade will be a major boost for accessible travel, especially providing a convenient access to the DLR. Coupled with the step-free access at Moorgate, The City of London will gain an important accessible north-south corridor.
The extension of the Northern line to Battersea Power Station is moving along steadily, with a projected autumn 2021 completion date. As a new extension, both stations will have level boarding and provide access to a redeveloped area of London.
Barking Riverside
The last of the current expansion projects is the extension of the Gospel Oak to Barking Line to Barking Riverside. The new station is planned for next year and construction of the new track is well underway, as seen in this tweet.
Since there is no level boarding at any existing station on this line, it is not expected, nor particularly desired, to have high platforms at this station. TfL definitely made a huge mistake by getting new Overground trains with floor heights that were 185 mm above the national standard platform height, especially on a line that was shut down for months due to electrification and platform works. Maybe one day the rail industry and politicians will learn.
Decades of Failed Promises
As a recent BBC report covered, COVID-19 can hardly be blamed for the decades of disappointment and missed opportunities. Check out the thread below for the BBC Politics London report on step-free access.
Throughout the years, numerous ambitious predictions for step-free access milestones have been floated around by various Mayors. In 2007, 1/3 of stations were projected to be step-free by 2013, while in 2015, there were foolish hopes of reaching 50% step-free stations by 2018. The truth, of course, is quite disappointing, as we only just reached 30% of step-free stations earlier this year, more than 7 years after the initial goal.
While the reasons for this failure are varied, including the collapse of one of the London Underground's private maintenance companies, Metronet, in 2008, costly delays such as Crossrail, the pandemic, and just general overpromising, the reality is that making the London Underground accessible has never had the priority it deserves. Yes, it is very expensive and is not as flashy as new lines, but it is a matter of integration and supporting independent transport, and needs to be fully funded.
Where We Stand
Given the quickly shifting terrain regarding failed promises and deferred projects, I thought it would be good to list the stations that are in the process of gaining step-free access in order to give a clear image of where we will be by the time TfL pulls the plug on new investment. The following are all the stations within the Oyster Zone planned to be step-free (at least to platform) by the end of 2022, including both Underground and National Rail stations:
Nine Elms
Battersea Power Station
West Ealing
Ealing Broadway
Southall
Hayes & Harlington
West Drayton
Ilford
Bank (Northern)
Paddington (Bakerloo, Elizabeth)
Bond Street (Elizabeth)
Tottenham Court Road (Elizabeth)
Farringdon (Elizabeth)
Liverpool Street (Elizabeth)
Moorgate (all except National Rail services)
Barbican (westbound)
Whitechapel
Canary Wharf (Elizabeth)
Custom House (Elizabeth)
Woolwich
Abbey Wood (Elizabeth)
St Mary Cray
Barking Riverside
Knightsbridge
Debden
Osterley
Harrow-on-the-Hill
Sudbury Hill
Ickenham
Wimbledon Park
Brent Cross West
This does not include most of the remaining stations forming part of Access for All, as that scheme is fairly unreliable in terms of completion times and updates on the works are extremely lacking, nor some schemes tied to redevelopments that will take more than 5 years to complete (Elephant & Castle, South Kensington, Walthamstow Central), but as you can see, the current push for step-free access is actually pretty remarkable.
In addition to a fully step-free (to platform) Elizabeth Line, 35% of Underground stations will be step-free by 2022, with 14 new stations in two years. This is the product of London's current mega projects, and have all coincidentally, through delays, aligned for the next two years. However, there aren't 31 stations waiting in the wings for 2023-2024; there's no coherent plan at all. The deferred and delayed stations forming part of the Mayor's suburban step-free access scheme are in limbo, so with TfL out of the picture for now, improvements to the Underground will only come from redevelopments.
O2 Shopping Centre Redevelopment on Finchley Road
Even with new redevelopments new stations, there is still a risk that such a scheme will not even involve the station. With a new proposal to replace the O2 shopping centre on Finchley Road with flats, there is a rare opportunity to redevelop two Tube stations, Finchley Road (Metropolitan, Jubilee) and West Hampstead (Jubilee).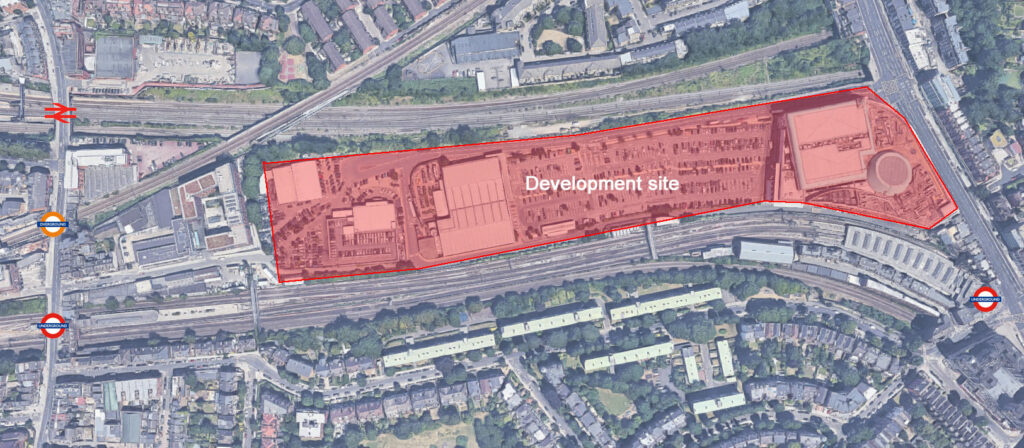 Unfortunately, while the plans include a linear park, up to 2000 homes, and cover an area adjacent to both stations, there is no word on whether the developers will help make either station accessible. And so, we are at the mercy of this type of redevelopment projects, which may or may not be successful or controversial, for future improvements in accessibility. Far from TfL setting out a clear pathway towards accessibility, we now have to pray that new redevelopments are actually interested in improving accessibility, and that they don't get bogged down with years of local protests and disagreements with local councils.
King's Cross New Entrance
This reliance on redevelopment schemes does lead to some interesting results, as King's Cross St Pancras will be getting a new accessible entrance just south of Euston Road. This will replace one of the existing stairway-only entrances into the station.
As much as I like seeing new step-free opportunities regardless of their size, and an entrance south of busy Euston Road is important for passengers, it is a bit irritating that this redevelopment just happens to be at a station that already has one of the largest networks of lifts and step-free access routes in the city. And even then, the works will not be finished until 2025, pending approval from the Mayor. This is far from ideal, especially when considering that major stations such as Charing Cross, Baker Street, and Euston have no step-free access whatsover yet, and that after 2022, there are no currently funded step-free access schemes inside Zone 1.
---
All in all, this post has been rather pessimistic at the prognosis of step-free access developments in London's transport network. After a hellish year under lockdown, we will get one of the largest step-free access increases this city has ever seen, only to see a bleak stagnation well into the decade, in which the London Underground will continue to be one of the least accessible rapid transit networks in the world, with no ambitious promises to offer a way out. We cannot allow this to happen.