With summer being in full swing now, the easing of COVID restrictions, still tentatively planned for 19th July, is not the only thing set to improve the ease of mobility around London. With a packed schedule of step-free access works nearing completion from now until the end of 2022, we should make the most of the largest increase in accessibility that we will see for a long time. Also, stayed tuned for a sneak peak of a level boarding adventure that my husband and I embarked on earlier this month.
New Step-Free Stations
The biggest news is that Ealing Broadway is now accessible, as is Ickenham. While Ickenham is in a more remote location and its works primarily benefit local passengers, Ealing Broadway represents a huge interchange point for travel around West London. With TfL Rail, GWR local services, and the District and Central lines all calling here, an accessible Ealing Broadway serves as an attractive alternative to Paddington station and offers a direct link to Central London through both Underground lines (and the Elizabeth Line in the future). Level boarding-wise, the District line offers level boarding at all its platforms at the middle carriages with the wheelchair bays, while the rest do require manual ramp assistance.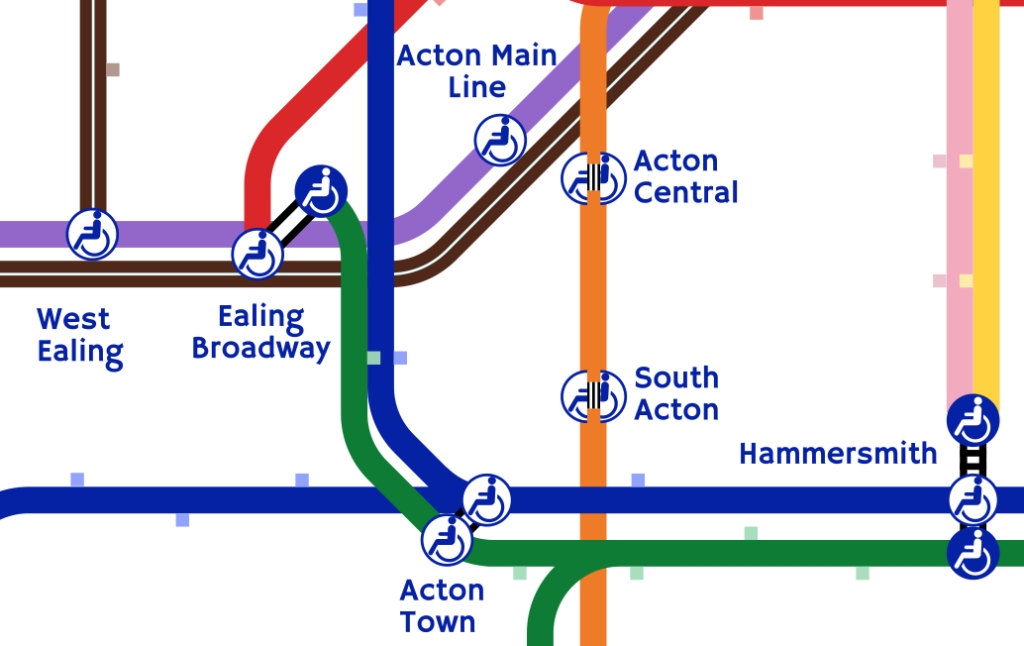 Ickenham, in the shared portion of the Metropolitan and District lines, is the most recent step-free station, and unfortunately cannot accommodate level boarding as it must cater to both the larger Metropolitan line trains and the smaller Piccadilly line stock. Here are some pictures taken right before inauguration.
What to Expect in the Short-Term
With these latest openings, we are seeing the tail end of the existing Crossrail station works and the TfL-sponsored suburban station step-free scheme. In the matter of days, we are likely to see a step-free Osterley, followed by schemes at Wimbledon Park, Hayes & Harlington, Southall, West Drayton, Harrow-on-the-Hill, Sudbury Hill, and Ilford. With this, TfL Rail services will be completely step-free to platforms (not trains).
By the end of this series of completed projects, the Northern Line Extension is due to open as early as September, adding two fully step-free stations to the London Underground at Nine Elms and Battersea Power Station. The work are, as expected, very advanced and you can see Battersea Power Station (Station) below, in front of the actual redeveloped Battersea Power Station.
This then leaves the 10-station core of the Elizabeth line as the next large accessibility-increasing megaproject, which is expected in the first part of 2022. However, there are rumblings that, as expected, we may see early openings at Moorgate and Whitechapel to give step-free access to existing lines at these stations. The timeline for this is not known, so it will be a pleasant surprise once these openings take place.
This will also put the number of step-free London Underground stations past the one-third milestone, with 92 stations out of 272. Not fantastic relative to other systems and for the 21st century, but still an important achievement for the world's oldest rapid transit system.
The only other pending stations currently under construction and with secure completion dates are Knightsbridge, Bank, and Barking Riverside, all slated for a 2022 completion. After this, we have dozens of Access for All stations in various stages of development hell, deferred TfL schemes, and privately-funded schemes tied to controversial redevelopment works that may take years to resolve.
Although most of these are technically slated to be ready by 2024, the lack of significant activity at this stage is not reassuring. With such an uncertain funding stream for these projects, we desperately need the Government and TfL to ditch their ideological pettiness and renew their commitment to accessibility. We can't afford a lost decade, not when there was such growing momentum prior to the pandemic.
Access via Private Redevelopment
For anyone optimistic about the redevelopment model that TfL is relying on for carrying out more step-free access works (i.e. Walthamstow Central, Elephant & Castle, Notting Hill Gate, etc.), the shambles surrounding the works around South Kensington should be a wake-up call. After more than three years of headlines about major redevelopment plans in the vicinity of South Kensington station that would make the District and Circle lines step-free by 2022 and the Piccadilly line by 2025, we now find out that the works have had their planning decision deferred after a consultation found that the plans were extremely unpopular with locals.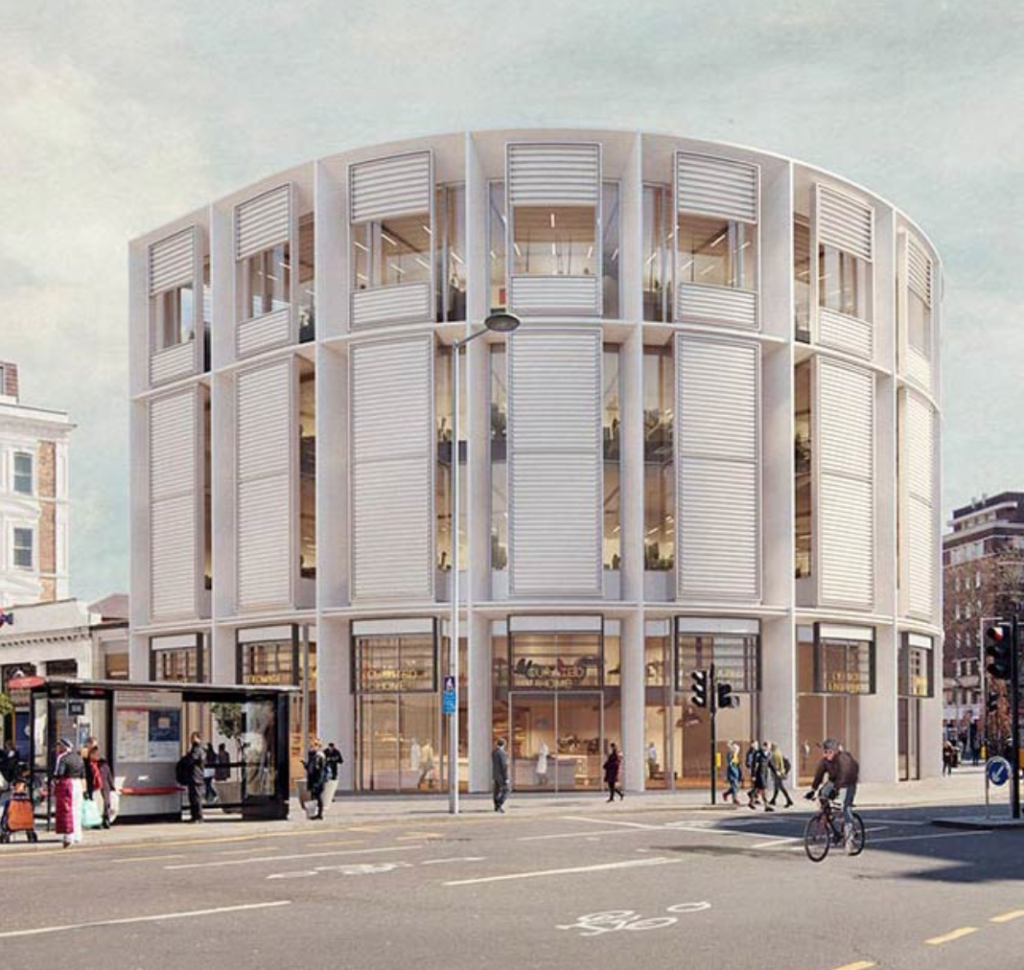 I don't really care about the merits of the redevelopment scheme itself and whether it was the right move to pause the decision given the scope of the works and if it fits in with its surroundings, but I am absolutely livid that arguments about more housing and redeveloped storefronts mean that accompanying step-free access works at one of London's busiest stations (with access to the capital's famous Museum Quarter) will be indefinitely delayed.
Pitting the rights of disabled passengers to have access to high-quality transport options against a highly controversial and largely unrelated redevelopment project is despicable. Keeping the accessibility of a station hostage until developers, local residents, councils, and the Mayor fight it out is proof enough that this funding model is deeply flawed and doesn't have passengers' best interest in mind. Accessibility isn't cheap, but it shouldn't be tacked on as an add-on to score an easy win that is liable to backfire. Step-free access works need stable and dedicated long-term funding, and there really is no shortcut around that.
Crossrail Updates
With a fast approaching deadline and a dwindling number of other ongoing step-free access works, the Crossrail megaproject is feeling more real than ever, with its trial running phase reaching a new milestone, a new station being handed over to TfL, and an increasing number of "reveals."
Trial running has now progressed to 8 trains per hour (tph) per direction in the tunnels between Paddington and Abbey Wood. This is gearing up for an eventual increase to 12 tph, which is the frequency that the initial Elizabeth Line service will have before it is connected to the branches to Shenfield, Reading, and Heathrow Airport.
Looking at the stations themselves, Woolwich has now been handed over to TfL, making it the 5th station to reach this milestone, after Abbey Wood, Custom House, Farringdon, and Tottenham Court Road. Along with this development, the remaining hoardings at the station's entrance have been taken down, and Woolwich looks practically ready for operations.
Other very public reveals of the Crossrail project include the inclined lifts at Liverpool Street's eastern Elizabeth Line entrance, and the lift at Barbican's westbound platform, connecting to the eastern section of Farringdon station.
HS2 Construction
Eventually due to house an Elizabeth Line station, HS2's Old Oak Common station has finally begun official construction. As a resident of Reading, the idea of a brand new major London station bringing together the Great Western Main Line, the Elizabeth Line, HS2, and (less certain at this point) the Overground is a dream come true. With 14 platforms (6 for HS2 and 8 for Great Western services and the Elizabeth Line), it is expected that there will be level boarding on HS2 and Elizabeth Line services, giving a major boost to accessibility. Unfortunately, there's not much detailed information at this stage regarding the project timeline, and whether the non-HS2 platforms will be ready before the launch of HS2, but I will be closely monitoring this project.
Least Accessible Tube Line?
Providing a comprehensive summary of our current state of accessibility within the TfL network, James Potts, a fellow transport enthusiast, has written up a wonderful post in search of the most inaccessible Underground line.
As a lover of charts and maps, it is always a treat seeing updated figures of the percentage of step-free stations, giving new insight on where the most work will be needed in the future.
Clashes with TfL
In the past I have had strained online interactions with TfL given the quality and accuracy of their resources and announcements. Indeed, this was the whole impetus for starting this blog in the first place. But seeing how TfL has handled the latest step-free works is unreasonably careless.
I won't go into detail as you can follow the links to the relevant Twitter threads, but whether it is out-of-date/incorrect information for Ealing Broadway, a premature "announcement" in TfL's Board Papers for Osterley, or a newly step-free Ickenham first "announced" via a broken lift notice, it is clearer than ever that accessibility and providing clear and on-time information are not prioritised.
As much as I enjoy making and updating my map, I neither have the internal knowledge nor resource that TfL has, and it is incredibly disappointing that it is up to individuals to fix what world-renowned entities are unwilling to do. TfL needs to show more respect to its disabled passengers and step up their game.
Hunting for Level Boarding
Lastly, this topic will be a whole post on its own in the near future, but Jon and I recently went on a rail trip from Reading to Norwich. Far from being a leisure journey (especially if you ask him!), the goal was to assess the degree of level boarding offered by the new "low-floor" Stadler trains running on half of Greater Anglia's services. The services are:
Inter-City services from London Liverpool Street to Norwich (12-car Class 745s)
The Stansted Express from London Liverpool Street to Stansted Airport (12-car Class 745s)
Regional services on the un-electrified routes of the network, primarily in Suffolk, Norfolk, and Cambridgeshire (3/4-car Class 755s). These service groups can be seen in the map below.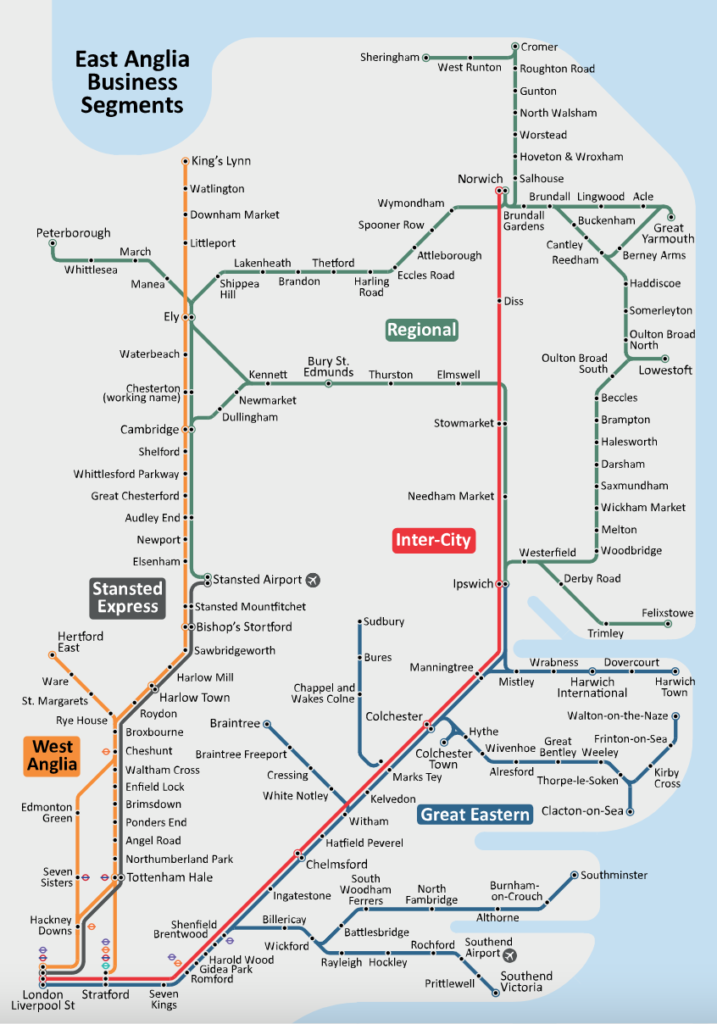 The reason why this work is needed is because many platforms across the country are not standardised, so despite having level boarding trains, a given platform may still be too high or too low to fall within the limits of level boarding. Inexplicably, Greater Anglia, despite having ample platform data of all its stations, has refused to provide a resource that details which platforms at which stations allow for level boarding, citing the fact that if they made such a resource and another class of train was used during disruptions then they would be giving out false information.
Never mind the fact that not providing such a resource defeats the entire benefit of having the level boarding trains and leads to significant uncertainty for users, this proves that Greater Anglia got lucky with procuring these trains and never actually planned on putting together a cohesive level boarding strategy. So the plan is to show Greater Anglia that supplying basic travel information indeed counts as a "reasonable adjustment" under the Equality Act 2010, using our three train journeys as an example.
The journeys that we made were London Liverpool Street to Norwich, Norwich to Stansted Airport via Cambridge, and Stansted Airport back to London Liverpool Street, covering 24 stations and 27 platforms.
Here is a Google Map generated image of our journeys deep into Greater Anglia territory.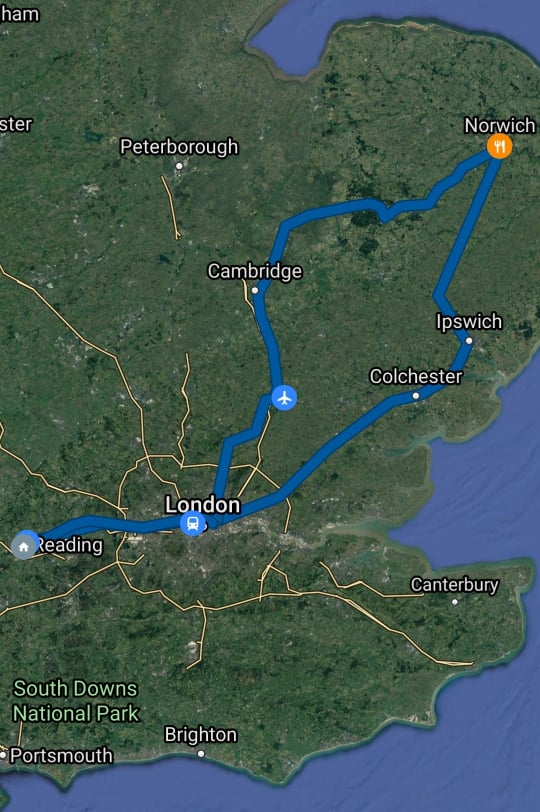 In order to test all the platforms in the journeys we made, I brought my own level boarding ruler, designed to slot at the platform-train interface to determine whether a platform meets the criteria for level board (i.e. a maximum gap of 75 mm and a maximum step of 50 mm).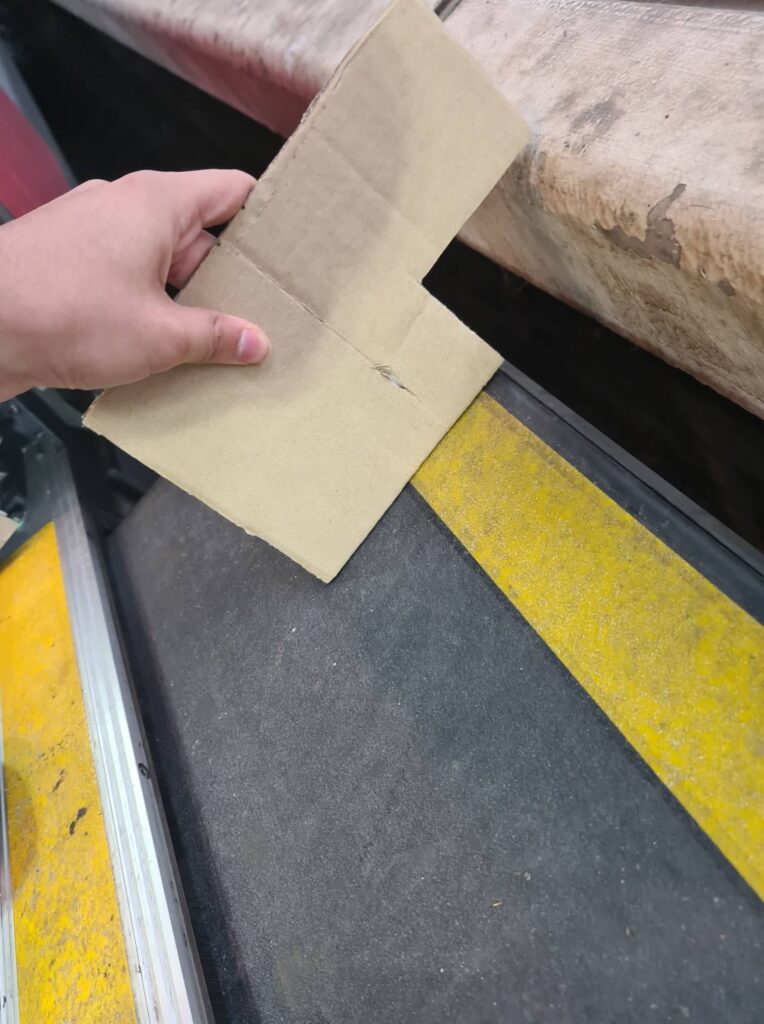 I will save the detailed results and analysis for a later post, when I actually get time to look over the data we gathered and compare and extrapolate it to the platform height spreadsheets that I got from a railway engineer friend, but I am happy to report that we didn't require assistance at any point in our journey while on the Stadler trains, bearing in mind that Jon has a large power wheelchair.
The real platform-by-platform picture is a bit murkier, with some platforms barely making it through my test (as the picture above shows) and others being completely non-standard, but in the end, the one act of getting new trains with lower train floors and retractable gap filler immediately gave level boarding to probably over 50-70% of platforms. Imagine what could be done if there was joined-up thinking to then properly standardise the platforms and guarantee level boarding at all the stations where these new trains are calling.
For that dream, thankfully we only need to wait a few months until Merseyrail unveils its new fleet and its completed platform standardisation programme, setting the golden standard for accessibility for the rest of the country to follow. As Merseyrail will finally prove, especially with its goal of expanding beyond its current boundaries, there's no reason why level boarding can't be universal on the UK's railway network, and continuing to peddle false and debunked excuses, especially coming from reputable transport bodies trying to excuse their failings, does a major disservice to efforts to improve transport accessibility and should be actively challenged.