I've started writing this blog post on a ferry towards Bilbao, Spain. We will be on a much-needed holiday with family, as well as assessing the accessibility of even more Spanish cities. But looking back on the summer in London thus far, we have seen significant progress with regarding to step-free access schemes. As expected, we are seeing the fruits of all the major transport schemes started before TfL's financial woes, with three new step-free stations completed within one week (Whitechapel, Wimbledon Park, and Southall). Now more than ever, it is imperative for the Government to ensure that this momentum isn't allowed to die. However, rumours like the cancellation of the eastern leg of HS2 are deeply disappointing and show a lack of commitment to improving transport and addressing the climate emergency.
Crossrail Update
Since the last update, we now have three new Crossrail stations that have been handed over to TfL. These are Paddington, Liverpool Street and Whitechapel. More than just a latest box-checking exercise, the latter two handovers have included the opening of new step-free routes to existing London Underground stations. The western entrance to Liverpool Street's Crossrail station also doubles as the entrance to Moorgate station, and the handover gives step-free access with level boarding to the Hammersmith & City/Circle/Metropolitan line platforms. Here are some of the new lifts.
At Whitechapel, the handover opens up step-free access to the District/Hammersmith & City line platforms (with level boarding) and to the Overground's East London Line (without level boarding YET).
The opening of these two stations offers a remarkable improvement to accessibility, with fully accessible platforms with access to the heart of the City of London as well as to the trendy neighbourhoods of inner East London.
Further Access
In addition to these openings, there are still more improvements expected for existing stations associated with the Crossrail project. With the heavy works now complete at Whitechapel, TfL is now able to complete platform alteration works for the Overground platforms, bringing in level boarding (at high platform heights) to the station, in line with other redeveloped stations on this part of the line. As a reminder, level boarding at platform heights above the 915 mm standard is only possible when the line is completely segregated from other rolling stock, and cannot be used in sections that are shared with other services.
This is why there is no level boarding south of Canada Water, or really anywhere else on the Overground. In the short term, it is not bad to have platform humps or raised platforms as quick accessibility wins, but any future rolling stock needs to be able to provide level boarding at the national standard height, and any platform raising needs to be reversible (which is where Crossrail will find issues).
At Moorgate, the Northern line is not yet accessible as its lift is reached from an interchange level only accessible from an Elizabeth line-bound lift. This access, along with the Elizabeth Line platforms, will become available at the Elizabeth Line launch. Unless there's an unexpected issue, the Northern line platforms are highly expected to offer level boarding, turning Moorgate into an invaluable interchange station rivalling the likes of Blackfriars and Green Park.
Paddington has also recently completed its handover, bringing a beautiful new entrance and pedestrianised space in the west of the station into public use. Once the Elizabeth Line opens, there will be step-free access to the Bakerloo line via the Elizabeth Line platforms.
Access Deferred
Unfortunately, the expected back-and-forth arguing between TfL, Network Rail, and the train-operating companies means that the final line serving Moorgate, the Northern City Line, has no step-free access here.
This line, run by Great Northern, has by far the worst accessibility of any line in London, and the fact that Great Northern, with its franchise nearing its end soon, refused to pay for lift access to be added to its line is disgraceful. Fortunately, it is unofficially said that there is passive provision to add the extra lift. This is likely, given that the Northern City Line platforms are located directly above the Northern line ones. Hopefully this means that the lift shaft has been completely excavated and it is a matter of completing works on the platforms to get the lift to serve this line.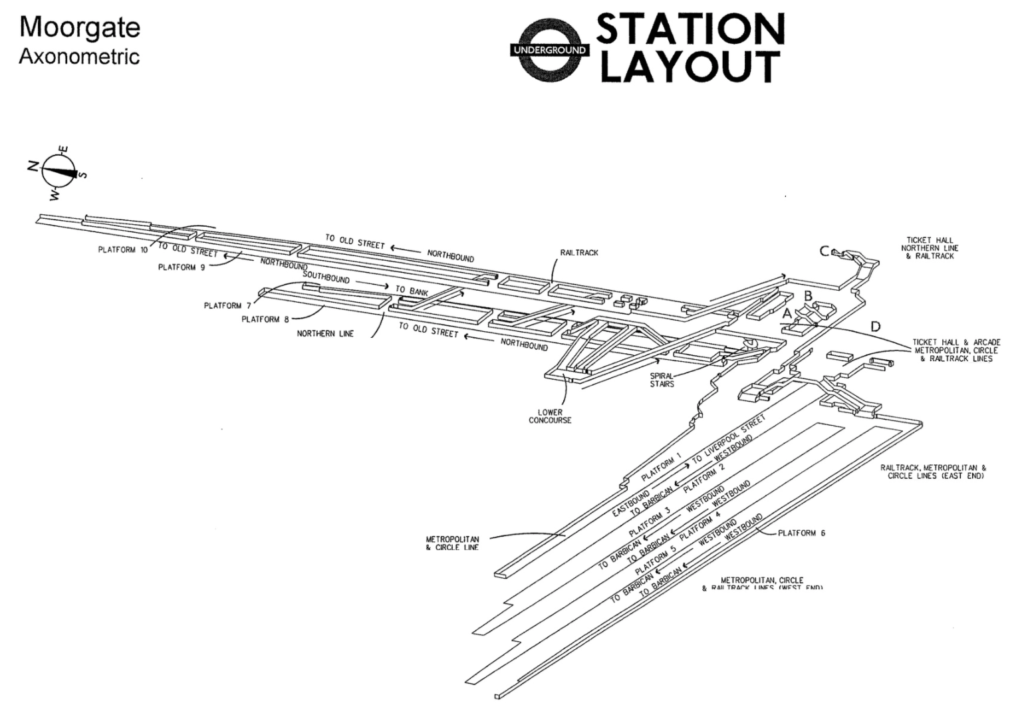 This type of nonsensical delay is nothing new, as this is the current state of Finsbury Park. As part of the TfL works more than two years ago, all the Underground platforms and two of the National Rail ones were made step-free, but no works were planned for the remaining inaccessible National Rail platforms, giving access to the northbound Great Northern And Thameslink services. It is only now that works are progressing to make the whole station accessible. It will get there in the end, as will Moorgate. But as always, it is disabled people who are disadvantaged by the petty politics of the rail industry.
Accessible Outer Crossrail
The steady progress of completed works at the existing stations that will form part of the Elizabeth Line continues, with step-free access to platforms extended to West Drayton and Southall. This now leaves Hayes & Harlington and Ilford as the only remaining stations without step-free access to all platforms. The first should be ready within the next few months, with Ilford expected to be ready by the launch of the Elizabeth Line.
Updated Launch Schedule
As we get closer and closer to the launch of the Elizabeth line, we now have a better idea of the upcoming milestones and service patterns. With trial running well underway and trial operations planned for November, an opening in early 2022 seems all but certain, with an unofficial push to have the line open in February. When the Elizabeth Line finally opens, the initial service will be 12 trains per hour (tph) from Abbey Wood to Paddington, with the existing TfL Rail services remaining in place. After this, the original plan was for services from Shenfield to be extended through the core section to Paddington after 6 months, and for the full service pattern, incorporating TfL Rail services from Paddington to Heathrow, Hayes & Harlington and Reading, to be added 6 months after that.
However, given the difficulties of running 24 tph into Paddington once the Shenfield trains are extended, the latest plans are for existing TfL Rail services from both the east and west to use the central core in one go 6 months after the launch of the core, albeit with reduced frequencies to start. During this time, Shenfield trains would terminate at Paddington, and services from the west would terminate At Abbey Wood.

The full timetable would then be ready by May 2023. This is great news, as it means that passengers from the west, such as Jon and me, are able to benefit from direct access to the core.
Extension Prospects?
Given the current climate, it is almost a bit amusing thinking about an Elizabeth Line extension, but there is a consultation by Bexley Council that looks at 3 options for extending the Elizabeth Line further than its Abbey Wood terminus. I'm highly in favour of a rail extension past Abbey Wood, even if it is decades away, but preferably on segregated track. This is because the Elizabeth Line is already problematic due to its high platform heights, and introducing a shared extension with lower platform heights that would require more use of manual boarding ramps would be a travesty. 
New Step-Free Stations
Looking away from Crossrail-related news, TfL appears to be trying to salvage its finances by publishing a revised budget, with a goal of becoming financially sustainable by April 2023. With regards to accessibility, the big news is that the deferred works at Burnt Oak, Hanger Lane and Northolt will be restarted. Seeing as we have not seen any further announcement for more step-free stations beyond 2024, I suppose this is as much of a win as could be expected.
Looking at the current step-free works themselves, Wimbledon Park is now step-free at least to both platforms. Unfortunately, due to its curved platforms, its platform-train interface does not allow for smooth level boarding like its two neighbours, Wimbledon and Southfields. Instead, while its platforms are largely level with the train floor, the gap between the platform and the train varies considerably, ranging from below the limit of level boarding (75mm) all the way up to 160mm. Therefore, larger wheelchairs could negotiate this gap, but it is recommended that new passengers using this station request a manual boarding ramp.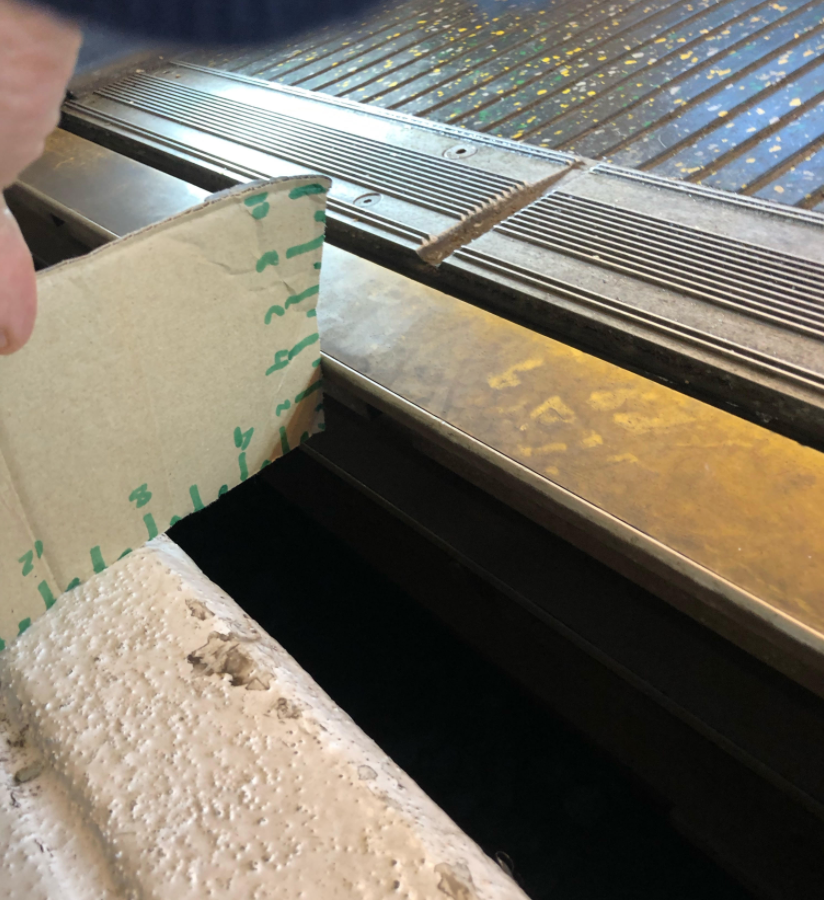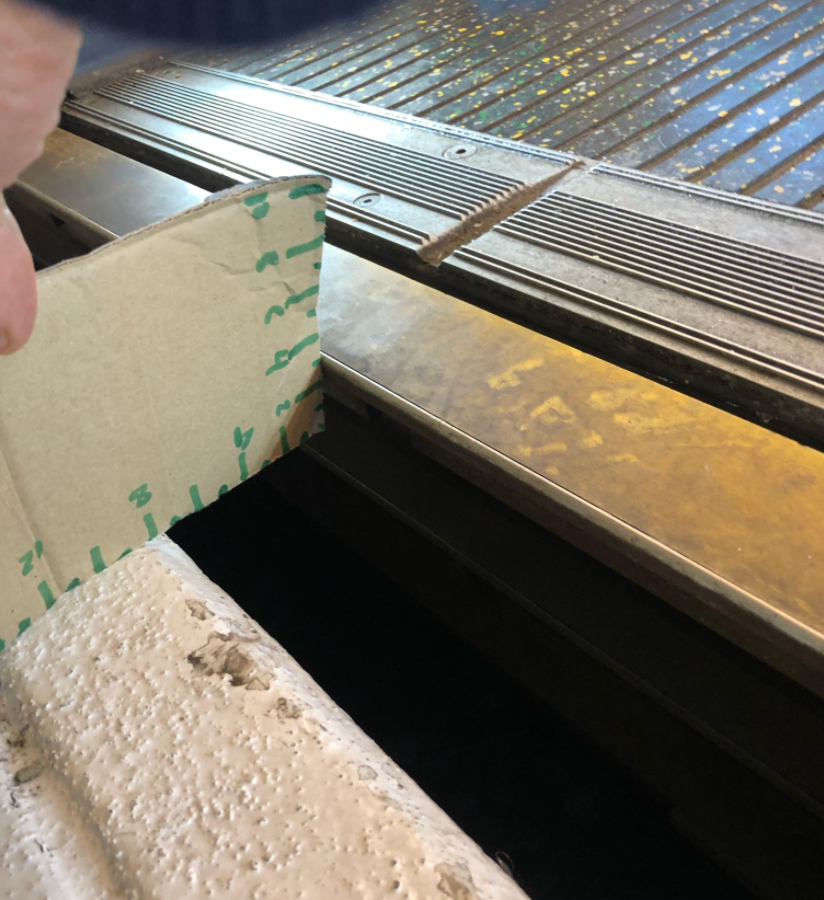 Osterley is another station where works have been finished, but curiously, the lifts have yet to open after a month of being ready. Even TfL appears confused, incorrectly already showing it as step-free in their latest tube map. Then again, this is probably the least likely place to find accurate information, given that the TfL step-free map has not been updated since April and has accumulated around 10 inaccuracies due to this.
Assuming Osterley will open at any moment, the next expected stations from this scheme as Harrow-on-the Hill and Sudbury Hill. Finally, one station whose works have been quietly progressing is Knightsbridge, due to be ready by 2022. Located at the entrance of Kensington, Knightsbridge will be the closest step-free station to Hyde Park and the closest to Royal Albert Hall until South Kensington becomes accessible.
Brent Cross West will be the latest Thameslink station to be be built. Although obviously expected to have step-free access to all platforms, this station will be noteworthy in that it will also have level boarding to trains, through the use of platform humps thanks to successful local campaigning. This is highly unusual, given the busy Midland Main Line, but I assume the station layout within a former depot means that there is enough space for the passenger platforms to be completely segregated from other traffic. Still, while I'm happy about the arrangement, and would kill for Reading Station to raise one of its platforms, this is not sustainable, as no other station north of St Pancras International or south of London Bridge is able to have level boarding in this way.
Improved assistance
The next best thing, although a long way down, to level boarding is an efficient and reliable assistance service that allows for spontaneous travel and successful communication. Probably seeking to offset the unforgivable damage that South Western Railways and the DfT did in getting an entire fleet of suburban trains that will never allow for level boarding at the national platform height, SWR has announced plans to lower the time required to guarantee booked assistance from 24 hours down to 10 minutes. Each of the 189 participating stations will have clearly signed QR codes that would allow them to request their assistance, without requiring prior booking. As with the Passenger Assist app, this scheme will only successful if railway staff actively check and use this service to ensure that these bookings are seen in time.
Nevertheless, this does appear to be the best thought-out assistance scheme to date, so I do wish SWR good luck with this.This will be introduced at all the stations operated by SWR, which unfortunately leaves out Reading and Waterloo (which from their size virtually already have turn-up-and-go), but I hope this scheme is eventually expanded network-wide. As I mentioned, this is far from an alternative to level boarding, so no one should ever be under the impression that an app can take the place of the substantial infrastructure works required to make the railways accessible for all.
HS2 Eastern Branch in Peril
I won't say too much about the HS2 news regarding the possible axing of the eastern section from Birmingham to Leeds, mostly because it is not officially confirmed. However, I will say that it is incredibly disappointing to see how unambitious and small-thinking this Government is, completely driven by populist rhetoric and with no consistent messaging and path forward. Cutting off the eastern section destroys any meaningful transport improvements within the Midlands and also kills off HS2's ability to take pressure off the Midland Main Line and the East Coast Main Line. This means that these main lines would continue to house long-distance services, removing the possibility of better regional and local services, while diluting the benefits of the remaining part of HS2. This act would be a huge and embarrassing mistake, but in the end, if this country is hell-bent on shooting itself in the foot when it comes to every major issue in the last five years, it'd be foolish to think it would stop now.