Happy New Year everyone! Sorry for the long-overdue post, this year has started out very busy. Access-wise, the past few weeks have seen incredible level boarding progress mostly outside of London, with new level boarding trains for Greater Anglia and Merseyrail as well as tramway expansions for Birmingham and Manchester. Unfortunately, London's own latest level boarding venture, Crossrail, has encountered yet another delay. As a whole, almost every single TfL project has encountered significant delays, which has only worsened its financial situation. At this rate, it may well be a tight race between the opening of Crossrail and the Northern Line Extension to Battersea Power Station (expected in 2022)!
West Midland Metro
In December, the West Midlands Metro saw a two-station extension from Grand Central shopping centre to the Library of Birmingham. In the near future, this line will extend further out of the city centre to Edgbaston, while other extensions (to Wolverhampton Railway station, Brierley Hill, and beyond HS2's upcoming Curzon Street station) will massively increase the provision of independently accessible transport in the West Midlands. Just today, the first phase of Metro's eastside extension, from Bull Street to High Street Deritend, was given the green light by the Transport Secretary.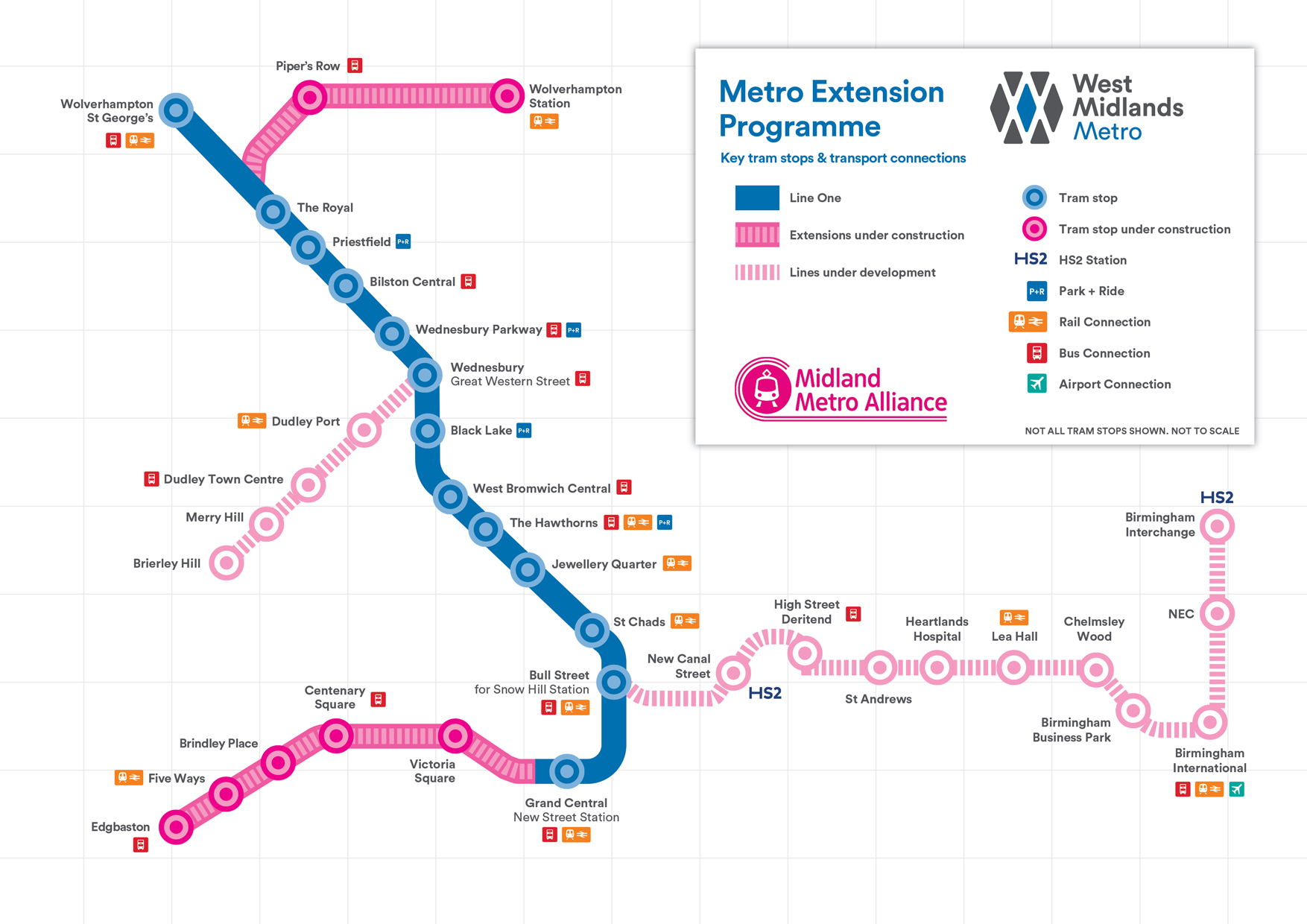 Birmingham has long been seen as one of the most car-centric cities in the UK, so it is very uplifting to see a real push towards public transport. In addition to this, Birmingham is going a step further by proposing plans, inspired by the Belgian city of Ghent, to sharply limit car use within the city centre. I think this plan can be a great success, but city officials will need to ensure that the centre will be fully accessible to everyone, by providing exceptional public transport coverage and considering those who will still need to use their car.
Manchester Metrolink
Manchester is another city that is expanding its fully accessible tram network. Due to open several months ahead of schedule this April, the latest six-stop extension will reach Trafford Park, in front of Manchester's largest shopping centre.

Stadler Introductions
Moving onto mainline trains, the introduction of level boarding Stadler Rail trains is progressing steadily. On Greater Anglia's network, 12-carriage class 745 trains are now running Intercity services between London Liverpool Street and Norwich. It is important to note that this is the first instance of level boarding at the 915 mm standard platform height within London's railway network.
Although there were some concerns about the trains only having 3 wheelchair spaces in a 12-carriage train, this is still a pivotal moment in railway accessibility. Up until now, level boarding low-floor trains had only been seen in Greater Anglia's rural local routes, but now they will be very visible and in sharp contrast to the other, non-level boarding, trains that Greater Anglia has ordered for its suburban services.
Merseyrail
Not to be outshined, Merseyrail received its first level boarding Stadler train last week. As I've mentioned before, Merseyrail carried out an intense platform alterations project in 2018-2019 to ensure that all platforms on the Merseyrail network would allow for level boarding with the new trains. By contrast, Greater Anglia did not carry out these works on its network, and so level boarding is available at roughly 70% of platforms.
And so, once Merseyrail's new fleet is fully introduced in 2021, it will be the most accessible mainline network in the country. Fortunately for the surrounding areas, Merseyrail has bold expansion plans, made possible by battery-equipped as well as dual voltage trains. This would allow Merseyrail to expand out of its third-rail segregated network, possibly reaching areas such as Halton and St Helens. We can only hope that Merseyrail eventually takes over the entirety of the UK railway network, as this would ensure a firm commitment to independently accessible rail travel.
What About London?
Meanwhile, back in London, recent updates have not been quite as positive. As is almost expected, Crossrail has been delayed again, this time until summer 2021 for the central section. This now represents a two and a half year delay from the original completion date. This is massively disappointing, especially as many people have made personal or professional decisions with the assumption that Crossrail would have been operational by now.
Not only does this further tarnish the reputation of the upcoming Elizabeth Line service, but also continues to negatively impact TfL's finances. This has in turn led to dozens of important TfL projects being delayed, shelved, or cancelled, including the Mayor's lauded step-free access scheme.
I am very much looking forward for Crossrail to arrive, as it will be a massive improvement to London's public transport network, but it is frustrating that almost everything, including the works on existing stations, has been delayed. There are currently 11 existing Crossrail stations that do not have step-free access. Fortunately, this is shortly expected to change, as at least 3 of these stations, Hanwell, Iver, and Langley, are due to be completed within a month, with the remaining stations due to be ready by December 2020.
While it is possible that we will see further slippage of deadline when it comes to Crossrail works, the project is still moving forward and it will be very helpful to see a steady stream of newly accessible stations (from street to platform) throughout the year. Even Crossrail management have been keen to keep the public informed about the latest news, which is a remarkable improvement.
Free Carer Travel
Finally, there is some very positive news coming from London these past few months. As part of his re-election campaign, Mayor of London Sadiq Khan has pledged to provide free travel to carers accompanying disabled passengers on all TfL modes and services. This is an incredibly important topic that does not get enough attention.
Around the country, disabled people who require carers are currently paying twice as much to travel on the railways compared to if they were able to travel independently. This is a considerable expense, especially for those who are not eligible for the London-only Freedom Pass, and functions as just one extra barrier to accessible travel. These passengers would be unable to travel without a carer, and forcing them to pay extra for this is highly discriminatory.
If the Mayor's pledge comes true, I hope it will influence other regions and the rail industry to follow London's example. If free carer tickets are commonplace in cinemas, buses, and tourist attractions, why should the railways be treated differently?