With the free-fall in passenger numbers and project delays related to the lockdown, we are now beginning to see the damage that this will have on the future accessibility of London's railway network. While TfL has long had financial troubles and Network Rail's Access for All scheme is no stranger to delays, cancellations, and deferments, the pandemic has significantly worsened the situation.
Crossrail Woes
The most disruptive delay, though also least surprising, is that the central section of the Elizabeth Line is no longer expected to be operational by the end of 2021. It is important to remember that this section was originally meant to be ready by December 2018, so we are looking at more than 3 years of delays, all of which can hardly be blamed on the pandemic. We have been here countless times before so there is not much to say anymore. Once open, the stations in the core section of the Elizabeth Line, from Paddington to Abbey Wood, will provide some of the highest accessibility standards in London, with full level boarding throughout the length of the train and plenty of lifts to provide a reliable service. In addition, the construction works will also bring step-free access to existing platforms in the Overground (Whitechapel) and Underground (Moorgate, Paddington, Whitechapel) network. And so, for the next year and a half, we may have to be content with staring at the new stations and accessible entrances from afar, unless TfL finds a way to open the Underground step-free works at an earlier date.
It is also important to restate that while the central section of the Elizabeth line will have level boarding, almost the entire rest of the line, currently operated as TfL Rail, will require manual boarding ramps because the floors of the new class 345 trains and the central section platforms were built 180 mm above the standard UK platform height of 915 mm. As the TfL Rail station platforms cannot be raised due to freight traffic and mixed rolling stock,
The one place where the degree of accessibility is unclear in at Heathrow, where the three railway stations were built between 1998 and 2008 with high platforms. According to line diagrams of the finished Elizabeth Line, the three stations should have level boarding.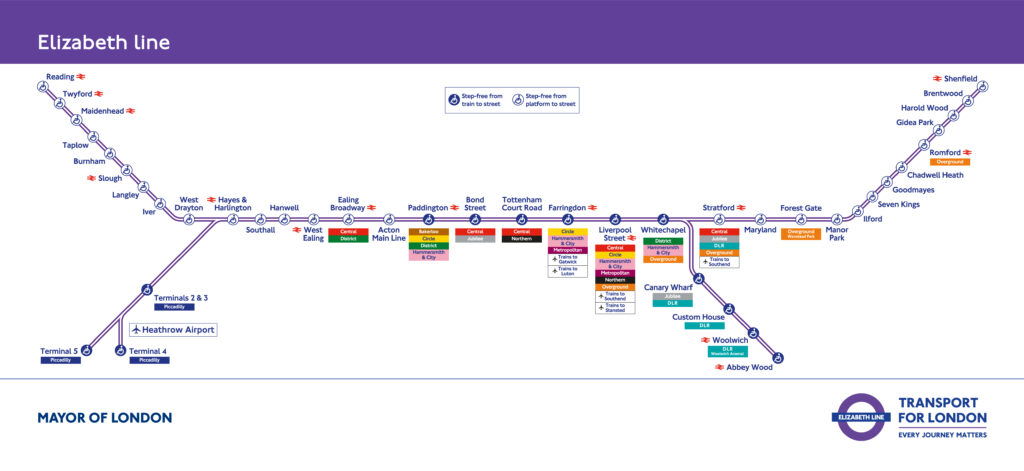 However, recently, 9-car class 345 trains have finally reached Heathrow after long delays involving various signalling systems. In this video by Geoff Marshall, showing the first Elizabeth Line trains travelling to Heathrow, it is not apparent that the platform-train interface is level enough to enable level boarding. If anyone has seen these trains at Heathrow and can clarify the situation, that would be much appreciated. It is possible that these platforms will be adjusted at a later date once the class 345s and the related class 387s (to be introduced on the Heathrow Express) are fully in service.
Elsewhere on the Elizabeth Line route, currently run as the East and West sections of TfL Rail, construction is ongoing to bring step-free free access to all platforms and improved facilities to all existing stations. Crossrail Ltd has released a new update for the six remaining station works in the West section as well as an update of the work in Romford, one of the two remaining stations on the East section yet to be upgraded (the other station is Ilford, which is receiving a full reconstruction). There is currently no public completion date for these 8 unfinished works, but at least now it is much more likely that they will be ready by the time the Central section opens!
Access for All… But When?
In a bit of rare good news, Tring and Coulsdon South have both been made step-free to all platforms in recent weeks. These works are both funded by Network Rail's Access for All scheme. Another station from this scheme that should imminently become accessible to all platforms is Selhurst, which currently only has access to the eastbound platform. However, the rest of the news is quite disappointing.
Earlier in the summer, I had calculated that there were nine Access for All railway stations within Greater London that should have been made accessible to all platforms by 2019. Their funding belonged to Control Period 5 (CP5), which lasted from 2014 to 2019, and unlike the 26 stations across the country that had their funding deferred until CP6 (2019-2024), they were meant to have been completed during this time. Through recent correspondence with Network Rail (before Coulsdon South was completed), I enquired about the status of these nine stations, and their names, project scope, and status are highlighted below.
Station
Proposed Scope
Status
Selhurst
Installation of 3 lifts to existing underpass and provision of high level walkway over public access and minor modifications to station layout.
Accessibility project now completed, additionally the train operator GTR are currently undertaking small station enhancement works, painting / cleaning.
Unfortunately due to COVID-19 pandemics, the work has been rescheduled to be completed early August.
Coulsden South
Install a new footbridge, stairs and 2 lifts. The existing footbridge will remain after the project has been completed as it is on the 'unpaid' side of the station.
Accessibility project now completed, additionally the train operator GTR are currently undertaking small station enhancement works painting / cleaning.
Unfortunately due to COVID-19 pandemics, the work has been rescheduled to be completed early August.
Plumstead
Installation of new footbridge 2 lifts and staircases and decommissioning of existing structure.
The original design was reviewed on the basis of value and constructability issues it presented.
A new design is being undertaken and is currently being reviewed. Further discussions with the LA regarding a planning application is to take place
Shortlands
Installation of a new fully compliant footbridge with 2 'through' lifts and staircases. The works will include decommissioning of the existing structures.
The detailed design is currently being reviewed, once agreed, the project will move into Implementation stage.
Bexley
Installation of a new fully compliant footbridge with 'through' lifts and staircases. The works would include modification of the existing platforms, minor reconfiguration of the station and carpark layout.
Currently on hold, further work and discussions are required with the Local Authority due to issues raised by them on the proposed design.
Teddington
Installation The project is planning to add lifts to the existing Installation bridge structure.
The project has received planning approval and is moving into detailed design.
Negotiations with a local landowner over the purchase of a plot of land is continuing and has slowed the project.
Palmers Green
Installation of 2 lifts which will provide a fully accessible step free route from station entrance to each platform and between platforms.
Currently in Outline design stage
Alexander Palace
Installation of new footbridge with three lifts, and stairs and reconfiguration of the station building
Currently in Outline design stage
Brondesbury
Installation of two lifts which will provide a fully accessible step free route from station entrance to each platform, the option includes the installation of two lifts at the rear of the existing station building and a ramp which will be created on the North side of the ticket hall leading up to the station subway level. Two pathways will then be created underneath each staircase leading to the proposed lift and lift motor room (LMR) locations at the rear of the station. At platform level, construction will include the creation of enclosed walkways with the required security and services installed to ensure the safety of the user and a clear accessible route.
Due to on-going delivery issues with RfL's consultant on producing the designs and delays regarding a separate project namely ticket office removals, the project is still at Outline Design Stage 4 which will close out GRIP 4 deliverables. A further review of the project both deliverability (extensive groundworks are likely to be required and value will be undertaken, as the site is extremely constrained with access problems over third party landowners land.
Chart from Network Rail detailing the progress (or lack thereof) of its delayed CP5 Access for All stations
As expected, the works at Coulsdon South and Selhurst were both on the verge of completion. Unfortunately, there has been no announcement yet for Selhurst, but it should be complete within days at this point. Looking at the other seven stations, I was shocked to see that there is no construction work at any of these stations. These seven stations are having their designs revisited, are on hold, or are subject to a project review. These are station works that had been announced in 2014 and yet have nothing to show for it more than 6 years later, not even an expected completion date. With this in mind, with what confidence can we believe that Network Rail is capable of successfully executing the 73 stations across the UK (17 in Greater London) that make up the CP6 funding, especially when 26 had already been deferred from CP5?
By comparison, Paris is in the middle of an extremely ambitious accessibility programme, where roughly 17 railway stations within Paris's metropolitan area are made accessible per year, starting from 2016 and finishing by 2024. By that point, 209 railways stations in Paris and 90% of passenger journeys will be accessible. The difference in both ambition and efficiency between the two programmes could not be greater, and with the financial threat caused by the pandemic, I worry that the current delays are just the beginning of a drawn-out nightmare of deferments, cancellations, de-scoping, and disappointment.
TfL Funding Collapse
Unlike with Network Rail, the financial impact hurting TfL is already claiming casualties. Several of the step-free access works planned by TfL for the Underground's suburban stations have lost stable funding, while others have completely blown their initial completion dates. According to TfL's revised budget, 9 station works have been dropped.
These stations are Burnt Oak, Hanger Lane, Northolt, Boston Manor, North Ealing, Park Royal, Rickmansworth, Ruislip, Snaresbrook.
Earlier in the year, I recreated a step-free access works chart by TfL showing the expected completion dates of the first 12 stations in TfL's step-free access programme.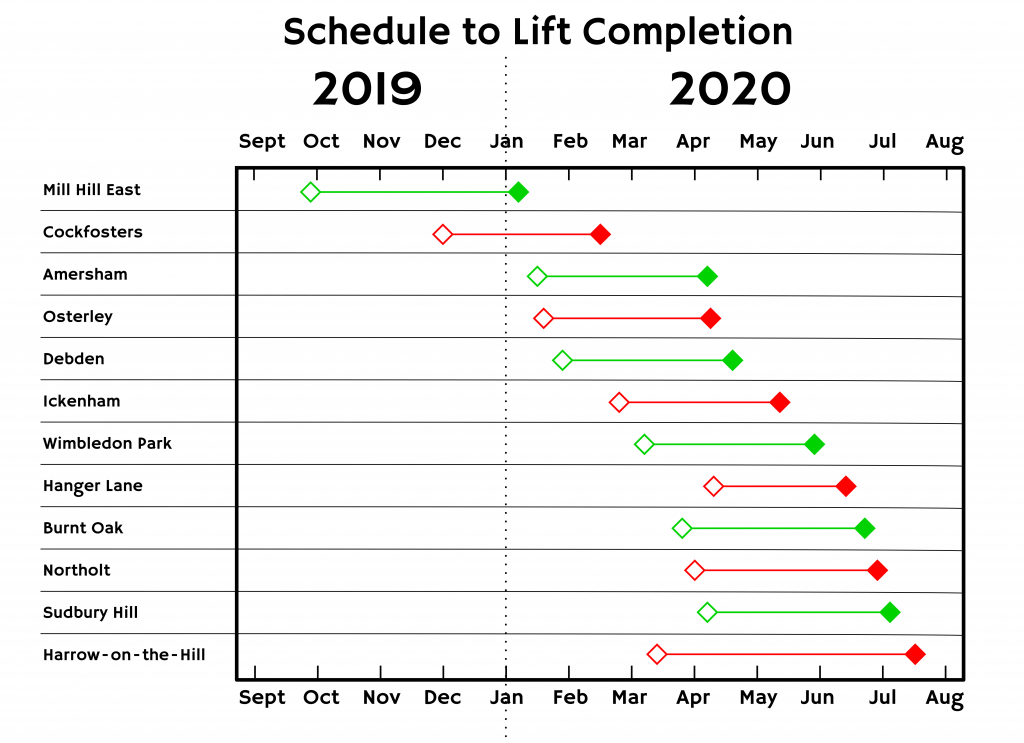 The works at all 12 stations were expected to be finished by August of this year. Of course, the pandemic has completely destroyed this schedule, with only Mill Hill East having had its step-free access works completed. However, what is devastating is that Hanger Lane, Burnt Oak, and Northolt were part of this group of stations, and now they will not be made accessible for the foreseeable future. Inaccessibility will still be here once the pandemic is over, and these cuts only further the inequality that disabled passengers face on a daily basis.
Rather than repeatedly de-prioritising accessibility schemes on the local or national level whenever money is tight, accessibility needs to be on the forefront of all transport strategies, ensuring that "Access for All" is not just an empty slogan, but a clear goal with coherent planning and stable funding.