Relatively speaking, this has been a positive week for accessibility in London, with the expansion of step-free access stations after a long dormancy and visible progress on some of the ongoing accessibility schemes. As TfL's financial situation is still unclear, it is becoming more apparent that the most "secure" step-free access schemes are those tied to redevelopment projects and have significant private funding. Under current plans, important mega proyects such as Crossrail 2 and the long-awaited Bakerloo line extension into South East London have been indefinitely delayed in order to prioritise other necessary short-term projects such as the upgrading of the Northern Line. Elsewhere in the country, level boarding is getting a major upgrade, further highlighting the subpar situation in the capital .
New Step-Free Access (To Platforms)
Selhurst station (Southern) in South London and Cockfosters (Piccadilly) in North London are now both step-free to all platforms, following the installation of lifts to all platforms. From my previous post, we had expected the work at Selhurst to be imminently ready, and Cockfosters was meant to be the next Underground step-free station after Mill Hill East under original estimates. Unfortunately, like Mill Hill East, Cockfosters has no level boarding, meaning that passengers needing step-free access require manual boarding ramps to board and alight at this station. This is despite the fact that the Piccadilly line offers level boarding at multiple stations, even at adjacent Oakwood station, which was fitted with a platform hump to allow for level boarding.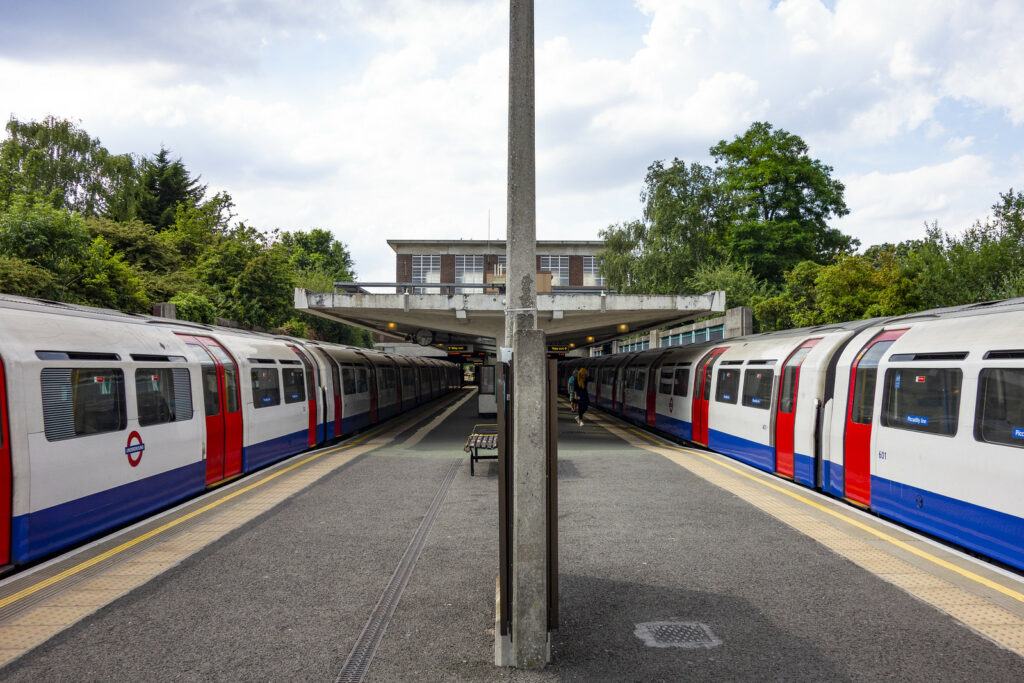 In the above two examples, it can be seen that the original platforms at both stations were around the same height, before Oakwood had its platform hump installed. There does not seem to be any major obstruction on the platforms at Cockfosters, so I am not sure why a platform hump has not been installed. If anyone has any insight into why this might be the case, please let me know.
For Mill Hill East and Golders Green on the Northern line, platform humps were not installed when the stations got step-free access to platforms due to the curved platforms. However, Cockfosters's alignment is notably straighter, so it is not clear why independent boarding was not a priority. I hope that this is not a new TfL precedent, where manual ramps are seen as acceptable standards of accessibility, especially when systems across the country, such as Merseyrail, are fully embracing 
In addition to the Cockfosters announcement, TfL gave a brief update on the state of the other stations forming part of its suburban step-free access programme, which includes Amersham, Debden, Harrow-on-the-Hill, Ickenham, Osterley, Sudbury Hill and Wimbledon Park. Unfortunately, this suggests that the fates of Burnt Oak, Hanger Lane, and Northolt, whose works were indefinitely halted during the lockdown earlier this year, are still in limbo. Nevertheless, TfL reports that 6 out of the 7 stations, excluding Sudbury Hill, have had lift towers installed, so hopefully this means we have passed the point of no return and these station works will be concluded in the near future. Also, as expected per the original timeline, Amersham is expected to be the next step-free station on the Underground.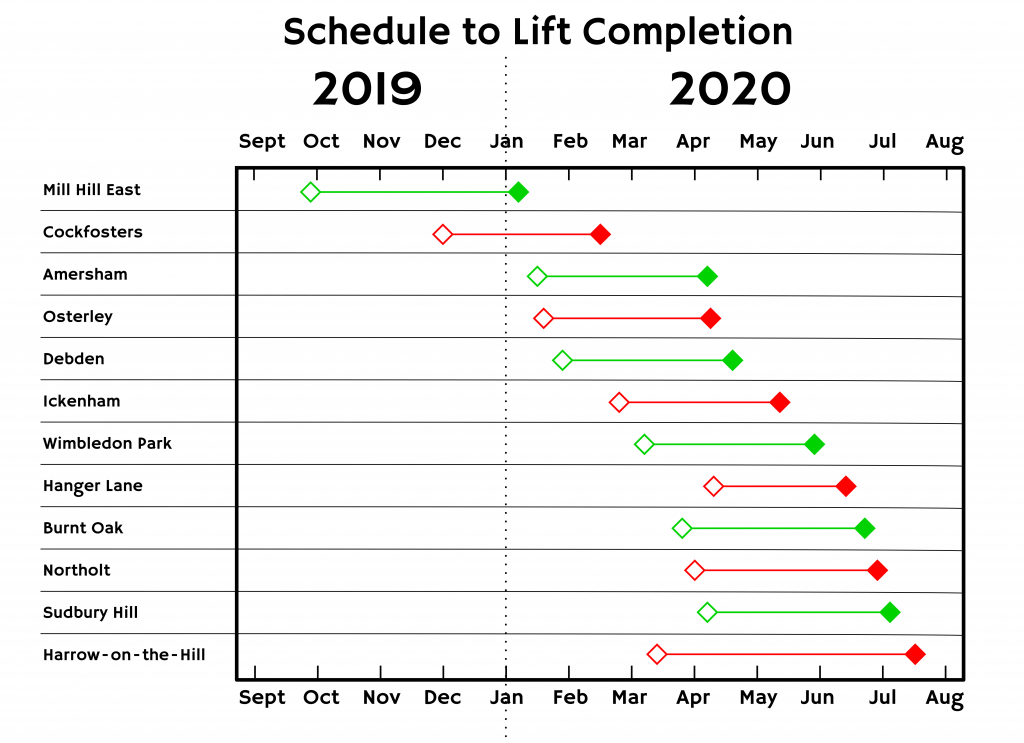 TfL also highlighted the step-free access works being progressed in collaboration with local redevelopment schemes, including the works at Knightsbridge (due in 2021/2022), South Kensington (still under planning), and Colindale (expected to start construction next year)
Additional Schemes
In addition to these stations, there have been new developments for two other step-free access works, at Walthamstow Central and at Elephant & Castle. At Walthamstow Central, a new entrance that would provide step-free access to the Victoria line is tied to a controversial redevelopment project that would see the demolition of part of The Mall in order to build two tall tower blocks above the station. It is never great for something as important as accessibility to be contingent on the approval of a polarising project, but if the new plans are approved this time, construction may begin sometime next year.
The situation at Elephant & Castle is remarkably similar, only that the redevelopment scheme is already underway, with the imminent demolition of the aging Elephant & Castle shopping centre, despite fierce opposition. The regeneration project will allow for full step-free access to the Northern line platforms and the potential realignment of the Bakerloo line platforms.
Crossrail Update
Looking at the ever-problematic Crossrail project, the step-free access works at the remaining 6 inaccessible stations in West London are a more advanced stage, as shown below in the pictures released by Crossrail's Twitter account.
There is still a considerable variation in the progress of each station, but West Ealing, West Drayton, and Acton Main Line look like they may be ready within a few weeks. Probably the only good thing about the core section of the Elizabeth Line being repeatedly delayed, from Crossrail's perspective, is that at least it will not open before these works conclude, as they should have been ready long before the original December 2018 launch of the Elizabeth Line.
Thameslink on the Tube Map
Speaking of the Elizabeth Line, we can also expect a new line to appear in the official Tube Map in a few months, as TfL has finally agree to display the central core of the Thameslink rail network. This has long been an obvious decision, given that the core, running from St Pancras International to London Bridge, has some of the best accessibility on London's rail network. TfL has refrained from including non-TfL services in recent years in order to protect its revenue, but has relented due to the better social distancing possible in the spacious Thameslink trains compared to the cramped Northern line rolling stock.

Thameslink is a wonderful solution for easy north-south travel in London, so I hope that this change will be permanent. I will also give a special shoutout to my husband Jon for having brought up this important matter at the London Assembly Transport Committee meeting back in January of this year. It is crucial for TfL to recognise that promoting an inclusive and accessible transport network is more important than petty arguments between transport operators.
Deferred TfL Projects
Unfortunately, due to the dire financial situation at TfL, several major projects are due for massive delays. In favour of prioritising increasing capacity on the Jubilee and Northern lines and expanding the DLR to Thamesmead, Crossrail 2 and the Bakerloo line will not be affordable before 2030. This is a very disappointing development, as these two lines would have a huge impact on improving accessibility. Looking at the Northern line upgrades, it focuses on the long-planned separation of the line into two separate services. In order to enable this, Camden Town station will need to be upgraded. This includes bringing step-free access to all platforms. Unfortunately, this work is scheduled to be finished by 2024-2028, which is up to 3 years later than previous estimates from a few years ago. I very much hope that TfL can find a sustainable source of funding in the near future, because future step-free access schemes look increasingly unlikely under this climate.
Access for All
Looking at National Rail schemes, the chronically-delayed Access for All works at Teddington, originally scheduled for completion by 2019, will soon be going ahead. Although the station already has step-free access to each platform, there is no step-free route within the station between the platforms themselves. This work will great improve access to the station.
Tyne and Wear Metro Level Boarding
Finally, looking away from London, the Tyne and Wear Metro in the North East is set to embrace full level boarding, similar to Merseyrail, as it plans for comprehensive platform alterations to allow for a seamless platform-train interface for its new rolling stock. The works will take place in 40 out of the system's 60 stations, and since all the stations are already step-free to platform, by the time the new trains are ready, which will have a sliding step, the entire network will have full step-free access with level boarding.
As more light rail systems and commuter rail networks embrace unassisted travel, one wonders when TfL and the Department for Transport will jump on the bandwagon. With level boarding present (or soon to be) in East Anglia, Merseyside, South Wales, Isle of Wight, and Tyne and Wear, it is no longer a novel concept, but a necessary minimum standard for accessibility.