After a long absence due to the current COVID-19 lockdown, I've decided to make a post highlighting some of the transport news that has been announced during this period. Although many avid rail passengers have been forced to abandon public transport during the pandemic (Jon and I have not left our neighbourhood in 70 days), there are still positive developments in transport and accessibility to look forward to. Highly anticipated projects such as HS2 and the Elizabeth Line have reached new milestones, but future schemes, including TfL's step-free access programme, appear uncertain amid TfL's latest financial struggles.
HS2
After years of debate and consultation, HS2 has finally received the Notice to Proceed, meaning that full-scale construction of the megaproject's Phase 1 (London to Birmingham) can now begin. With pre-construction work already underway, the project is now visible along various sections of the route, as the drone video below, taken above Ruislip, shows.
As I've mentioned before, from an accessibility perspective, HS2 is a bit of a mixed bag. The brand new stations, which feature dedicated HS2 platforms, will have level boarding fully compatible with the HS2 rolling stock, in addition to 168 lifts associated with the four Phase 1 stations (Euston, Old Oak Common, Birmingham Interchange, and Curzon Street). However, as these trains are expected to have high train floors (1200 mm) relative to the national standard (915 mm), this means that there will be no level boarding on HS2 services calling at existing stations, such as Stoke-on-Trent and Stafford. While Phase 2 will add many more level boarding stations, the only way to truly remedy this would be to either lower the height of the HS2 trains and platforms to fit the national standard, or somehow introduce completely segregated high platforms at all stations where HS2 services will call.
Looking at the works themselves, Old Oak Common station, which has recently received planning approval, will likely have the most impact with regards to improved accessibility and connectivity. Spanning 14 platforms and housing HS2, the Elizabeth Line, and Great Western services, this station will be a massive improvement in comparison with today's Paddington and Euston stations. I am very excited for Old Oak Common to become my new London terminus, enabling accessible transfers into London and across the country. Of course, the level boarding issue will likely show up here as well, as the Great Western services, occupying 4 platforms and consisting of various rolling stock types, will likely not have level boarding. This leaves HS2 and possibly the Elizabeth Line as the only services with level boarding here, albeit at high platform heights. As always, this is not ideal, and unless we start mandating a standard train height that corresponds to the standard platform height, this mismatch of accessibility provisions will keep happening.
As with the Elizabeth Line, HS2 offers the opportunity to greatly enhance existing local infrastructure. Euston station is a prime example of this, as TfL is planning a major redevelopment of Euston and Euston Square Underground stations, including new entrances into the station, a connection between Euston and Euston Square, new corridors, and step-free access to all Underground platforms. Euston is horribly inaccessible at the moment, with only 1 out of the 8 Underground platforms (Euston Square's westbound platform) having step-free access from street level, so this redevelopment cannot happen fast enough!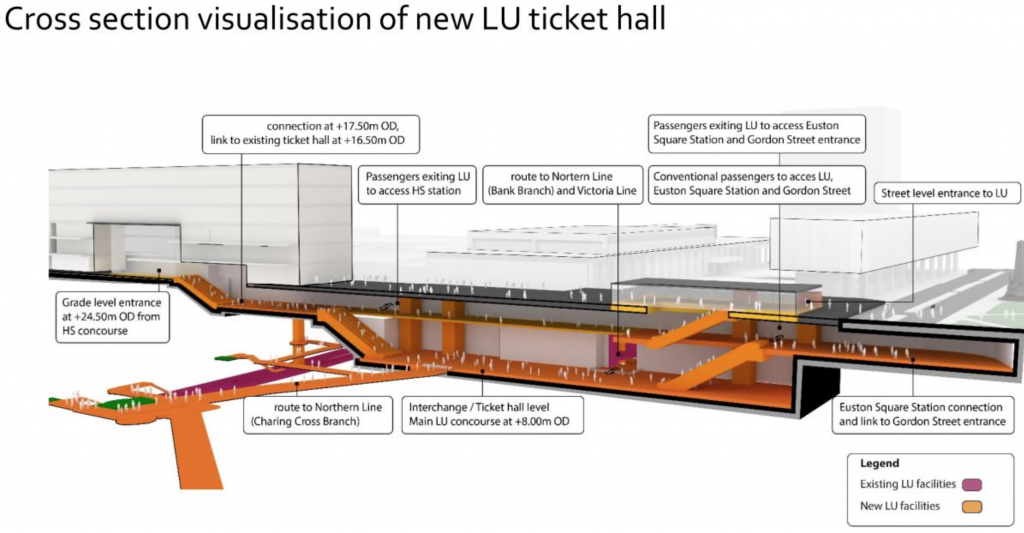 Finally, another example of HS2's local influence has been recently highlighted by Midland Connect's proposals for the East Midland Hub, which are centred around the Phase 2 HS2 station located between Derby and Nottingham. The proposals seek to redesign public transport in the East Midlands, with expanded tram lines, new rail infrastructure, and bus improvements included to create an integrated network of high-frequency services radiating from the HS2 station. This shows that HS2 is not just a high-speed route between London and the North, but a catalyst for the development and growth of accessible local transport networks along its route.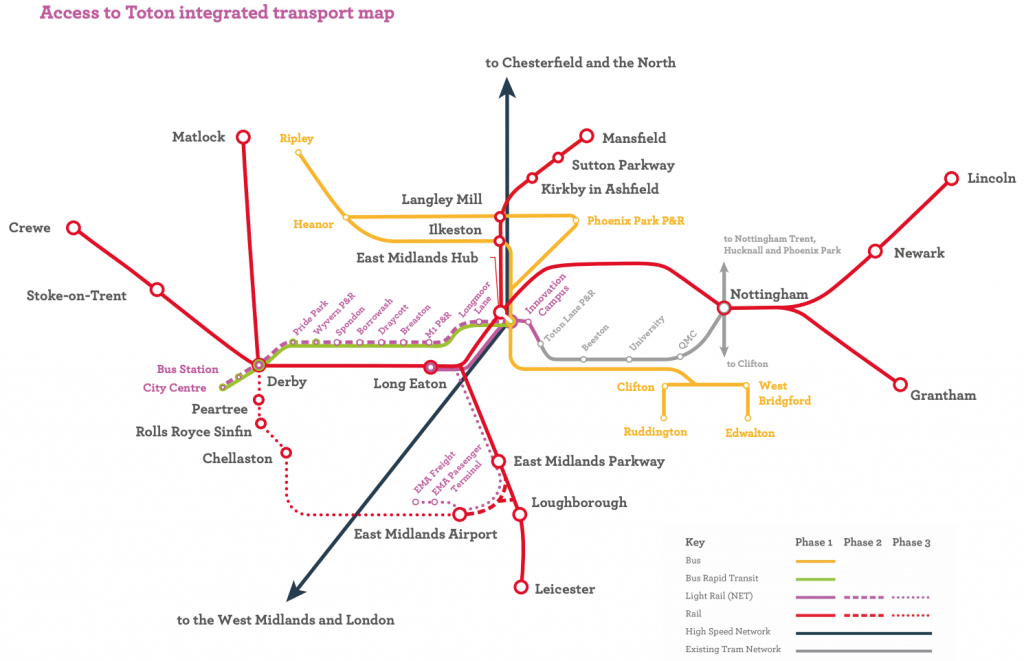 Elizabeth Line
Although the pandemic has further affected the progress of the Elizabeth Line, there have still been some important new milestones towards completion. One of this is the authorisation of the class 345 trains to run to Heathrow Airport. Due to signalling issues, these new trains have thus far been forced to terminate at Hayes & Harlington, thus limiting the overall train frequencies to the airport. With this approval, TfL Rail will soon be able to run a 4-trains-per-hour service from Paddington to Heathrow Terminals 2-4. Accessibility-wise, all of the Heathrow stations will allow for level boarding with the class 345's, although none of the stations from Paddington to Hayes & Harlington have level boarding.
Looking at the progress of the 10 brand new Elizabeth Line stations, from Paddington to Abbey Wood, it has been recently reported that 4 of the stations (Tottenham Court Road, Whitechapel, Liverpool Street, and Farringdon) are expected to be handed over to TfL ahead of schedule. Seeing as the schedule is technically 2 years delayed, this is not particularly earth-shattering, but it is encouraging to see that the project has found a way to progress given the challenging circumstances. It is notable that Paddington and Bond Street are not included in this list, as they have encountered repeated delays throughout the past few years.
The other construction portion of the project, involving the step-free access and redevelopment schemes for the existing stations that will be part of the Elizabeth Line, is also moving forward. Network Rail has tweeted pictures of the ongoing works at Ilford and Acton Main Line, where lift shafts and new ticket halls are taking shape. With seven of these stations (Ilford, Acton Main Line, Ealing Broadway, West Ealing, Southall, Hayes & Harlington, and West Drayton) still lacking step-free access from street to platform, there is still a lot of work needed. Hopefully these stations will be ready by the time the core of the Elizabeth Line finally opens.
TfL Problems
Unfortunately, the pandemic has had a devastating impact on public transport funding all across the country due to the collapse in revenue. In London, TfL has needed to seek emergency government funding, totalling £1.6 billion, just to maintain its normal level of service. However, this has come with several strings attached, including hiking up the congestion charge and withdrawing the validity of the Freedom Pass during the morning peak. Even during this unprecedented time, making it more difficult for disabled passengers who need to make essential journeys to travel is wrong and discriminatory. TfL and the Mayor of London are still working on the specifics of this temporary measure, but there is an overall feeling that many of the measures taken across major cities to enable social distancing have been taken without taking into account the needs of disabled people. For example, while temporary cycle lanes, enlarged pavements, and pedestrianised streets are generally good initiatives to curb car usage and promote active travel, they can also make large portions of a city inaccessible to disabled passengers, especially when public transport usage is being discouraged. When the threat of the virus is over, many of these new measures may well become permanent, but it will be up to TfL to ensure that accessibility is not compromised.
So, given TfL's financial woes, there is now great uncertainty surrounding current step-free access plans. There were meant to be 11 additional Underground stations made step-free this year, but I have not heard any update on their progress so far. I doubt that these schemes will be cancelled, as many of these were under construction or had advanced designs. However, it is unclear what will happen to the remaining stations that were due to be ready by 2024. Even under these circumstances, during the middle of lockdown Waltham Forest and TfL reached a funding agreement for the redevelopment of Leyton station, which includes step-free access to the platform. on the Central line. Whether this funding still exists is unclear, so we will have to wait until TfL's financial future becomes clearer.
Additional News
One bit of good news is that TfL is getting a new commissioner. Andy Byford is the former president of the New York City Transit Authority, and he is credited for spearheading a massive improvement plan for the New York Subway, including widespread resignalling as well as bringing step-free access to 50 stations. While these works are still ongoing, it is great to see the attention that Mr Byford placed on accessibility, and I hope that he is able to push for an ambitious plan for London, especially given the dire situation.
In other news near London, the Luton Airport automatic people mover is quietly moving forward. This line will connect the railway station with the airport, replacing the terribly inefficient shuttle service that is in place now. As air traffic has been decimated by the pandemic, it remains to be seen how Luton Aiport will emerge from this. In any case, it is always good to celebrate a brand new level boarding transport option!
And so, there are some positive developments despite the very uncertain and frightening situation that we are all under. As always, I urge all my readers to exercise the greatest caution during this period and limit their public transport usage as much as possible. The trains will still be here when all this is done!