Fitting quite nicely with recent posts and discussions I've had regarding level boarding and the rail industry's overall lack of interest in making widespread full step-free access a priority, there is now some suboptimal news on Crossrail 2's accessibility.
In the latest RAIL Magazine edition (864), there is a short article titled "Non-standard platform heights for Crossrail 2." The article describes how in its current design phase, Crossrail 2 is not envisioned to provide level boarding to all its stations. To provide some context, Crossrail 2 (shown in the map below) will be composed of a new central section running under Central London and existing National Rail outer sections, exactly like the Elizabeth Line.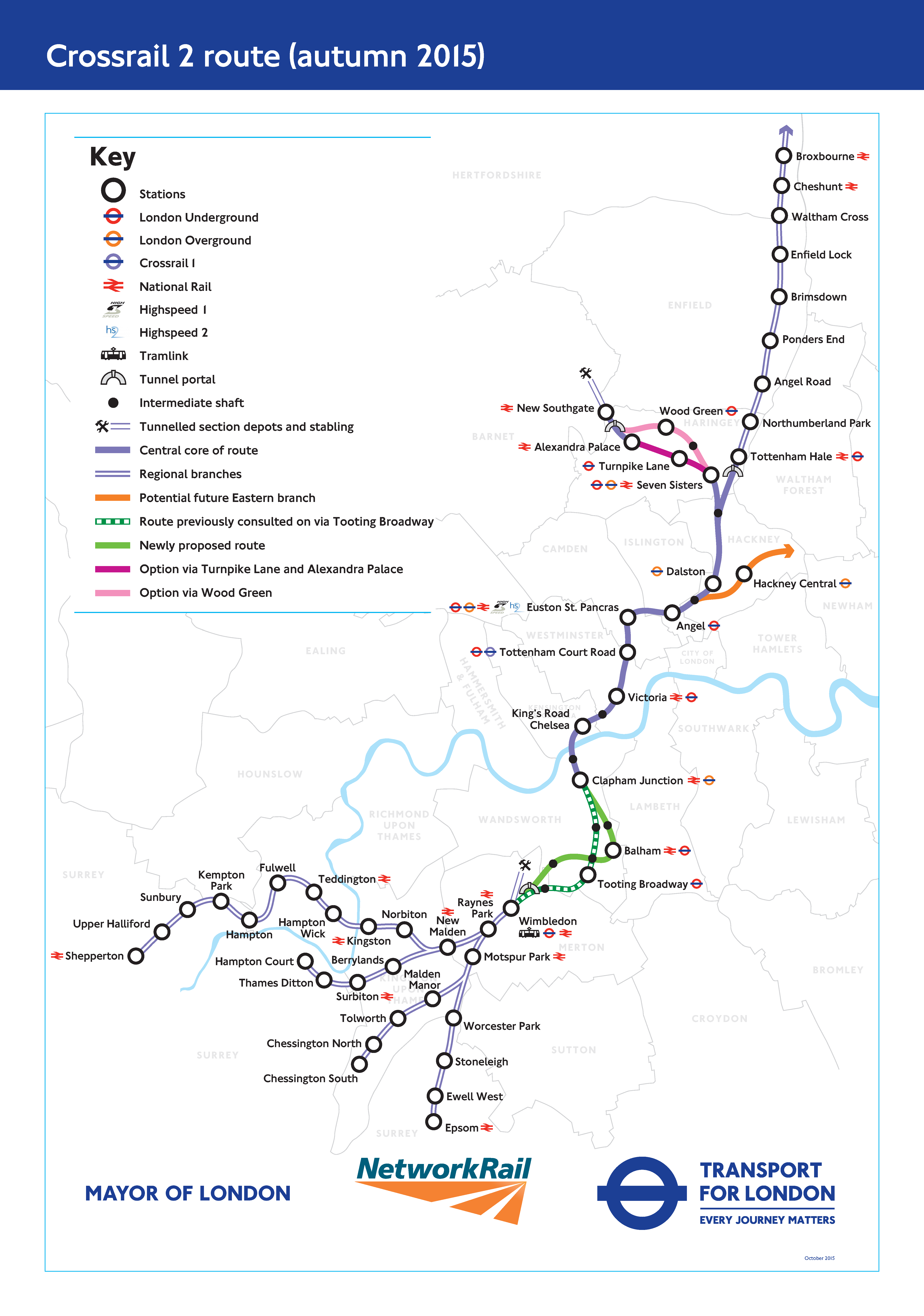 With parliamentary approval hopefully granted next year, Crossrail 2 is currently expected to open in 2033 as a high-capacity express service. Despite this, the current plan is to provide the central section of the route with high platforms to enable level boarding for high-floor trains. Since it is highly unlikely that existing stations will have their platforms raised, due to other services using the line and the presence of freight traffic, this means that ramps will be needed at the roughly 32 stations outside of the Crossrail 2 core. Given that Crossrail 2 may be extended towards Hackney and the c2c network, this number of inadequately accessible stations can only grow.
The Managing Director of Crossrail 2, Michèle Dix, has this to say about it:
"…We haven't said it is step-free from street to train all the way along the route, but we're ensuring it will be step-free from street to platform, and in the core section we will be making it so it will be step-free to the train."
Chris Curtis, head of Crossrail 2 at Network Rail, says,
"It will be level boarding in the core in the underground stations, whereas on the national network it will be as you are now with the existing platforms, unless we have to rebuild them for any other reason"
I don't even know where to start with this. The main question should be "Why AREN'T you saying it is step-free from street to train all the way?!" Completion of Crossrail 2 is 15 years from now and next year we will already have trains with a low-floor design that will grant level access to existing non-segregated infrastructure for the first time in the UK.
It is already bad enough that both Thameslink and the Elizabeth Line were designed to only have level boarding in their central sections. As passengers will soon find out (and as I've said before), the Elizabeth Line will require ramps at Stratford, which is the UK's 8th largest railway station. To add insult to injury, the low-floor Stadler Rail trains on the Greater Anglia Intercity services WILL have level boarding at Stratford just a few metres away.
Later in the article, Chris Curtis does acknowledge that train floors are dropping over time, and that it is conceivable that they will one day reach the standard platform height. Leaving aside the fact that low-floor trains already exist, this "possibility" is not good enough. Crossrail 2 in its entirety needs to be designed and built to be accommodating and accessible to all its passengers.
It is quite embarrassing that, rather than trying to fix the mistakes created by variable train and platform heights, the future is now to replicate them on a larger scale at a cost of £30bn! What we should really be talking about now is how to make the expansion of level boarding viable on Thameslink, the Elizabeth Line, and the Overground's East London Line.
To ignore this issue for Crossrail 2 and press on with the status quo for years to come is short-sighted and quite negligent.
Bonus Content
Here is an additional comment on the issues with non-standard platform heights from railway engineer, Gareth Dennis.
"As I've pointed out previously, the issue with setting platform heights nearly 100mm higher than the national standard isn't that freight trains are going to be running along Crossrail or High Speed 2's tracks, it is that the new trains that will run on these segregated sections of railway also run on the rest of the network, and so building the platforms and trains to fit at 1100mm locks-in an inability to provide step-free access everywhere else.

Given that the rest of the railway network carries long-distance, freight and local trains (all with different dimensions and step positions), and that the RSSB have undertaken a wholesome heap of research showing that a platform height of 915mm is the safest for our mixed-traffic railway, that these new lines aren't setting their new infrastructure to comply with this value is very difficult to understand. It is even harder to justify in the wider context of improving the accessibility of public transport for all users.

Crossrail isn't the first to fall into this trap… In the late 1990s, Paris' RER "E" platforms were built at a height of 1200mm with the aim of providing step-free access. 20 years later, new stock was introduced which perfectly fitted the platforms on the rest of the RER network, yet require passengers to step down into them from the nearly-new platforms. We are in the process of repeating this mistake."