I must apologise for my absence the past few weeks. Partially, this is due to the fact that I recently got married (!) and spent the past week running around in preparation for what was a truly amazing day. The other part is that this summer has been disappointingly quiet with regards to new step-free stations, including delays at Victoria and most of the inaccessible stations on the eastern branch of TfL Rail. Nevertheless, I am delighted to see that level boarding has continued to make headlines, both good and bad, and gain momentum. As we get closer to the opening of the Elizabeth Line as well as the introduction of new low-floor Stadler Rail trains for Greater Anglia, Merseyrail, and the upcoming Wales & Borders franchise, more information on the exact nature of their accessibility will become known.
Here are some of the recent updates regarding level boarding coverage. Following the fallout from the proposed new station at Brent Cross West, which may be built without level boarding, Radio 4 decided to do a segment on level boarding as a whole. In addition to an interview with Transport for All's Alan Benson and a representative from the Rail Delivery Group, Jon and I had the opportunity to submit an audio diary detailing a typical day out in London, with a focus on the impact of level boarding.
A few days later, RAIL magazine released an article featuring London Assembly Transport Committee leader Caroline Pidgeon that criticised Crossrail's decision to use high platforms in the new section of the Elizabeth Line. While this does ensure that level boarding is possible along this section with the new high-floor trains (Class 345), this also means that all the remaining stations, except for those at Heathrow, will require ramps. The end of the article goes on to suggest that the trains should have been built with a low floor to accommodate all stations, both old and new. The big question is what happens now that the new trains and the new stations are built? There will be justified anger and criticism when passengers realise that after 10 years of construction, important interchange stations on the Elizabeth Line such as Ealing Broadway and Stratford will still not offer independent access.
Closely related to that piece of news, Greater Anglia revealed that it had invited passengers to test the accessibility features on their upcoming Stadler trains, which are meant to provide level boarding at the standard platform height of 915 mm for the first time in the UK starting next spring. While this level of engagement with users is very encouraging and the impact that these trains will have on accessibility cannot be overstated, the fact is that only half of Greater Anglia's new train fleet will have low floors, with the rest being made up of high floor trains similar to those on the Elizabeth Line. Even more frustrating, because platform heights vary considerably from the current standard, I found out from Greater Anglia that up to 25% of the stations that the Stadler trains will serve will not be suitable for level boarding and will require ramps.
This is also a message I got from GA after I asked about platform heights and level boarding pic.twitter.com/AUCkyJebwo

— Tomas (@Reytomas1228) August 2, 2018
As of now, they have not confirmed the identity of these stations, but it is very disappointing to see, once again, that the rail industry tries to deliver an accessible service only to fall short at the end. Despite all these investments, a train specifically built for the UK's platform height standard will not result in complete level boarding, and a brand new line and service that have been planned for decades will have 66% of its stations accessible to platform only.
Standing in sharp contrast to the Elizabeth Line and Greater Anglia, the one operator that appears fully committed to level boarding is Merseyrail. Not only is Merseyrail also getting low-floor Stadler trains, but there is an ambitious series of upgrade works between October 2018 and June 2019 that will adjust and standardise all the platforms in the network to allow level boarding once the trains arrive in 2020. The scope of the works is very comprehensive, impacting the vast majority of the stations, even those without step-free access yet, as seen in the maps below.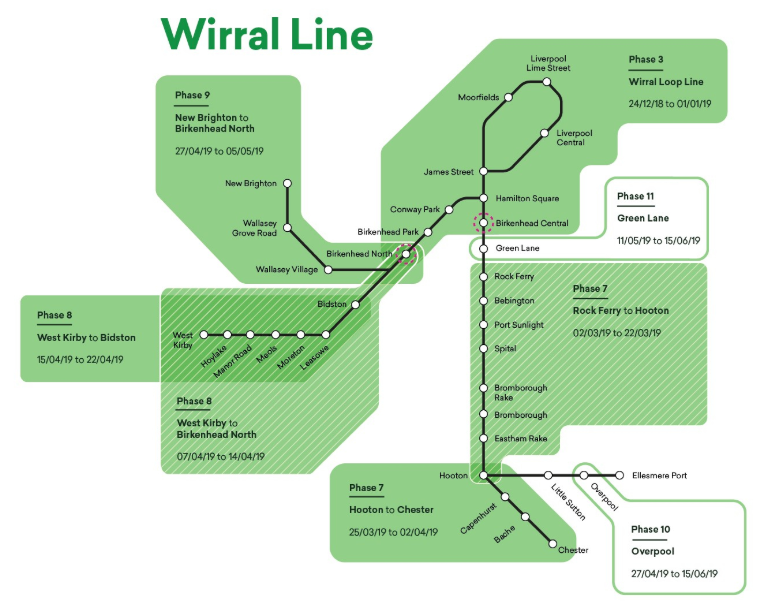 Maps of the phased works on Merseyrail network (click to enlarge and for source)
If Merseyrail is able to carry out these works to standardise platform heights and achieve full level boarding, why can't Greater Anglia? If Greater Anglia is allowed to fall back on manual-boarding ramps due to variable platform heights instead of working to fix them, what is even the point of a platform height standard?
While these past weeks have shown an increased mainstream interest in improved accessibility on the railways, they have also exposed great lapses of judgment within the rail industry that will negatively impact overall progress. Inevitably, it will be extremely expensive and time-consuming to fix these problems, particularly with the Elizabeth Line, but it is important to hold all the responsible parties accountable and make it clear that these half-hearted efforts are unacceptable.